Review: Opera Theatre of St. Louis' THE TRIAL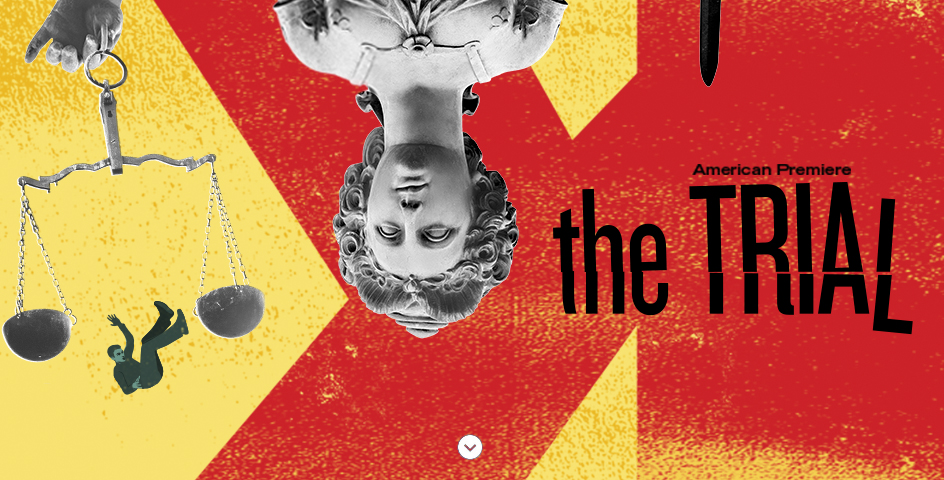 There is a dystopian uneasiness enveloping Opera Theatre of St. Louis' The Trial that is both timely and frightening. Based on Franz Kafka's absurdist novel the opera, making its American premiere with this production, is nothing short of a minimalist masterpiece.
It has been transformed from page to stage by Christopher Hampton, who wrote the libretto, and Philip Glass, who has gone against his grain by crafting a robust score that seamlessly slides into the minimalist staging.  Together they have made an opera that propels the medium in new directions without shedding any of Kafka's irony, pathos or genuine sense of dread. As a tandem they've made Kafka's work (which predates the rise of fascism, secret police and even the bureaucracy of Communism) crisp and made for the times.
Originally staged in London in 2014, The Trial marks a watershed moment for the company. Clearly the highlight of the current season, it reaffirms OTSL's standing as host for daring and innovative work in that it makes very little go a very long way. The cast is small and features several performers in multiple roles, the staging, cloaked in darkness throughout, evokes a pale complexion of hopelessness and tragedy and the drama itself, is a balanced celebration of the ludicrous and the frightening.
With such a small stage and strong dark lighting, it is hard to not feel hemmed into to Kafka's world of self-doubt and injustice. The Trial centers on its unfortunate protagonist Josef K who, after being notified that he is under arrest finds him trapped in a legal system where a clandestine judiciary acts at its own leisure.  Although he is told that the rules for the crime he has committed are very stringent he has no idea what is happening to him.
His paranoia is heightened after he takes matters into his own hands and consults a lawyer and later an artist seeking advice from his predicament. Layer upon layer, this mystery of not knowing what Josef K' is being tried for gets to both him and the audience, creating a dystopian connection between performer and viewer that is tense and oftentimes overwhelming.
This sense of foreboding is turned up a few notches in Act Two where the absurdity gets really serious pretty fact with a crescendo of events that eventually spell doom for Josef K.
A triumph in every sense, OTSL' The Trial preys upon the horrible fear of being arrested and not knowing how or why it has happened. It's a very basic scariness whose resulting drama is perfectly suited for an opera. Adding to this uneasiness are lawyers, unscrupulous women and inspectors who are being just as kept in the dark as Josef K.
This is where the ensemble pounces and captures the audience. Baritone Theo Hoffman has the seemingly unenviable task of being onstage for the duration of the opera, yet he makes the most of his opportunity with a strong performance that captures the essence of Josef K's anxiety, apprehension and fears. Equally parts bold and neurotic Hoffman shines here. Joshua Blue and Robert Mellon offer strong support as pair of guards who underscore the absurdity of the proceedings with their well-timed humor.  Tackling two roles herself is Susannah Biller, a soprano whose split time as Leni a nurse and Fräulein Bürstner are captivating.
Holding all of this tension in Czech is Phillip Glass' score, executed adeptly by conductor Carolyn Kuan. For this production the music really does serve as a character of its own and Glass has composed music that reflects the shifting moods of the piece.
Meanwhile Hampton's libretto, although constricting in substance, is freeing in temperament. By bringing a fresh take to Kafka he has transformed the novel's sardonic and sarcastic tone into something completely different yet wonderfully compelling.
Although The Trial is a bleak exploration of how absurdity can call out the worst aspects of society, it is a delight to watch because of its great music and powerhouse ensemble who excel in every way.
Performances are held at the Loretto-Hilton Center on the campus of Webster University. For more information visit http://www.opera-stl.org.