Notorious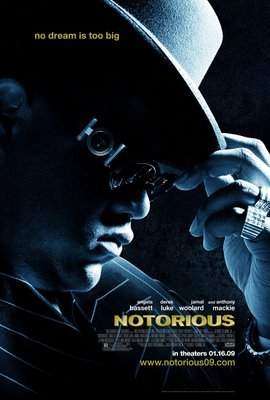 This biopic about the legendary rapper Notorious B.I.G. brings nothing new to the genre and plays it pretty safe with it's main characters history, but the result is still an entertaining look at the man's rise to fame.
'Biggie' was born Christopher Wallace, and he was raised by a single mother in Brooklyn where he wasn't allowed out of the house much. The neighborhood is full of drug peddlers of all ages and Christopher's mom, Voletta, kept him inside to study and with a hope to keep him away from that life. Christopher was a successful student and but the street scene tempted him and before you knew it, Wallace was peddling coke and other drugs on the corner like many other kids his age. Biggie, as he was know becoming known, would always freestyle with his buddies and even got a decent amount of street cred after verbally beating down the local freestyle champ, but before he can really impress anyone else with his rhymes he is sent to jail for two years due to his "job" where he begins to write and craft even more songs and lyrics for his eventual arrival. Once out, Biggie is introduced to Sean 'Puffy' Combs who says he can show him an opportunity to make it big, and outside a mis-step here or there by both parties, their story together began.
The film dives into not just Biggie's life as a rapper, which is pretty extraordinary, but his love life as well. He wasn't the most faithful man around but he also loved these women a great deal in his life. They brought out a cute and sweeter side to him that doesn't come through in his darker music, keeping him human and disconnecting him from his checkered path. Biggie also came into a time when rap music was a potentially violent world. Threats, posturing, and an east coast west coast battle was in full swing and it was only fueled more and more by unfortunate events and circumstances surrounding Biggie, Puffy, and Tupac's lives. The film captures the era and atmosphere well, with a sort of who's who of rap appearances throughout the picture including recreations of a number of turning point events in the lives of these young men.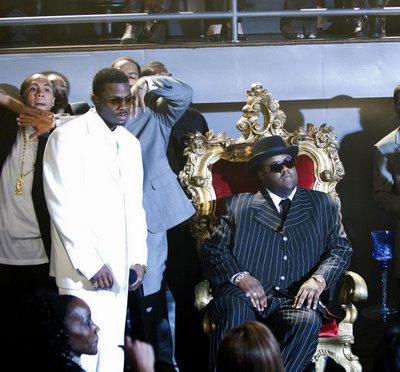 Unfortunately, George Tillman Jr. doesn't bring anything really new or creative the biopic with this picture. It is about as straight forward and uninventive as one could imagine. Luckily the material is both engaging and compelling, with characters that are naturally entertaining so the film is worth experience. But with all the cool videos and music Biggie brought to the rap world, you think they could have harnessed some kind of the man's style and inject it into the picture, but sadly the world is left feeling authentic, yet flat.
The acting the film is good across the bored, with new comer Jamal Woolard doing a good impression of Biggie for the camera. He brings plenty of charisma to the character but also does a fine enough job with the quieter and angry moments in Biggies life. That said, he is definitely the weakest actor of the bunch and he has a couple of rough spots along the way, but overall he does a decent enough job. Derek Luke is also alright as Puffy, but never comes close to being as cool or suave as Puffy can be; he did get his dancing down though. Anthony Mackie brings Tupac to life with a good amount of range and is one of the better performances in the picture. In fact, I wouldn't mind seeing him give the inevitable Tupac movie a shot down the line. Angela Bassett makes the most out of her screen time as Voletta, though doesn't knock your socks off either. Naturi Naughton also deserves special mention for just nailing Little Kim from her stage presence to her…frank nature of her personality.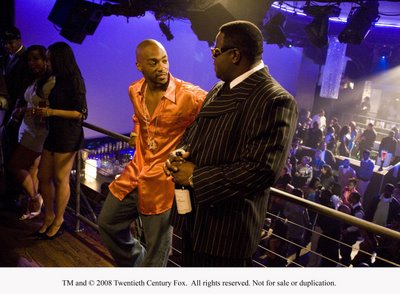 In the end, Notorious is an entertaining, albeit unoriginal biopic. It doesn't really skewer its subject for some things he is definitely is worth skewering over and holds Biggie in a fairly bright and positive light overall. The ending of the film ties things up a little too nicely for Biggie's personal life before his fateful night and one wonders how much creative license was taken with that. With that said though, the actors all do fine enough work and the film remains constantly entertaining and is littered with some great music by Biggie himself throughout. If you are a fan of the man's music, definitely check this out, and if you are a fan of biopics in general just know that while entertaining, this one isn't going to knock your socks off since it is very run of the mill in the creativity department.
7.25/10