Coraline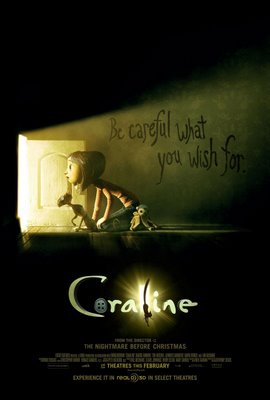 Henry Selick's latest stop motion adventure is his most beautiful yet and while after a first viewing it isn't my favorite of his work, there is definitely a lot of room for this one to grow on a second and third go around.
Coraline and her family have just moved into an apartment up in Oregon so that they can concentrate on their writing for gardening magazine. As they dwell on their computers working, Coraline's boredom builds and builds as she desperately tries and fines something to do to entertain her. Added on top of this, Coraline also doesn't really jive with the rules of her parents, like most kids, and wishes for a life where she gets her favorite foods for dinner and won't have dessert held hostage from her. One distraction she has around is an awkward neighborhood boy Wybie, though he and the local cat that hangs around him are more of a nuisance than anything. Her family's house is broken into three apartments, which also allow for some eccentric neighbors as well. Upstairs is a Mr. Bobinsky, a giant Russian man with skinny legs that is training and talking to his mice to perform a jumping circus. And downstairs resides a pair of sisters who are ex-actresses who spend their day's playing cards and admiring their entire history of stuffed Scottie's dogs lining their shelves.
All of these character are essentially deemed uninteresting enough for her attention so she instead spends her days investigating her house with a doll from Wybie that looks incredibly similar to herself. In these adventures she discovers a small door, think Being John Malkovich, and once she eventually gains access, she discovers a world similar to the one she knows, but her "Other Mother" makes all her favorite foods, has all the time in the world for her, and is a blast to hang out with; same goes for her "Other Father" and Wybie has been made mute. The only thing odd to Coraline is the fact that everyone has buttons for eyes, like the doll that she carries around her house that looks like her. Much to her chagrin, Coraline is transported back to her dull real world when she goes to bed, but she begins a habit of sneaking back to her "Other Family" only to discover that the world may not be everything that it seems.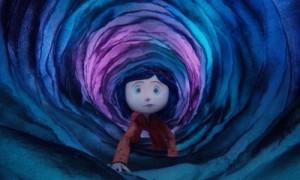 First off, the film looks amazing! I mean, you could go into it and hate the story and characters and still walk out of it thinking it was worth your time. The detail and colors are vibrant and wonderful with beautiful camera work and some incredibly jaw dropping shots put together by Selick and crew. Add to this the incredible use of 3-D and you have a visual feast that is extraordinary. The film was shot specifically for 3-D as well, so it isn't a crappy after effect like Nightmare Before Christmas was, and they were able to create some wonderful depth to the picture. The 3-D isn't about jumping out at you, Selick and his team create and amazing depth of the field to the picture that makes the already amazing models comes even more to life.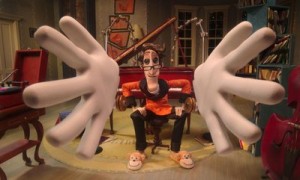 With that said, I don't know if the film's story is executed as well as the visuals. It's not that things are bad; it's just not very orthodox and different. Story structure, pacing, and tone are all a bit all over the place from time to time and it is hard to settle in to the picture (though this could also be due to the five minute fire alarm interlude I had to sit through). Though, like I mentioned earlier, I think repeat viewings will make for settling in to the picture a lot easier as you will know what to expect and I imagine the film will only grow as time goes on and could potentially turn into an animation classic.
The film is very dark at times to forewarn, since some of you might head into this thinking it is more kiddy affair. Coraline's plot is a familiar child rebellion story but Neil Gaiman's book creates such a lush and fun world for Selick to play in. And even though the town can get dark and odd, there are some marvelously wonderful moments that are light and beautiful to balance everything out. The spinning piano sequence and the blooming garden in particular are amazing to watch unfold and baffling to how they made it all possible.
In the end, Coraline is a beautiful piece of living art that is an interesting and odd story at times; but that is a good thing. Selick creates a world that is stunning to watch come to life and the 3-D is on par with Beowulf for best use of the technology yet. I have to see it again in 3-D before having to settle with the eventual Blu-Ray (though, 3-D Blu-Ray technology on par with the theater experience isn't too far away I hear), and I really feel like I will be able to get an even stronger handle on this picture in the second viewing. If you are a fan of animation or fantasy story telling this is not to be missed, as it should stand up as one of the finest of both genres this year, and I guarantee the only visual experience that might rival this year are Pixar's UP and James Cameron's Avatar, which should both showcase some amazing 3-D as well. Go see Coraline, you won't be disappointed, a great tale for all ages.
8.75/10
p.s. head here to check out all the cool alphabet posters
Blake's Look at Coraline
Henry Selick just doesn't get enough credit from the masses. He brought arguably one of the best animated films ever, The Nightmare Before Christmas, to the screen and Tim Burton gets almost all the credit for it. Well now luckily he has another animated masterpiece that has his name all over it. Adapting Neil Gaiman's story into a flawless reproduction.
Coraline is a dark and beautiful animated tale. The title character is forced to move into an old Victorian house which has been separated into apartments.  The upstairs apartment is filled by an eccentric gymnast named Mr. Bobinsky, voiced brilliantly by the increasingly everywhere Ian McShane. The basement apartment is filled by the former actresses Miss Spink and Miss Forcible.  Everyone in her life is a little different or eccentric. Including her parents who write a gardening magazine, but ironically hate the outdoors and dirt. Her only "friend" is a boy named, Wybie, who happens to be the grandson of the landlord. It is he who gives her a mysterious old doll that looks exactly like Coraline. Coraline eventually finds a secret doorway that takes her into a world similar to her own, with a major difference that makes the whole experience even more surreal the the animation is previously.
This movie is great in almost every way.  The story is intriguing. Gaiman has proved long ago that he is a master storyteller with stories like, The Sandman, Stardust, and American Gods. His story never underestimates what children can take. His story doesn't pander to the fact that children need to be taken care of. In fact they love being spooked by a scary/freaky story as much as us.
Where this movie really shines is the animation. The amount of detail in this world is absolutely amazing. The amount of time that was put into this production is staggering and it shows in the finished project. This blows the stop motion animation of The Nightmare Before Christmas and The Corpse Bride out of the water. It just goes to show that traditional animation techniques are not dead in this age of all CGI animation. It is a breath of fresh air to see something that isn't that completely shiny and plasticity. Coraline's world is one that is fully realized and worn in a way that it feels real. The blend of animation techniques will leave you thinking you saw something very special.
I have no complaints that I can think of off hand. The voice acting even took me by surprise. Everyone in the movie did a supurb job with their character.   Dakota Fanning nailed the character in it's deficiency and independence.
I guess I take it back, I do have one complaint. I could have enjoyed seeing even more of Coraline and her world. At even 1 hour and 40 minutes it seemed too short to me. Hopefully Selick's next project will be just as intriguing.