Review: Mojo Craft Beer & Music Festival, Presented by 105.7 The Point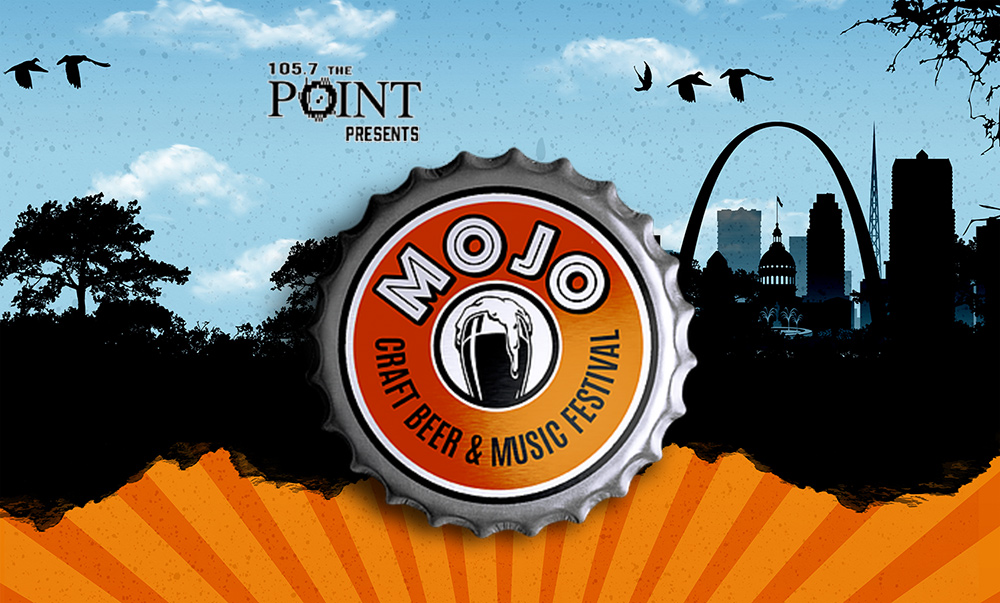 This weekend was the first Mojo Craft Beer & Music Festival, presented by 105.7 The Point. Unfortunately, being the first one, it didn't go off as smoothly as one would have hoped. So, let's go over the good and the bad of the festival. Let's get a bit of the negativity out the way first, and finish with the good:
Location – Jefferson Barracks is a big place, and there were multiple addresses listed on event pages at to where it actually was taking place. It took a while to find where in Jefferson Barracks Park it actually took place, and this was one of the main complaints I heard from many different attendees. In future years the festival would be well served to put up clear directions on the site, and have signage on the roads leading to event.
Parking – It was $10 to park very far away, and $20 for parking that was a bit closer but was still a bit of a walk. It sucks that parking isn't already included on an event like this, especially when it's taking place in a public park. I'm not sure it was something that could be avoided, but it was still kind of a bummer. In addition to that, there was no good drop off point for people who found designated drivers to drop them off. Our driver had to leave her license with an attendant to get through to drop us off at the venue.
It's Not the Heat; It's The Humidity – Not at all the festival's fault, but boy was it hot and humid. People were flocking to the shade to find relief. Unfortunately, I saw no water stations, so to find hydration you were left buying bottled water from the Bud Light tents. Hopefully, if this happens next year there will be more thought put towards keeping festival goers hydrated beyond the beer they are drinking.
Beer Festival No-No's – Speaking of hydration, Saint Brewis has included drinking your rinse water at beer festivals in their "BEER FESTIVALS: 5 WAYS TO DO THEM RIGHT" article. Only problem here: no rinse water. No dump buckets. Just move onto the next station and hope that the stout you just drank doesn't affect the flavor of the IPA you were just poured. This was one of the cardinal sins of the festival, and one that should be remedied next year. Hopefully they'll staff some volunteers to run water to the table. Then you'll have clean glasses, and hydrated drinkers.
No Re-Entry – I know a number of people who wanted to escape the heat for a bit, recover, and then come back and enjoy the music. Unfortunately, if you left the grounds, the only way back in was to buy another ticket. With it being such a hot day, many people opted to leave and not come back. It would've been nice to get your hand stamped once and be allowed re-entry for a full day festival during the dog days of summer.
Alright, enough with the negatives, what did we like?
Craft Republic – If you haven't heard yet, Craft Republic is a new craft beer distributor in town. They have some heavy hitters on their roster like Evil Twin, Omnipollo, Marz, Stillwater, Nebraska Brewing Company, and more. They are only going to be bringing more solid craft beer brands to St. Louis, so it was exciting to see some of their earliest offerings at the festival.
IPAs – India Pale Ales were out in force yesterday. The juicier the better. Some standouts for us:
Narrow Gauge – Fallen Flag – One of the flagship beer from St. Louis's top creator of IPAs. Citra and Mosaic hops give it a pleasant citrus aroma. Although, the mouthfeel is still one of my favorite things about this beer.
Mother's Brewing Company – Sunshine Chugsuckle – Mother's is now doing a NE IPA. Yup, you heard me right. It's cloudy, it's a citrus bomb, and it's got just enough bitterness to please traditional IPA fans as well. We hope to see more of this one around soon.
Ferguson Brewing Company – Jess' Juicy IPA – We discussed this one recently on our podcast, and now we finally got to try it. Despite being brewed with El Dorado, Manderina Baveria, Galaxy, and Citra hops it isn't aggressively hoppy. Part of that is the mango puree that enhances a lot of the tropical notes already present.
Stillwater Artisanal – Mainstream Pop Song – The label on the can makes it look like a compilation CD of pop songs, so I was already sold from the artwork. The beer itself is super juicy and goes down so easy despite the 8% ABV..
Music + Beer = Good TImes – Doesn't matter if you are a fan of the music or not, there is something amazing about downing craft beers and listening to live music. It's amazing to me that there aren't more craft beer and music festivals out there. I'm sure they are more of a logistical nightmare than most people would want to deal with, but I can say in the end it's worth it for a lot of people.
Price – I've seen some complaints about the $45 ticket price, but that's a really solid deal for a few hours of beer tasting and national music acts. Sure, beer isn't free the whole day, but the tasting portion does give you a really nice head start if you are wanting to enjoy some type of buzz.
St. Louis Beer Crowd – I'm talking both sides here, brewers and consumers. It was hot and miserable. There were lines towards the end of the tasting. It wasn't the most comfortable place to be, but for the most part I saw a lot of great camaraderie between people. Lots of brewers talking about their beers with new beer drinkers. New beer drinkers expanding their drinking portfolios. All in all, there were some good times had.
I'll admit it, I'm a bit of a pansy when it comes to the heat. Especially these days when craft beer has caused me to accrue a bit of extra insulation throughout my body. So, this wasn't really my favorite festival of the year. Had we lucked out and enjoyed weather that was 10 degrees cooler I might have enjoyed myself a bit more. Would I attend next year? Absolutely yes, but I would with the hope that they had worked out a lot of the kinks from this year. I'm willing to give a pass to a lot of my issues with this year's festival because it's the first go around, and there are always growing pains. We all live and learn. Hopefully next year we will see even more great bands and an even broader lineup of craft beer.