Review: Louis C.K. at The Funny Bone in St. Louis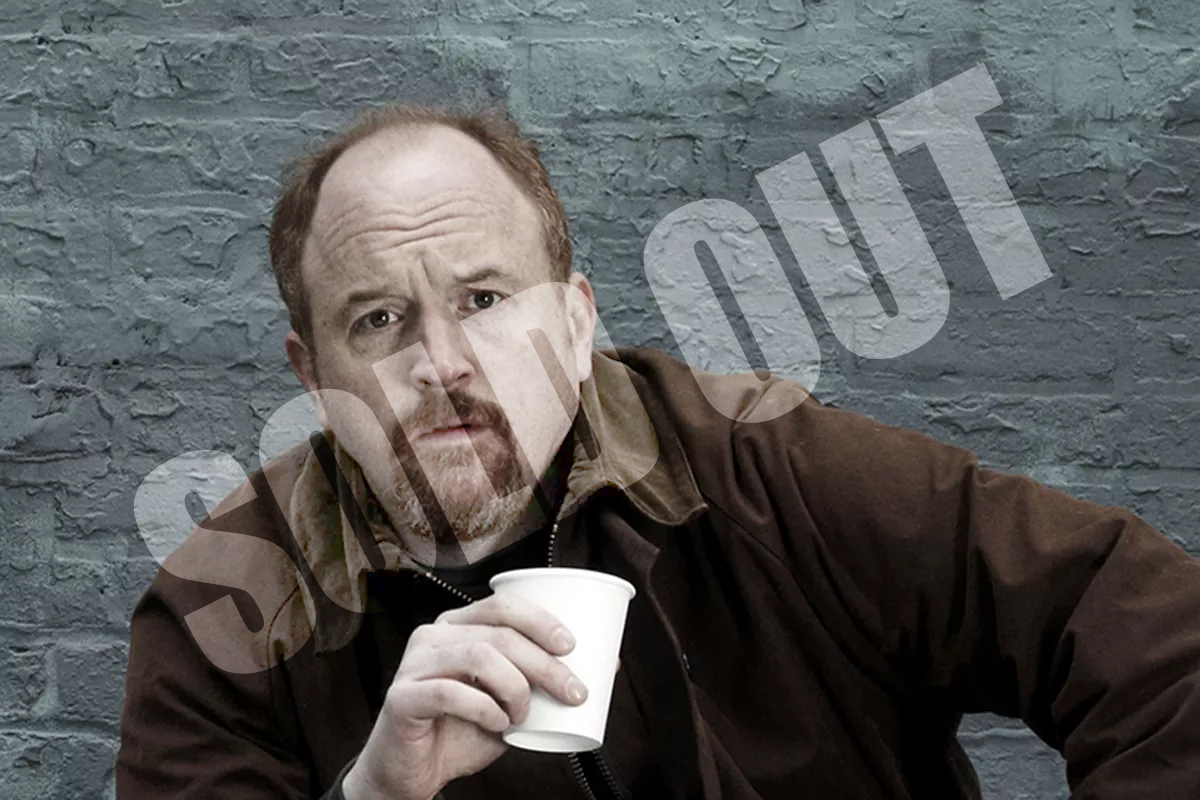 Louis C.K. performed his first of 4 sold-out shows in St. Louis at The Funny Bone in Westport Wednesday night.
We got the call around 11 p.m. Sunday.  The carefully and covertly constructed tip stated that we wanted to be at our computer by 6:50 a.m. the following morning with the browser open and ready.  With no other explanation, we prodded until we got the information that we needed. Louis C.K. was expected to be doing a series of unannounced shows the same week at the Westport Funny Bone.  Simply stated, it seemed too good to be true. At 7:00 on the dot, the event was posted to the venue's website.
Enough said. Tickets were secured.
I'd like to preface the rest of this review by setting an understanding of the logistics of the night.  Upon arrival at Funny Bone, your ticket was scanned, you entered to a search of your belongings, and given a Yondr sleeve to secure any and all of your media devices.  This included phones, smart watches, and any other electronics you may have had with you. You were allowed to keep your belongings with you, but they were under magnetic lock to ensure that no photos, videos, or audio recordings were taken during the show.  You were shown to a seat where you remained until the end of the show. Going to the bathroom or slipping outside for a cig was allowed, but a task for some. However, the vast majority of the crowd understood and complied. We were ready for some comedy.
The show opened with a local MC, Stephon Hightower.  His material was organically formulated as he shared stories that are definitively homegrown.  The crowd responded well to Hightower's anecdotes that not only revolved around St. Louis – but also deep in black culture.
The first comic to take the stage was Lynne Koplitz.  She comes from Greenwich Village in New York City, and has been on the scene for 20 years.  She made it clear from the beginning that she's a 51-year-old washed up whore and completely embraces it.  She brought the crowd to tears with her bits about feminism and her complete disinterest in being "woke". Her quick wit was shown during her interaction with the crowd and was more than well received.  You can find this brazen badass in some of her earlier career stand up through Comedy Central and her 2017 Netflix entitled Hormonal Beast.
Koplitz was followed by writer of The Apollo Comedy Hour, The Bad Boys of Comedy, and BET's Comicview – Tony Woods.  He may have appeared high as hell, but who cares?  He had the audience in tears during his performance and wanting more.  As he wrapped up his seamless set, the comic was sent off with an enthusiastic standing ovation and pleas from the crowd to keep going.
As Hightower introduced our headliner, you could feel the anticipation emanating from the crowd.  Louis C.K. walked up to a hero's welcome. So much so, he had to tell the crowd to "Shut up and sit the fuck down."  Endearingly, of course.
He began his set by informing the audience that he, in fact, likes to "jack off" and he happens to not enjoy "being alone".  Addressing the controversy right off the bat sent the trajectory of the show straight up. He continued by giving the guys in the audience some sage advice.  "If you ever feel like you want to jack off in front of a woman, (long pause) just ask. When she says yes, (long pause) ask, 'Are you sure?'. When she says yes, (long pause) leave."  Laughs erupted and applause was raucous.
The rest of his set left absolutely no one safe.  In fact, this might be the closest to blue comedy as Louis has come.  He owned it with confidence and it killed. The shows sold out quickly, but tickets are still available through third parties.  Prices are bumped up, as usual, but still worth the experience.
The performance of the comics individually and collectively receives an A+