Interview: Brett Emmons of The Glorious Sons Talks Life on the Road, Writing, and Opening for The Rolling Stones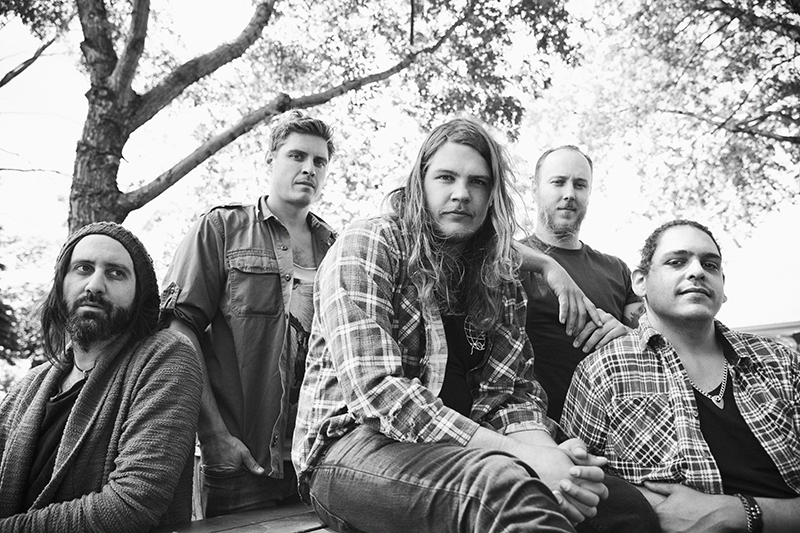 The Glorious Sons are the pride of Canada, but they are also taking over the airwaves of U.S. rock stations. Currently, on tour in support of their album Young Beauties and Fools, the band will make a stop in St. Louis on Saturday, May 25 for Pointfest. I recently had a chance to speak with lead singer Brett Emmons about touring, life in Canada and opening for the Rolling Stones.
What can fans expect from The Glorious Sons live?
Just Rock & Roll man. Dirty, sweaty rock & roll.
 Being from Canada and now touring here in the states, are there any differences that you have noticed between the U.S. and Canada?
Everything just seems to be a little bit bigger. I didn't know coffee sizes here at the 7/11 existed. I don't really notice it. People are very kind. There's a lot of stuff on the news and everything and there might be a lot more tension here than Canada, but I don't notice it in my daily life.
 What are some of the good parts of being on the road and some of the bad?
The good is we literally get to pursue our dreams. I'm not good at anything else. I'm very lucky to be living this life. I feel much more at home on tour than I do when we're at home. The camaraderie is incredible. Every night you get people screaming your lyrics back at you. Some of the bad things would be the wear and tear mentally and physically. All in all, it's a different life and it's pretty damn good. I can't complain.
 Where do you get your inspiration for writing songs?
I pretty much walk around all day writing songs in my brain. They literally come from anywhere. It might be something somebody says or something you see. It's tough to pinpoint where the inspiration comes from. I walk around thinking about it constantly. I think it makes me a little insane but it keeps me sane as well.
 Are there certain songs that have more meaning to you than others?
I might have wrote a song when I was 20 and I don't necessarily feel that way anymore. They take on a whole new meaning when you're up on stage and people are singing the lyrics back to you. Certain songs like Amigo, I love singing. It still means the exact same thing that it did back then. I love Shotgun. It might be a little uncool to like your hit. It's important to me that I said those things. They're (songs) my babies, right?
 Who are some of your musical influences?
Bruce Springsteen, Jackson Browne, Bob Dylan, Neil Young, I mean the writers. I love lyrics and I love melody too, but when I listen to a song, the first place I go to is the lyrics. All those things combined make you feel something. If somebody has a great melody and just stupid lyrics, I can't get behind that song.
 I want to talk about Little Prison City. It's one of the best live albums I've heard in quite some time. How did the idea for doing a live album come about?
Well, we actually record a ton of our shows. There wasn't really much pressure put on us with the fact we were recording an album that day. It was just another show and the fact it was in our hometown made it that much more energetic. We didn't really hardly even know. I think that's what made it good.
 I know that band opened for the Rolling Stones recently. How cool was that?
People as far as the eye can see. I've never seen a crowd like that in my life. I was so nervous. I don't think I was able to experience it as much as I should have due to nerves. It was just gigantic. The crowd was just huge and the guys were gods. I'm fanboying out here. You can't fathom a crowd like that until you play in front of it. I was unable to see the shapes of everybody for the first time. It was wild.
 Going from a large venue and to a small, more intimate venue, what are the challenges or biggest differences?
They both have their advantages and disadvantages. Nothing quite compares to having 9400 people screaming your lyrics back to you. You can't really beat that. What a large venue doesn't have is the sweat and heat from the bodies in front of you. It's a little more controlled in a stadium. I really love when I can grab a person in front of me and feel the sweat.
 Do you have any fond memories of shows you played here in St. Louis?
Yeah, it was during a very shitty tour for us. I think like 30 or 40 people came to the show. It was one of those let loose shows. We kind of shed any reservations we had. It was Chuck Berry's bar, The Duck Room. The crowd was great and very laid back. It felt like we could have done anything we wanted in the whole wide world that night.
 Make sure to catch The Glorious Sons at Pointfest on Saturday, May 25. You can also check out their live album Little Prison City and the band recently released an unplugged album titled An Unplugged Evening With (Live at Longboat Hall).