Interview: Grandson Raps About His Music and His Passion for Change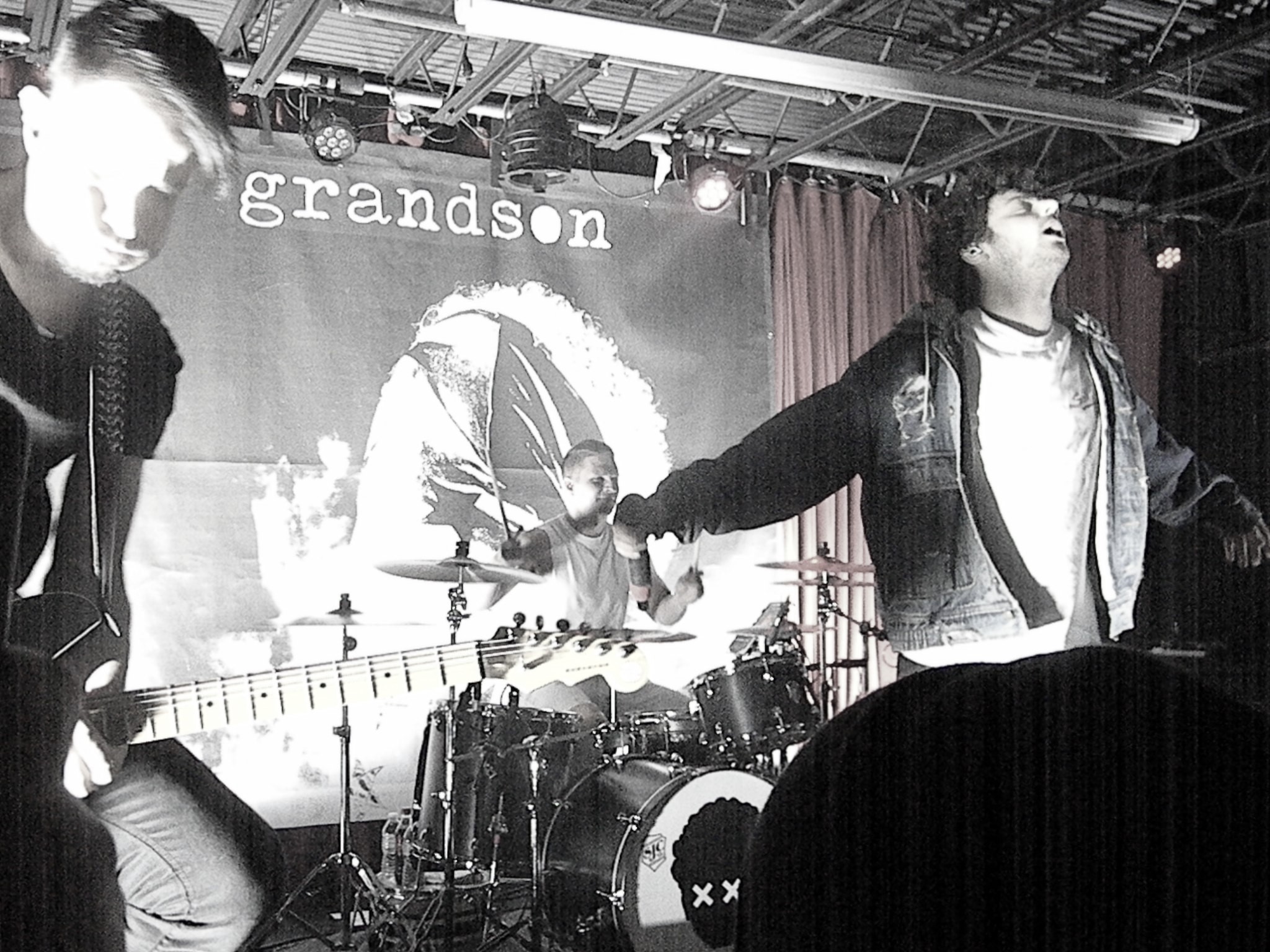 Jordan Benjamin, known famously as the musical artist grandson, is currently embarking on his
first headlining tour.
Being the first time touring at this capacity, the artist has confronted some issues
(some of which foreseen, some of which were not,) but altruistically says that he has the purpose of "a
long-form opportunity to connect with people, to begin how to figure out how to tangibly work alongside
organizations in these different cities and somehow leave behind a trail of enthusiasm, passion, and an
activation of the progressive agenda that his music embodies across each city he hits."
Ultimately, grandson wishes to use the voice of a rock show to encourage his audience, more
specifically, the silenced youth, to create a space where they feel comfortable, understood, and exercise
their right to have their voices heard.
With an upbringing from a family with an eclectic musical taste, Jordan grew up inspired by a variety of artists such as Ray Charles, The Who, Led Zeppelin, The Beatles, Pink Floyd, various jazz musicians to the likes of the early careers of Drake, Eminem, and Jay-Z. It wasn't until he moved to Montreal that he started developing his interests in electronic music, listening to artists such as Avicii, Majer Lazer, and Mac Miller.
With so many musical inspirations and confusion as to who he wished to sound like or emanate from, and frustration as to how to develop his own sound, Jordan then decided to throw all these sounds "in a blender," birthing the sound of grandson and his own style of music. Being eternally grateful to his fans, he claims to just be floored at much how his life has changed over the last year and a half as an artist, thanking those who have continuously come to his shows, urging his music to be played, and helping grandson grow into the moving musical machine that it is today.
Influencing his music, grandson spoke about the differences from when he began making music
to where he is now, explaining that at his early stages, he wished to be the mouthpiece of the
resistance, but since then, has lost this sense of grandeur. He spoke about this specifically with the
release of his second EP "A Modern Tragedy Volume 2," and uses the song "thoughts and prayers" as a
specific example to demonstrate how much has actually not changed within that social conversation. He
spoke about how his target then began to help make a change on an individual level, getting the
opportunity to meet so many people from different walks of life, and also by intellectually giving a voice
to their struggles, rather it is an addiction, loss, or oppression.
The more he interacted with those on an individual level, the larger he said it felt.
"When I was trying to lift the whole youth movement up, it would feel overwhelming. I would feel kind of dirty because embedded in that was this ego," said grandson on his reflection on how this shift between being the driving force of the youth movement and being a conduit for it occurred.
As he fantastically put it, "Instead of being at the foreground of this change, I am now just trying to be the soundtrack for it."
He discussed the breakdown of how his songs come to pack the punch that they deliver, as to how his songwriting has transformed from story-telling to being very specific situations that his listeners
can relate to. In specific, he spoke of how the hit from his first EP, 'Stick Up" was birthed, being that at
first, it was a story – but he was then encouraged to turn this story into much more than that. Jordan
very specifically mentioned the visual concept of feeling that the song had a "Tarantino and Thelma and
Louise vibe to it."
He started with the subject of the song, but then added to it. With the help of others, "Stick Up" quickly became an anthem about government corruptness and the hardships of a political recession. Grandson also spoke to the visualization of making music, and how his songs are used in a visually stimulating aspect, being extremely grateful for the exposure he gained from "Blood//Water" being used in the CW's "Riverdale," introducing many new listeners to his music.
Inspiring a revolution isn't a new concept to grandson, as Jordan used to study education and communication. However, it wasn't long before he felt it was his passion to move from liberal arts and
begin making music.
When asked if he thought there was a connection between education and music, the topic of 'education being used as a weapon' was discussed. The duality of education and his music is that it's always been that he wanted to help kids, which he feels he is still doing, just in a different way than he initially anticipated. It was no disagreement that education can be yielded as a weapon, both in terrifying and inspiring ways. Weaponizing an education can be used as forms of oppression as well as ways of enlightening others about the dangers of it, and it all depends on our willingness and ability to learn. Grandson even spoke about the specific charitable cause that XX Resistance is supporting in St.Louis, teaming up with Loudlight, a nonprofit organization which enlightens and uplifts young people from underrepresented populations. He finished by saying "If you do get fired up by the messages in the music, there are ways to enact a local change in St. Louis. There is work to be done, and there are people who are doing it."
Finally, when asked about what can be expected about the inevitable and forthcoming "grandchildren revolution," grandson was very verbal and prominent in delivering his answer; "you
better think real hard about how you feel about this thing because it's not going anywhere. I think the
first step is being ridiculed and being laughed at, and they'll try and stamp you out. In 2017 and 2018,
there was a lot of work to be done. I had to answer a lot of questions about my music. Is this a place for
rock'n'roll? But, people are fed up and fired up. They are doing the work in their own lives to be their
best selves and stand up against the rampant consumerism that feeds on our insecurities and our self-
loathing. We are doing the work to find constructive outlets to be proud of who we are, to love
ourselves, and discover what it means to know that there is a progressive movement coming for
rock'n'roll which has largely been covered in cobwebs."
Many will impose their own judgment as to what this movement is, but grandson promises that it's something different. The problems we face are transparent and it's all unfolding in real-time. He then finished by saying, "I'm just trying to give these kids some guitar riffs and get the hell out of their way. And, this is only part one."