Review: Jim Gaffigan at Scottrade Center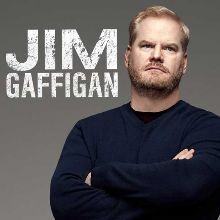 Masses of people flood into three lines, waiting to go through security. I can already hear bubbles of laughter and see the wide smiles of everybody waiting in line. The wait's not long and soon we're all filing into the Scottrade Center.
As soon as I walked in I could see all the floor seats surrounding the small square stage were filled, but not much else. They had the very top rafters closed off, but everything else was open and not getting much use. Twenty minutes after the show was supposed to start, small crowds of people were sprinkled across the the sections. Needless to say, it was not a full house as Jim Gaffigan's opener came out.
Ted Alexandro is a comedian based out of New York City, NY. He has had his own thirty minute specials on Comedy Central and has graced the stages of many late night talk shows. It seemed that the crowd didn't know what to think of Alexandro as he started his set. Alexandro's style was interesting in that he gave more than sufficient background on the story, then would surprise the crowd with a quick punchline.
I love that he kept me on my toes during his set. His stories were entertaining and captivated the audience, then he'd come out of nowhere with a zinger. While the audience seemed hesitant to warm up to him at first, Alexandro won us over with jokes about heterosexual weddings, Shaquille O'Neal, and erectile dysfunctions.
As Alexandro finished his set and left the stage, the crowd – much fuller than when the show started – became antsy. People all around me started trying to see through the dark, guessing as to how Jim Gaffigan would be entering the stage. A man's voice came over the speakers, spotlights flooded the stage, and Gaffigan appeared with his entourage moving down the aisle and shaking hands with fans as "New York" by Alicia Keys blared through the speakers. He walked up to the center of the stage, and the Noble Ape tour began.
I found myself laughing even before he opened his mouth. Just the excitement and anticipation of him being in my proximity was enough to make me giddy. He opened his set talking about the Arch and why he didn't visit it. The bit was extremely funny and relatable, and it was nice that Gaffigan tailored his show for his audience. It was a great strategy to warm up the crowd, even though everybody in the venue that night was already putty in his hand. This theme of localizing the jokes continued into his next bit as he talked about our museums, and museum communities as a whole. This bit lasted for a while, but Gaffigan kept the crowd's attention throughout the entire segment.
During his set, Gaffigan revealed that his wife of fifteen years had a tumor discovered in her head earlier this year. He then told us she had it removed, everything is okay, and followed it up with a series of jokes about his thoughts during her recovery.
Gaffigan tried to work in new slang words during his set that made all ages in the room laugh. The older crowds laughed because of how weird it sounded coming out of his mouth, and the younger crowd was amused because we could see how uncomfortable he felt saying it.
Throughout the set, Gaffigan had the audience in gasping laughter. Everyone who surrounded me was fighting to catch their breath for a good portion of the show. His jokes about hospitals, working out, and Japanese toilets hit home with a lot of people that night, giving a good energy in the air.
Personally, I really enjoyed the show, but there were moments when I found myself wondering how much time was left. I loved when he started talking about his children, but that was one of the last things Gaffigan hit on in his set. I did, however, like how he changed his tone throughout the set.
In the beginning, Gaffigan whispered into the mic and spoke like he didn't want to scare us. As the jokes continued and we went further into his set, Gaffigan became progressively louder and more boisterous. This strategy fit in well with each of his segments, and gave another dimension to his set.
Gaffigan ended his show with the infamous Hot Pocket joke. It was a surprise to the crowd and they could not have been more excited. The Hot Pocket bit was never a favorite of mine, but Gaffigan built in new material that really elevated the joke and gave it a new wave of life. As he signed out, the audience moved to their feet, giving a standing ovation to Gaffigan as he ended the St. Louis leg of his Noble Ape tour.