Aarti Reviews: Eat Pray Love Starring Julia Roberts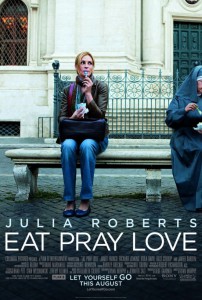 Eat Pray Love is a story of Liz Gilbert, the author of the book by the same name.  Liz is unsatisfied with her life.  After a painful divorce and a failed relationship with a younger man, she decides to take a year to herself and travel to Italy, India and Bali.  In Italy Liz finds a swedish friend who introduces her to her friends and Liz eats all the Gelato, pasta and pizza a person could desire.  In India, Liz learns to meditate and forgive herself for everything.  In Bali Liz finds love again.
The acting in this film was fantastic.  Unfortunately, that is the only good thing I can say.  The eat part of the film looked like it belonged on the food network- there were more shots of food than there was actual story.  The pray part of the film, in India, was well, everything I hate about the portrayal of India in American films.  I am Indian, and I found the bastardization of one of the oldest surviving cultures slightly offensive.  Yes, there are arranged marriages in India, but very rarely of 17 year old girls.  They showed how dirty it can be, but not a single bit of beauty that makes India one of the most amazing places on earth.  I have come to expect this in American cinema, but it still makes me sad and uncomfortable.   The "love" part of the film was the only redeemable part of the film and that was only because Javier Bardem was in it with his impeccable acting skills.  By this point in the film I was beginning to wonder if it would ever be over.  When it finally was, I was relieved that the movie was over and I could leave.  That is not a good sign.  I think my friend Gina said it best while describing the book: Eat Pray Yawn.
Eat Pray Love is a C-