Review: David Gray and Alison Krauss at Peabody Opera House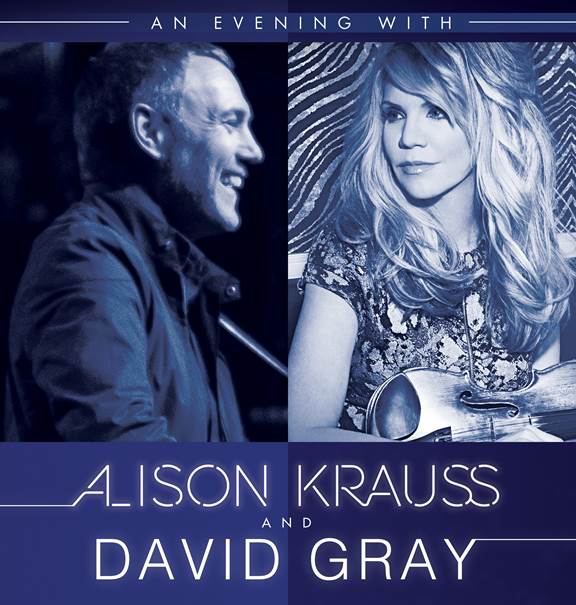 On Friday October 6th , The Peabody Opera House hosted an evening with blue grass, country darling Alison Krauss and British folk rock singer David Gray.
It was an intriguing concept that this seemingly, contrary musical pairing could somehow create cohesion on a tour. Arriving at the grandiose Peabody Opera House it was evident by the packed and buzzing lobby that this was a much anticipated show. I overheard anxious attendees conversing on being team David Gray or team Alison Krauss. Maybe some skepticism about the pairing had led the attendees to draw a line between the artists.
The stage lit up to reveal David Gray backed by several huge production lamps, resembling street lights staggered next to one another. It was just Gray at the microphone chanting an a cappella opener while clapping his hands to awaken the crowd. He lured us into his home with "Shine" and "Kathleen" with an intimate peek into the raw, simplistic connection of him beside the piano and guitar. Gray created a trance like space to float along with during an extensive lullaby of "Nemesis", which projected twinkling snow flake light orbs that faded out to Grays soothing vocal cooing. The performance picked up when the band chimed in and Gray transitioned between guitars to piano, and even utilizing his jazzy scat chants as an improvised instrument itself. Whether he was jiving and jamming or lost in a moment, the crowd was as well.
Alison Krauss illuminated the stage with her angelic vocals radiating "River In The Rain" up through the balconies and maybe even towards the heavens. Her presence was timid, yet graceful with a fiddle in hand, but her pristine powerhouse vocals were goose bump worthy. Krauss is an Illinois native and took moments of gratitude for old band mates and reflected on Union Station as her original stomping grounds. The improvised blue grass solo selections of harmonized vocals, with plucking and pounding on various instrumentals from the The Cox Family members really amplified the crowd. The band switched off for the popular a cappella selections of "O Brother Where Art Thou?" soundtrack.
The collaborative mixture of these two artists I think opened up some eyes and ears to their similar soulful folk, and vocal based artistry. The crowd easily appeared pretty conservative, until some of the transitions in the track lists had them excitedly whistle blowing, chanting, and clapping in harmony. Both
artists received well deserved standing ovations. I was slightly disappointed that Gray and Krauss didn't surprise the fans with a collab to tie in the evening. Overall, the Peabody Opera House treated St. Louisians to an evening of surprise and memory with two legendary musicians.