Interview: 'Evil Dead The Musical' Creator Christopher Bond Talks Bringing Ash to St. Louis (Oct. 12-22)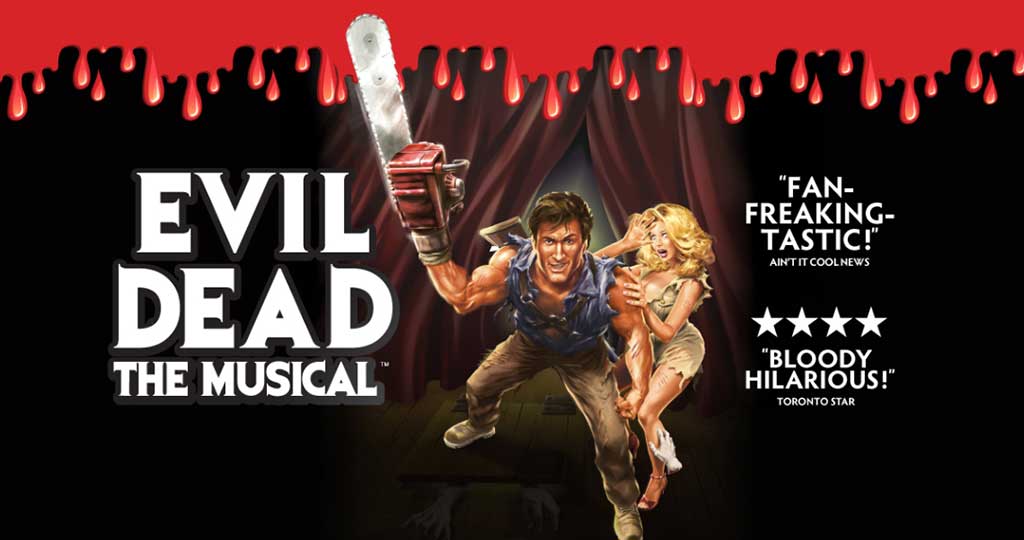 Written and directed by Sam Raimi, Evil Dead (1981) is one of the most beloved cult classics of all time. Starring Bruce Campbell as Ash, the film spawned two sequels (Evil Dead 2: Dead By Dawn, Army of Darkness), a reboot in  2013, and a television show on Starz which is about to start its third season (Ash vs The Evil Dead).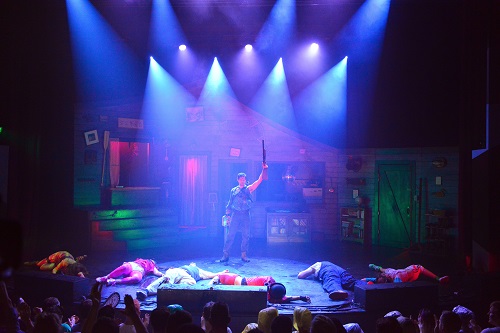 Lesser known is Evil Dead The Musical, which made its debut in 2003 in the back room of a small bar in Toronto. The show went on to open Off-Broadway in 2006, perform 300 consecutive shows at the Diesel Playhouse in Tortonto from 2007-2008, played Vegas for the last 5 years, and set out on three North American tours.
Christopher Bond is one of three creatives responsible for bringing the franchise to the stage, and was the original director and co-composer of the musical. He spoke to us about humble beginnings, love of the films, and a little bit of luck that got the show to where it is today.
"We were just a bunch of kids, young punks out of school, trying to get into the business. Me and George, and Frank, we all into horror and the whole genre.  I though the idea of a campy horror musical would be funny – especially an interactive one, where we could get the audience involved and get them bloody. We thought it was silly and fun, and we could just do it in a bar. We never really thought about the future; It was just like, "hey, why don't we turn Evil Dead into a musical?"
And this idea was the first of it's kind, before films like The Toxic Avenger, or Silence of the Lambs, had their own musicals. And getting things rolling started with an e-mail.
"We e-mailed Bruce Campbell on the interwebs, and said, 'We're thinking of doing this. Is it cool?' We thought he was just going to shut us down to be honest, but he was actually really helpful pointing us in the right direction… We just said, 'hey, we're a bunch of young kids trying to make it, and we thought we would put this show up in a bar in Canada. It's very low stakes,' and they're like, 'yeah, go for it! Sure, have some fun.' I think maybe they saw a little bit of us in them."
The young creatives had everything in order for opening night, when fate decided to bring upon them a blackout of the eastern seaboard.
"We maybe had sold 100 tickets in our little theater, and instead – I remember getting there and saying, 'What are we going to do?' The producer was pretty mad, and I said, 'Why don't we just do it on the street?' And it was crazy because, if you remember that, everyone was outside. So we just did it on the lawn in front of this bar. And instead of having 100 people watch, we had like 600 or 700 people. And then a few days later, we were all over the media about this play that happened on the street."
They made the best of the cards they were dealt, and it ended up helping them greatly in the long-run.
"We started getting all this coverage that we never could have even paid for, it was insane. And then all of a sudden, once power came back, and all the fans were flying in from out of town to see this thing. People really loved it, and we were getting lines around the block. We were in a 120 seat bar, so we ended up extending a few months later. I guess all that the publicity got a couple of producers interested, and it was the Just For Laughs comedy festival that kind of discovered us – with Jeffrey Latimer becoming a producer. And at that point, we needed to get legit and really start paying Sam Raimi and those guys."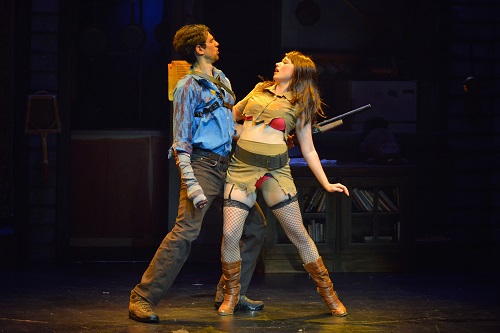 Chris decided early on that he didn't want to just make the show for the die-hard fans of the Evil Dead franchise. He wanted to be sure that it was inclusive for everybody, including the casual musical theater-goer.
"It had to be inclusive for everybody. And it had to be something that anybody could just walk in the door and enjoy; Someone who just wants to have a good time, someone who loves musicals. Not just a horror fan, or an Evil Dead fan. We really tried to just make a good, funny musical."
It helped that these guys weren't just run-of-the-mill Evil Dead fans. Chris was a big musical theatre guy, and it was important that the word stands on it's own – and not just as an homage to the movies.
"I was like, this has to be like a real musical, we can't screw around here. We kind of borrowed a lot of classical musical theatre traits. But because it was this horror film, it almost became the anti-musical. I don't want to say it was making fun of musicals, but just kind of turning it on its side a little bit. But the energy of the piece was kept as real as possible, and when all the silly jokes happen and the campy bits arrive, it plays way stronger."
So how close does the musical get to the original trilogy?
"We didn't want to upset Sam, or the fans. You have to be true the original films, and I think we honor and pay tribute to those films as much as we could – but still gave it a little bit of our own personal flair. And we combine all 3 of these movies into one 90 minute musical that anybody could walk into. We were fortunate to have some time to work on it, with a few productions leading up to Off-Broadway, so we made some changes and added some thing. There are more effects, and more blood. And listen – the splatter zone – at first we thought this would be the cheapest ticket. Who wants to get blood dumped on them? And now it's like the top ticket, and people clamor for it. People show up in white tuxedos."
It's all about the fans.
"The fans are amazing, and crazy, and we love it. We keep trying to figure out, how else can we shoot blood on them? How much more blood can we dump on the audience? And will this theatre let us destroy their carpets? We actually came up with a system to not destroy theaters. It's almost like laying a full body condom on the audience, so we don't ruin any of these theaters."
And the timing couldn't have been better for the musical to flourish, with the film reboot and now the television series.
"We've been really fortunate. When we wrote the show, which was in 2001 / 2002, there wasn't much going on in Evil Dead land.  And I think we were kind of maybe part of that canon. And all of a sudden there was this new thing – Evil Dead. And shortly thereafter there was the remake, and now the television series. And the series is really kind of the fun, and definitely in the spirit of what the musical is. So we were really thrilled when Ash vs Evil Dead started coming on TV, and we were like, 'this is definitely the feeling that we like to do in the musical.' So it's kind of come full circle."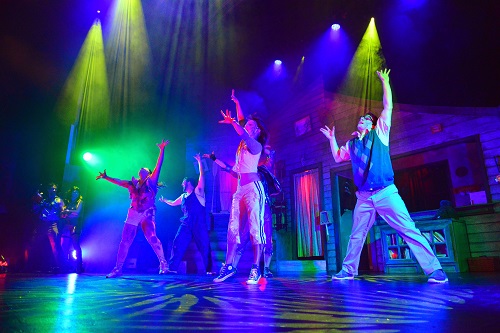 So what does Ash himself, Bruce Campbell, think of the show?
"We were fortunate, that that they were big supporters right from the get-go. The material was strong, and they were fantastic, so we were really, really lucky. Bruce especially has been really supportive, and has championed the show. You'll see a lot of Q&A's he does at cons and fan expos, where people bring up the show – and he has nothing but great things to say about it. I'm sure he's tired of hearing about it by now, like, 'yeah, there's a musical, I've been talking about it for ten years.'"
The musical incorporates the story and visuals from all three of the films, so what was it like trying to secure the rights to make the show how you wanted it?
"The biggest hangup was that each film is owned by different studio. So we had to literally get permission from all three studios, which was not easy.  It took a while, but it got done. There were some parameters that we had to put in place, but it all worked out. And they've been supportive. We were super fortunate, because you just can't do this now… Every movie now comes with inclusive rights for musicals. Everyone else is thinking about what else this property can become later. But people weren't thinking that once upon a time."
So what age group is the show for?
"It's campy, and fun, and a little bit racy.  There's a lot of swearing, and it's irreverent as anything… so I hate to be like, 16 and older. We've had younger people come to the show and love it, you know what I mean? There are some cool dads that bring their 12-year-olds, and they think it's the greatest! But there's definitely some language, and some sexual tones. But there's something for everyone in Evil Dead. And if you're not into just comedy, there's beautiful dancing and effects, and lights – and a lot going on. Even though we  keep that campy spirit, it's a very polished campy spirit."
The greatest challenge Chris and his team has is conveying to prospective audiences that Evil Dead The Musical is not a scary show.
"This is a comedy; it is not a scary show. It's difficult, when the show is called "Evil" and "Dead" to say, 'no, this is actually a funny, good time out' Come on down… The two main things are finding the right people, and making sure that the audience understands that this is a hilarious, fun night out."
---
Evil Dead The Musical will play The Grandel Theatre October 12 – 22, 2017. Tickets are available now at MetroTix.com. For more information about the show, visit or evildeadthemusical.com.