Review: 'Baggage Claim' Starring Paula Patton, Taye Diggs, Adam Brody, Djimon Hounsou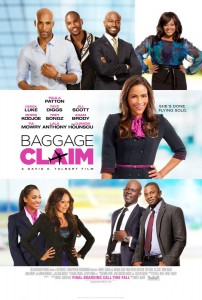 Over the course of every year, there are a number of romantic comedies that drop. Almost by default, men all over the world tend to have the reflex of rolling their eyes upon even seeing the trailer of said genre of movie. To be fair, there are stand-out movies that happen to be centered on the idea of romance, and comedy that is note-worthy in tandem with likable characters. So where does Baggage Claim fall into all of this…?
Baggage Claim focuses on Montana Moore (Paula Patton), who is a flight attendant that is, well, looking for love. The pressure her character feels stems from the fact that her younger sister, Sheree Moore (Lauren London), is getting married within 30 days, and Montana feels it imperative that she at least has a date to the wedding, but more preferably husband material. The vast majority of this pressure comes from Montana's mother, Catherine Moore (Jenifer Lewis), who constantly reminds her of the fact that she was already married before she was Montana's age. More specifically, her mother had gotten married five times in her lifetime. As for Montana's social life, she has her childhood friend, William Wright (Derek Luke), and her co-workers, Gail Best (Jill Scott), and Sam (Adam Brody). They spend their time discussing relationships when Gail comes up with an idea. Deciding to call in favors from other workers at the airport, the gang arranges it so Montana will coincidentally run into guys that she would be interested in, as well as previous significant others. With the hope of one of these former flames of Montana might bring something new to the table this time around, what could possibly go wrong with that?
The love interests of Montana's life are the likes of Graham(Boris Kodjoe), a very wealthy business man, Damon Diesel (Trey Songz), a decently known recording artist, Langston Battle III (Taye Diggs), an aspiring senator, and Quinton Jamison (Dijimon Hounsou) who could obviously marked as filthy rich. As you might guess, there can only be one. So, if you somehow imagined that movie would throw an insane curveball of say, polygamy, that is not happening here (I'm sure it'll happen in some movie if it hasn't already).
Baggage Claim certainly has a few funny moments. In my opinion, one of the funnier characters was Adam Brody's Sam. He had some well-timed lines and quips, much to the detriment of other characters. Montana's best friend, Gale, could elicit laughter with the fact that she would offer advice, and then turn around and think you're crazy for actually doing it. Cedric (Affion Crockett) was one of the TSA workers that took a strange delight in making someone's day that much more difficult (funny in the context of the movie, but not so much in real life). The character Tanya (La La Anthony), who is one of the workers at the airport did not have much of a role, and had one moment that was not comparably as funny to the other aforementioned characters.
It can be noted that there is a good cast in Baggage Claim. Whenever I see Dijimon Hounson, I reflexively think Gladiator. Unfortunately, I just had to settle for him being charming and not slaying people in a ring. As mentioned before, Adam Brody was good, and Taye Diggs is good in most roles that he tackles, in my eyes. As for the lead, Paula Patton, I recalled seeing her in a movie with a premise of looking for love titled Jumping The Broom. There at least was a twist in that movie that helped to shape some of the characters in a pivotal fashion. I've come to realize that I want less of Paula being lovesick, and more of her kicking ass in the vain of Mission Impossible: Ghost Protocol. Though, she could wind up in a romantic comedy that changes things up a bit… I'm no psychic.
Overall, Baggage Claim didn't bring anything new to the table in context of romantic comedies. Many could call it a by-the-numbers kind of deal. Something that can make the genre more tolerable (at least in my eyes, go figure) is throwing something new into the mix. You won't find any innovations for genre here, and a decent amount of guys may find themselves being dragged into viewing this film. It wouldn't make the top of my list to see again, but it's certainly not the worst in it's respective genre.
Baggage Claim is a C-