Movie Review: 'Enough Said' Starring Julia Louis-Dreyfus and James Gandolfini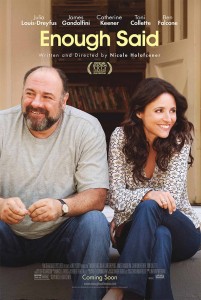 Most modern romantic comedies contain just as much fantasy as a J.R.R Tolkien epic. They are loaded with unrealistic character motivations, mindless tropes, and plenty of female wish fulfillment. It's hard to criticize romantic comedies, and at the same time praise huge blockbuster action films. Neither are grounded in reality, but for some reason its easier to forgive over the top action films for their unrealistic sins. Finding a romantic comedy that feels genuine and entertaining is like finding a diamond in the rough.
Coming to save the day is Enough Said, the latest film by writer director Nicole Holofcener. In this well crafted love story, Holofcener gives a unique and heartfelt take on finding love in middle age, and the complications it presents.  The film follows two middle-age divorcees who despite a lack of initial physical attraction, eventually find a lot of common ground for love to blossom.  However, when Eva (Julia Louis-Dreyfus) strikes up a friendship with the ex-wife of new love Albert (James Gandolfini), things start to spiral. Eva must come to grips with how she feels about Albert, and stop worrying about how others feel.
Addressing the elephant in the room, the recent death of James Gandolfini makes this a harder film to review. It's a little bittersweet at times watch his performance, especially because it is a showcase of the range he possessed as an actor. There are no hints of Tony Soprano here. Gandolfini's Albert is sweet, gentle, and charming.  The chemistry he shares on screen with Louis-Dreyfus is exciting and raw, and lends an air of reality to the proceedings.  It is the chemistry between the two that makes the film work so well. At first glance it seems an odd pairing, but watching it unfold on screen the coupling seems perfect. Louis-Dreyfus is engaging as the lead, and her wry sense of humor keeps the dialogue fresh and fast paced.
Holofcener proves that multifaceted characters in romantic comedies make for exciting material. Her characters are layered and deep. For the most part the characters don't react to situations in a way to force the story forward, but instead act as humans would in real life. Here we have characters filled with self-doubt, humor, sadness, fear of loneliness, and more. It's what you would expect from a divorced middle age person whose kids are about to leave the house for college. These characters have a realistic quality that is hardly ever felt in this genre.
This is a mature comedy for all audiences. It doesn't end with anyone breaking up a wedding at the last minute. There are no last minute dashes to the airport to tell someone you love them. It's just a film with that shows love never is easy, but when you find it, it can really be something special.
Grade: A