Review: ANYTHING GOES at the Fabulous Fox Theatre in St. Louis (May 28 – June 9)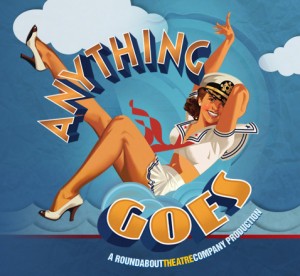 I didn't know much about Anything Goes as I walked into the Fabulous Fox Theatre for the show's opening night in St. Louis. Sure, I had heard the title song before, yet aside from that and what I read in preparation – I was entering with a clean slate. What followed was a missing gem from my theatre-going experience. A clever and delightful comedy that is packed with well-known songs and fantastic performances by several Broadway veterans. And for a show that first opened in 1934, this revival is as fun and current as anything else I've seen.
Written by distinguished writer and lyricist Cole Porter, the story takes place mostly at sea aboard the S.S. American. Young stockbroker Billy Crocker (JOSH FRANKLIN) has fallen in love with debutante Hope Harcourt (ALEX FINKE) who is out of his league. Meanwhile sultry nightclub proprietress and star Reno Sweeny (RACHEL YORK) is in love with Billy, yet he doesn't even notice. She asks him to go to London with her, but he declines – sighting his job and Hope as the reasons he must stay. But in the morning when he goes to the cruise ship to give his boss Elisha Whitney (DENNIS KELLY) his passport, he finds that Hope is set to be married to nobleman Sir Evelyn Oakleigh (EDWARD STAUDENMAYER). Not only are they both on board, along with his boss and Reno, but are also joined by two stowaway gangsters: Public Enemy No. 13 Moonface Martin (FRED APPLEGATE) and his henchwoman Erma (JOYCE CHITTICK). A series of unexpected events lands Billy aboard the ship, where a hilarious case of mistaken identity ensues. He must try and blend in, all the while attempting to win over the woman of his dreams.
Although the entire cast is phenomenal, there is no question as to who the star of the show is. From the moment that radiant and talented actress Rachel York opens her mouth in the first number, "I Get a Kick out of You," it is clear why she is there. York is no stranger to Broadway, having made several appearances before joining the tour (
Les Misérables
,
Dirty Rotten Scoundrels
), and has the voice to prove it. She channels a vibrant Mae West demeanor, with a beautiful and classic voice from an era long ago. Her charismatic performance steals the show just about any time she walks on-stage.
Josh Franklin, who plays Billy, is extremely charismatic and shares a great chemistry with York. There is never any doubt that the two of them could be best friends, especially with their performance of "You're the Top." Turning the likable duo into a trio is Fred Applegate, who plays the laugh-provoking gangster Moonface Martin. His comedic persona reminded me of Nathan Lane, which made perfect sense when I found out that he played Max Bialystock in The Producers on Broadway. Applegate, along with Joyce Chittick as Erma, both add a whole lot of character to the show – making sure things never get dull.
The magnificent multi-level set towers high above the stage of the Fox, transporting the audience straight to the deck of the S.S. American. Different cabins slide smoothly on and off stage in the foreground, while the background fades out yet never truly disappears. And during the second act, the stage is transformed into the on-ship nightclub where Reno and her "Angels" perform. The set pieces are simplistic, yet elegant, and do a fantastic job of setting the scene – while focusing on the characters.
There are so many wonderful and recognizable songs in the show. I honestly didn't even know they originated in Anything Goes, but sure enough they did. And the talented cast made singing them look effortless. Aside from "I Get a Kick out of You," probably most notably performed by Frank Sinatra in his day, the show also features "You're the Top," "Friendship," "It's De-Lovely," "Blow, Gabriel, Blow" and of course "Anything Goes." With so many memorable numbers weaving in and out of the entertaining story, it is no wonder it won the Tony for Best Revival in 2011.
Not only is the singing great, but the dancing choreographed by Tony Award-Winner Kathleen Marshall should not go unnoticed. There is a fantastic tap number featuring the entire cast that closes out the first act, which had the entire Fox Theatre nearly giving a standing ovation.
After seeing Anything Goes for the first time, there is no wonder why the show has been revived several times on Broadway and around the world. The story is fun, the characters are likable and well-written, and the songs are fantastic. The touring cast of Roundabout Theatre Company's stellar production is phenomenal, packed with talent that is sure to dazzle audiences. Whether the show is one of your favorites, or you are a newcomer like myself, you are sure to get a kick out of Anything Goes.
---
ANYTHING GOES plays the Fabulous Fox Theatre in St. Louis from May 28 to June 9, 2013! Performances are Tues-Sat at 8pm, Sat & Sun at 2pm, Sun, June 2 at 7:30pm, and Thur, June 6 at 1pm. Tickets are $15 to $64, and the running time is 2 hours and 35 minutes with 1 intermission. Purchase tickets at Metrotix, or visit the Fabulous Fox website for more details.