Theatre Review: Powerful Performances Lead ANGELS IN AMERICA PART 1 at Rep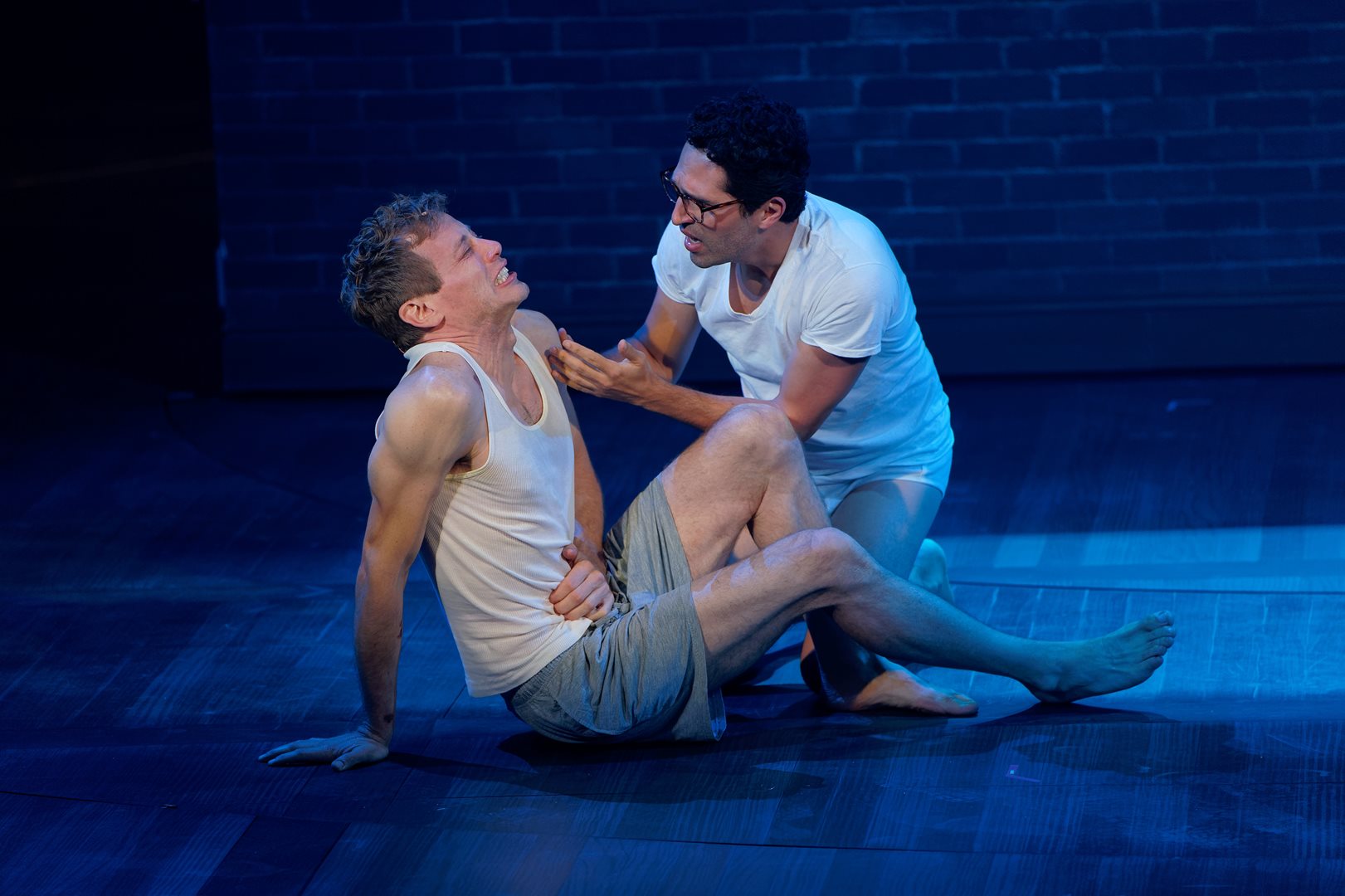 What a show to kick off the 2019-2020 season at The Repertory Theatre of St. Louis, welcoming new artistic director Hana S. Sharif as she takes over duties from Steven Woolf after more than three decades.
Considered by many to be one of the most important works about the HIV/AIDS epidemic in America during the 80s and 90s, Tony Kushner's Pulitzer Prize-winning Angels in America comes to The Rep after both Broadway and West End revivals.
The play is comprised of two parts: Millennium and Perestroika, each running around 3 hours per performance.  Part one opened on Friday night, with part two opening later this week and rotating throughout the show's run.
Angels in America follows three stories that weave in and out of one another.  Roy Cohn (Peter Frechette) is a powerful attorney with impressive political connections, whose reputation and success means everything to him.  He offers an important job in Washington, DC to one of his judicial clerks, Joe Pitt (Jayson Speters) – but he must discuss it with his wife Harper (Valeri Mudek) before he can accept the position.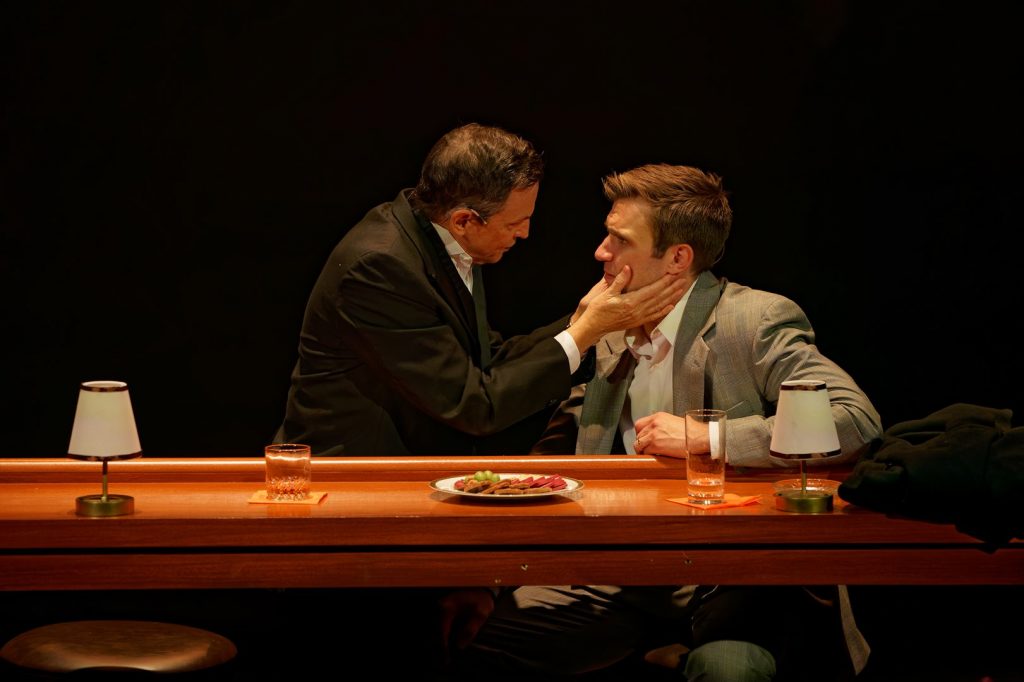 Meanwhile, Harper is at home while high on Valium pills and hallucinating about the ozone layer disappearing and a travel agent named Mr. Lies (David Ryan Smith) planning a trip to Antarctica for her. Joe and her both know that she is struggling, as is their marriage.  
Louis (Ben Cherry) is mourning the death of his grandmother when his lover Prior (Barrett Foa) shows him a lesion on his arm – caused by disease associated with AIDS.  He is forced to deal with his own anxieties and fears while struggling to support the man he loves.
There is much to unpack during the first part of the play, the story unfolding as it bounces back and forth between the characters.  The show opens with a rabbi (Meredith Baxter) laying Louis' grandmother to rest, stating that he did not know her – and yet he knows her type, and that soon they will no longer exist.  Death is a theme that lingers throughout the entire story. As it approaches, Roy does everything in his power to ensure his reputation goes unscathed. All the while Prior is trying to delay it as Louis runs away from it.  While death isn't hovering above Joe and Harper in the literal sense, the fact their marriage is dying is very real.
There is no denying that the work is a masterpiece.  But it has also found more and more relevancy since it was first written and performed. We are still dealing with AIDS, and the stigma that goes with the disease. There are people like Roy Cohn who still feel the need to hide their sexuality for fear of disapproval. And the Reagan-era politics of the show have many parallels with the political landscape today.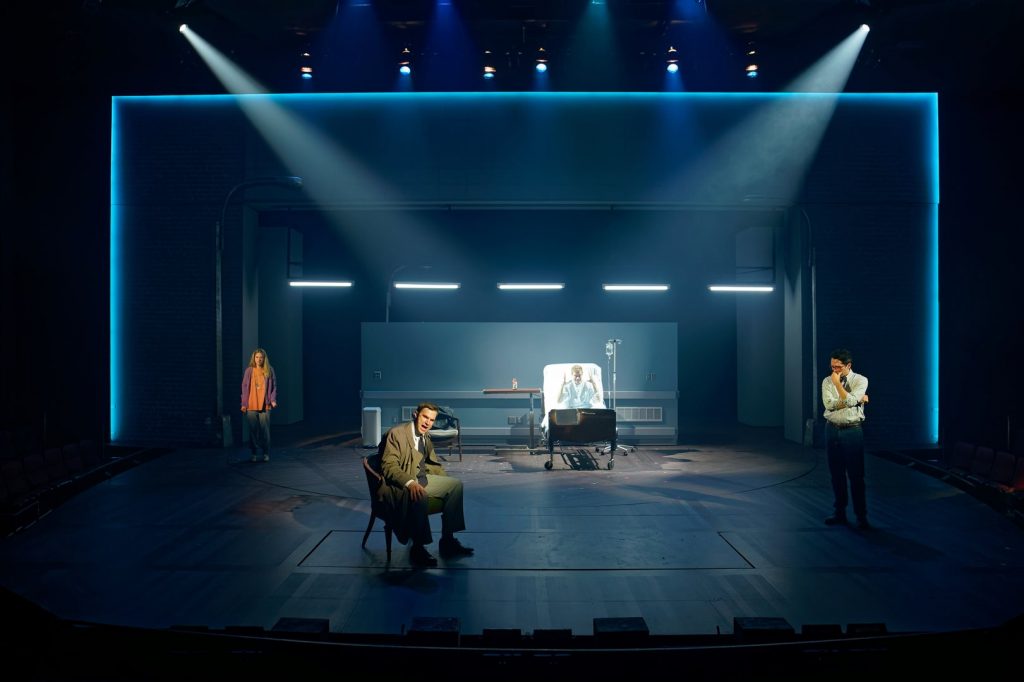 The performances in this production of Angels are nothing short of phenomenal. The entire cast takes Kushner's work and captivates the audience with every word. The opening night performance seemed to fly by, two intermissions and all, keeping the audience wanting more at the end of part one. 
Director Tony Speciale has ensured that things keep moving during the runtime, as scenes and locations seamlessly transition between one another. It is also one of the more technical productions I have witnessed at The Rep, fully utilizing the revolving stage, hydraulic lift, and video projections. There is never a dull moment, as you can't wait to return to each of these enthralling scenes. 
Baxter opens the show with her nuanced portrayal of Rabbi Chemelwitz, and continues to impress as multiple characters throughout the play. I'm anxious to see more of her as Hannah Pitt in part two.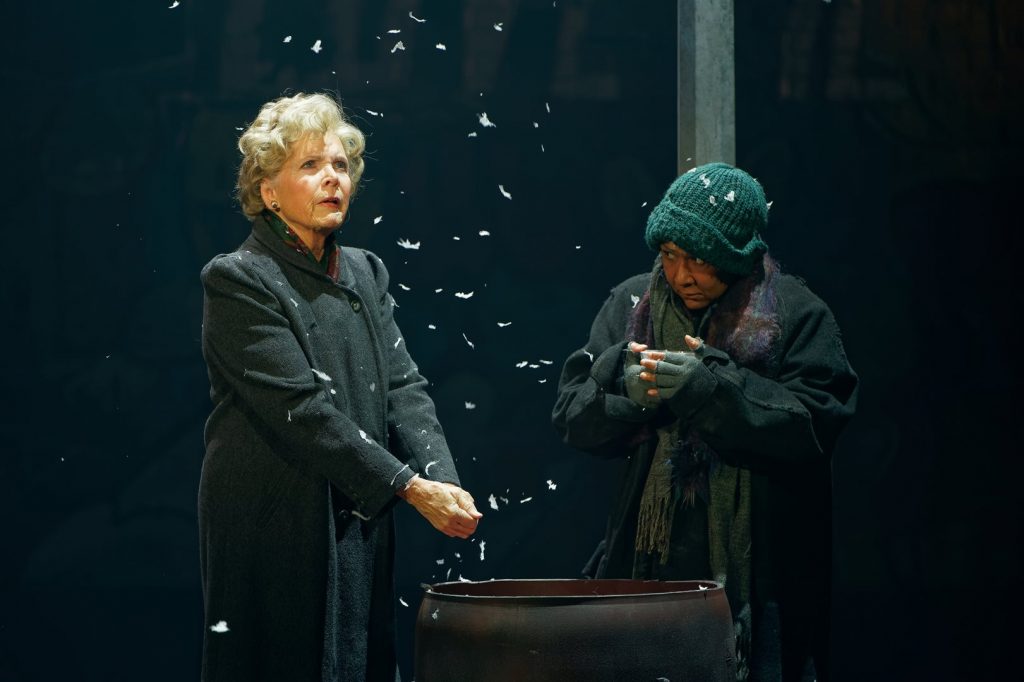 Speters is wonderful as Joe, who in one comedic moment opposite Cherry scene refers to himself as "confused," which pretty much sums up what the character is going through. His character has fought against who he is in order to appear to be who he thinks he is supposed to be, and the actor excels in presenting this struggle. 
Guiding Joe down a dubious path, Peter Frechette is wildly entertaining as the morally bankrupt Roy Cohn. The actor gives a fast-talking, larger-than-life portrayal (Al Pacino played him in the HBO, if you question the fit) which keeps the laughs coming. However, toward the end of part one he delivers a triumphant monologue opposite Baxter as his doctor – showcasing his talents for the dramatic. Frechette is absolutely captivating in the role. 
From the moment Foa appears near the beginning of the show, his charisma leaps off the stage. The actor who is known for his Broadway work, as well as his role as Eric Beale on NCIS: Los Angeles, is marvelous as Prior. He's able to perfectly switch between his character's witty dialogue and harrowing situation with ease – giving a stunning performance from beginning to end. Opposite Foa is Cherry, who also gives a tour de force portrayal of Louis. The character is dealing with a lot at once, and Cherry does a fantastic job juggling his complex array of emotions. The two of them are brilliant together.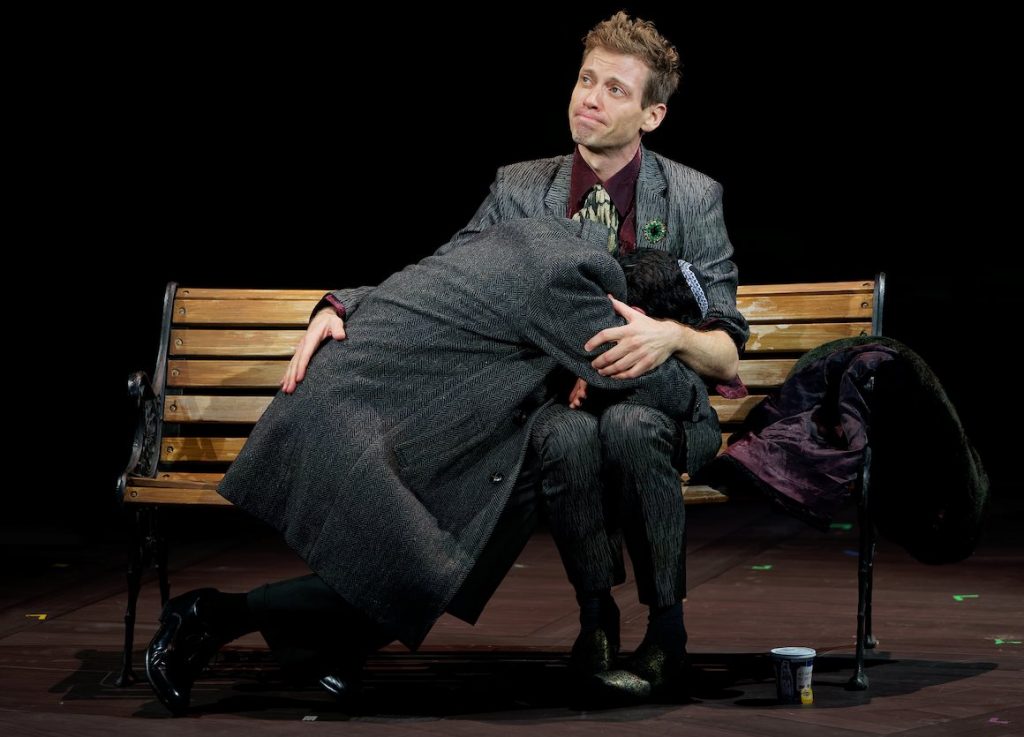 Valeri Mudek does a fantastic job conveying Harper's breakdown and shines in her scenes opposite David Ryan Smith as Mr. Lies. The two of them are wonderful in these hallucinations together, bringing these fantastic elements to life.  Smith is also wonderful as Belize in his scenes both opposite Foa and Cherry.
Gina Daniels plays several roles in the show, but the standout is unsurprisingly The Angel at the end. It is a moment that really wows the audience, and a perfect spot to leave them wanting more.
The scenic design is fairly simple compared to some of the other productions we've seen lately at The Rep, but proves extremely effective as we jump from scene to scene. Timothy Mackabee's designs pair well with the more technical aspects, like projections from Alex Basco Koch and lighting by Xavier Pierce.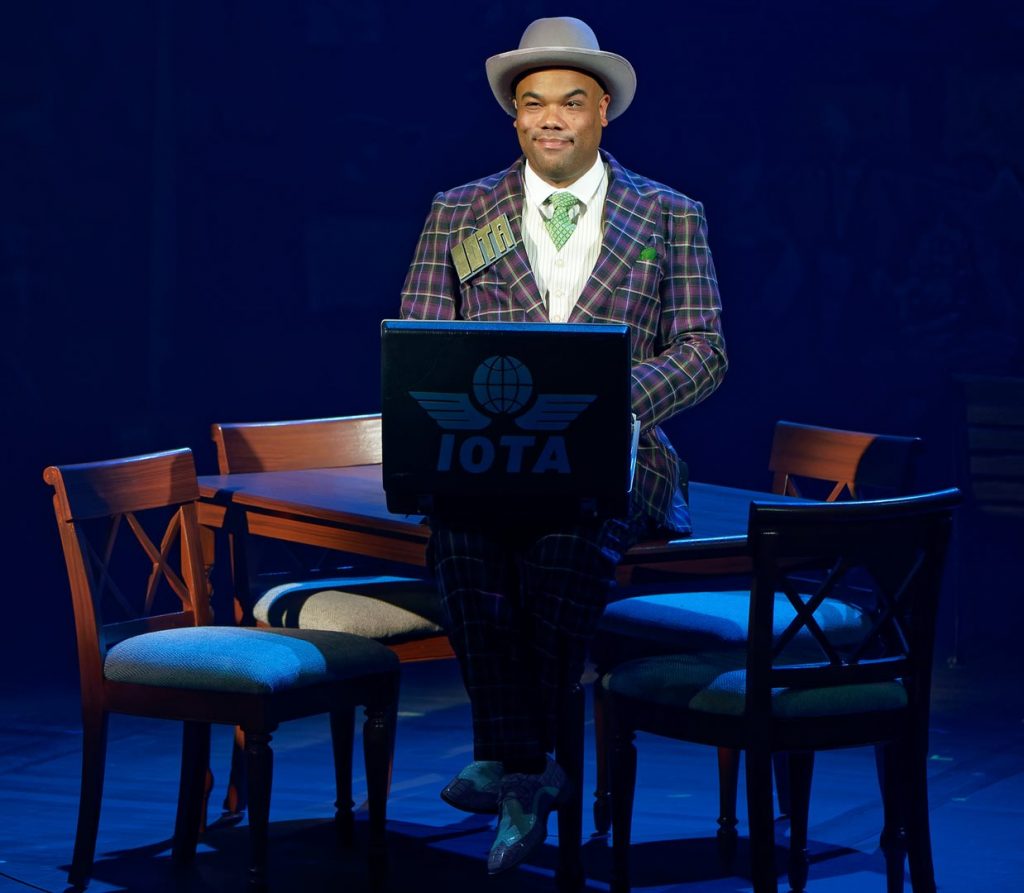 Angels in America is a show that most everyone has heard of, but not everyone has had the opportunity to see performed live. There is no better opportunity at present than the outstanding production being performed at The Repertory Theatre of St. Louis – especially with part two rotating in during the entire run. The cast is phenomenal and brings this important work to life with new meaning being found even today. Don't let the runtime or commitment scare you away, as the first part flies by – leaving you anxious to see what's next. And it is sure to leave no one questioning why Kushner's work has been so highly revered for nearly three decades. 
See ANGELS IN AMERICA parts one and two through October 6 at The Repertory Theatre of St. Louis. For tickets and more information, visit RepSTL.org.
Photos by Peter Wochniak