Restaurant Review – The Melting Pot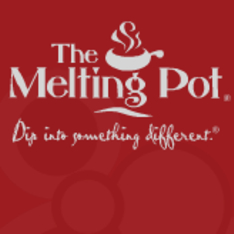 'Tis the Season for Family, Friends and Fondue!  The Melting Pot is one of my favorite restaurants to visit for celebrations of all sorts!  I recently visited to celebrate my birthday, and The Melting Pot lived up to all my previous expectations.  With two locations in St. Louis – Town & Country and the Loop, there's a fondue fantasy nearby. 
The Melting Pot can be an expensive experience, but there are also ways to get your fondue craving filled without spending an arm and a leg.  Sign-up for "Club Fondue" and receive a free chocolate fondue from the start.  You will also receive other great coupons and mailings as time goes on.  Visit the Melting Pot for their happy hour specials, for dessert, or better yet – for the amazing cheeses they offer! 
On this particular birthday visit Steve and I shared a pot of the seasonal Alp and Dell Cheese Fondue (every 6 months they have a new seasonal selection).  All of their cheese combine wines or beers with delicious cheeses and seasonings for the perfect mixture.  This particular cheese included white wine, garlic, whole grain mustard and nutmeg and Gruyere, Raclette and Fontina cheeses!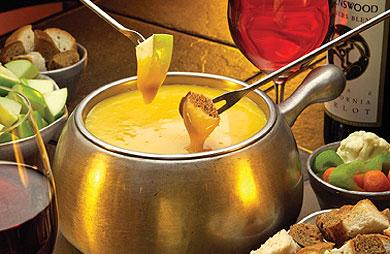 For the second course we each had a salad.  You can never go wrong with their California Salad with Raspberry Black Walnut Vinaigrette.  Finally, my date and I shared the Signature Selection.  Now, if this is your first visit to the Pot, I recommend you have the "Big Night Out' which is a 4-course meal for you and your date.  On this occasionI knew that the Big Night Out is a HUGE meal, so we kept it simple and shared an entree.  We were able to have a little bit of everything, from Filet Mignon to shrimp, salmon, chicken and teriyaki-marinated sirloin.  Not to mention the amazing veggies that come with each, such as mushrooms and fresh broccoli.
I committed the biggest sin of all when visiting The Melting Pot, though – I did not have the chocolate fondue!  I was stuffed and had cake waiting for me at home.  But here's what I missed – the chance to choose one of nine chocolates served with cheesecake bites, Rice Krispie Treats, strawberries, brownies, bananas and marshmallows.  The most intense chocolate indulgence imaginable!
The Melting Pot is the perfect destination this holiday season for a romantic night out or New Year's Eve with great friends and great food.  Just remember, at The Melting Pot you are doing all the work – you dip your protein in the pot to cook to your desired temperatures, you cover your bread, apples and veggies in cheese from the pot and YOU stuff yourself to the max with chocolate.
Visit The Melting Pot today!  And for just a $10 donation to St. Jude Children's Hospital, you will also receive a $20 gift card to use at The Melting Pot in 2010.  Visit TheMeltingPot.com for directions and more menu information.