Restaurant Review – Donahue's Corner Bar & Grill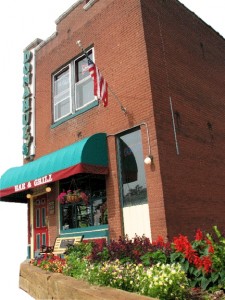 From the moment you walk through the front door of Donahue's Corner Bar & Grill in Valley Park, you are welcomed by an atmosphere that is aimed for, yet underachieved, by so many restaurants today. What this bar and grill has is a legitimate feel to it; a small, comfortable atmosphere that is not overwhelmed by zillions of posters, animal mountings, and a plethora of eclectic "junk" dangling from the walls and ceilings. This cozy bar and grill makes you feel at home from the moment you arrive.
Donahue's offers an excellent variety of food on their menu. Some of the things that might catch your eye are the french dip sandwich, grilled turkey club, or even a new york strip steak – all said to be excellent by their patrons. But they also offer some exquisite cuisines that you might not expect from your average grill – like their steak or chicken mudiga, which is the house special. This dish is served with either an 8 oz. Fillet Mignon or chicken breast, rolled in Italian breadcrumbs, smothered with white whine and lemon butter sauce and topped with melted provolone, mushrooms, prosciutto ham and steamed broccoli. A special like that is only one of the things that makes this corner eatery unique.
Although they have a great assortment of the bar food that you would expect, as well as some specialties, there is one thing that I personally can't say enough about on their menu. That is – their famous Donahue's Wings! That's right – these may quite possibly be the BEST wings in St. Louis. I am a huge fan of hot wings – and I am pretty sure that I have tried them at almost every restaurant that I have been to. But not many can compare to the wings at Donahue's. So many restaurants serve wings, yet so many just can't hit the target. Be it the wing sauce recipe not tasting quite right, or the skin being to chewy – good wings just seem hard to come by these days. But believe me – if you want to taste some of the best wings in the area, go to Donahue's Corner Bar & Grill!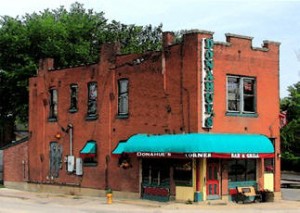 Everyone from the extremely friendly staff, to the happy regulars, make you feel right at home at Donahue's. When you arrive, you are greeted with a smile, and it would be hard to leave without having a good meal. The quality of food that I experienced at this restaurant went far beyond many small bars that I have been to, and puts Donahue's in a whole different category. If you haven't been there before, you should stop in and give it a try. And don't forget to try the wings!
Donahue's Corner Bar & Grill
46 Marshall Rd
Valley Park, MO 63088
(636) 225-1229
For more information on Donahue's Corner Bar & Grill in Valley Park, you can visit:
www.donahuesgrill.com
History of Donahue's Bar & Grill – Valley Park
This building was erected circa 1900 and was owned by Ben and Amy Laretto. Mr and Mrs Laretto and their sons, Ben and John Gale, occupied the upper floor using an entrance facing Front Street. The first floor was leased to Molly Potter to be used as a barber shop. After a few years the barber shop moved to another location in Valley Park. The building was vacant until 1918 when the Meramec Valley Bank opened on the premises.
William J. Vance was Chairman of the Board of Directors of this family owned bank. His son Harry took over the Chairman position after he returned from World War I service in the U.S. Navy. Harry Vance served as Chairman until 1968, when the the bank was sold to William Jones Sr. The Jones family moved the bank to a new location in 1970.
Since 1970 there have been several tenants in the building: Wyatt's Upholstery Shop, the Orient Express Restaurant, and several other restaurants.
After a fire, the building was remodeled. The apartment was changed so the restaurant could make use of both floors. Shortly after this remodeling, Donahue's moved from a location on Highway 44 and opened up a new restaurant in this building.
Donahue's has been on Marshall Road for over 16 years and is currently owned and operated by Curt and Courtney Cooper.