RESIDENT EVIL: RETRIBUTION Opens Today in Theaters Nationwide!
Enter to win a pair of passes!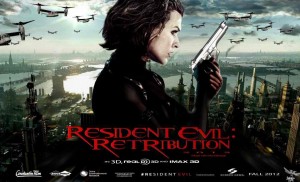 The Umbrella Corporations deadly T-virus continues to ravage the Earth, transforming the global population into legions of the flesh eating Undead. The human races last and only hope, ALICE (Milla Jovovich), awakens in the heart of Umbrella's most clandestine operations facility and unveils more of her mysterious past as she delves further into the complex. Without a safe haven, Alice continues to hunt those responsible for the outbreak; a chase that takes her from Tokyo to New York, Washington, D.C. and Moscow, culminating in a mind-blowing revelation that will force her to rethink everything that she once thought to be true. Aided by newfound allies and familiar friends, Alice must fight to survive long enough to escape a hostile world on the brink of oblivion. The countdown has begun.
Cast: Milla Jovovich, Michelle Rodriguez, Sienna Guillory, Kevin Durand, Shawn Roberts, Colin Salmon, Johann Urb, Boris Kodjoe, Li Bing Bing
Director: Paul W.S. Anderson
---
ENTER TO WIN A PASS FOR TWO!
In order to enter the contest, "like" ReviewSTL on Facebook . Then comment on the official contest page below, telling us what your favorite part from the 'Resident Evil' franchise is and why you can't wait to see RE: RETRIBUTION! While supplies last. Passes are available on a first-come, first-served basis.
Winners will be chosen at random from all entries. Supplies are limited. Limit one (1) pass per person, passes admit (2) two. Sponsor's employees and their dependants are ineligible. Screening is overbooked to ensure capacity. Please refer to passes for any other possible restrictions. NO PURCHASE NECESSARY.
---
RESIDENT EVIL: RETRIBUTION OPENS NATIONWIDE SEPTEMBER 14TH