"Red Riding Hood" – Review by the Raven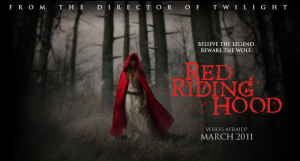 What happens when a Brothers Grimm folk tale is turned into a movie and directed by Catherine Hardwicke, of Twilight fame?   A highly sexually charged teen fantasy romance perhaps?  Read on and be scared…very SCARED!
The story revolves around Valerie (Amanda Seyfried) who is planning on running away from the medieval village she grew up in.  She is planning this with her woodcutting hunk Peter (Shiloh Fernandez), to avoid a prearranged marriage to Henry (Max Irons).  All this is put on hold when the older sister of Valerie is attacked and slain by a werewolf.  The town has known of this wolf for generations and have had a truce with it by leaving an animal sacrifice.  But for some reason the truce is broken.  The local priest (Lucas Haas) calls in an expert from the Holy Church, Father Solomon (Gary Oldman) who has personally had dealings with another werewolf.  It turns out the only person the werewolf wants is our lead damsel in distress; Valerie.  Her sad and grieving parents try to be helpful (Virginia Madsen and Billy Burke), but it is her grandmother (Julie Christie) who seems to hold all the clues.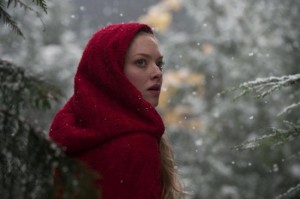 Throw in a few allusions to a couple of folk tales…Red Riding Hood, the Three Little Pigs, heck even the Russian folk tale of Peter and the Wolf shows up, much to the amusement of our screening audience!  The film is being billed as a dark fantasy, but I don't really see that.  It's really a film trying to grab onto the whole wolf train and ride it out.  The only interesting standout in the film was Max Irons.  His father is of course renowned actor Jeremy Irons.  I can see this young man getting all the girls mushy…he is definitely better looking than a certain vampire we all know!
It's an okay first date film, especially for the younger set…the  kissing scenes get a little raunchy but no one loses any clothing.  The acting is a little better than the vampire films but that's about it.  At least director Catherine Hardwicke made the filming much more beautiful to look at, however  the CGI wolf has got to go away…wait to rent this one, save the date night for something really SCARY!
Review (c) 2011 Stephe Raven | [email protected]