Reboot Mania: "The Toxic Avenger" Is Getting a Remake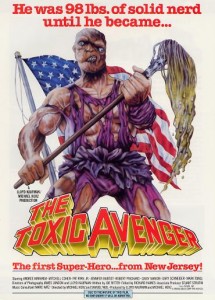 The movie that produced the famous B-movie company, Troma, is getting a remake. The Toxic Avenger is being retooled into a remake. Original Media has acquired the movie rights, and the rights of the comics as well. The movie will be produced by legendary producer and writer Akiva Goldsman along with Richard Saperstein and Charlie Corwin.
The original film told the story of a nerdy janitor, Melvin who is continually picked on. One night a prank goes wrong, and he gets thrown into a vat of toxic waste. Rather than kill him, the toxic waste bonds with his body and gives him superhuman strength, the Toxic Avenger is born. Melvin then goes throughout Tromaville, New Jersey and does good, and lays waste to evil.
The film is apparently being retooled a "green" superhero. The studio feels he can be a good superhero for these "environmentally conscious times".  The plan is to make the film into a family friendly action superhero comedy.
This is one remake that I was never expecting, especially as a family friendly film. Troma Pictures were not known for being high brow cinema, in fact most of the time they were the lowest of low brow. It seems like a bit of a mistake to turn their mascot, The Toxic Avenger, into a new hero for a green lifestyle.