"Dinner For Schmucks" HD Trailer Starring Paul Rudd, Steve Carrell, and Zach Galafianakis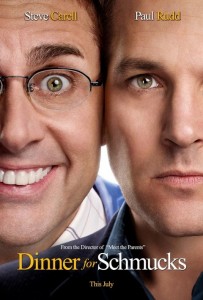 I'm man enough to admit, I have a man crush on Paul Rudd. I think the guy is awesome, and he seems like he'd be cool to have a beer with. It is probably because I associate him with his roles. It might not even be a man crush, more like I would like to be him. (Who wouldn't want the life of an A-list comedy actor?) Regardless, he has a big sell in Dinner for Schmucks. Rudd and Carrell have to sell the buddy comedy, and some how make fun of people without being too mean spirited.  They'll do well with a strong supporting cast that includes Zach Galafianakis and Ron Livingston.
Can the crew sell this remake of French film, Le dîner de Cons?
Synopsis:
Tim, is an up-and-coming executive who has just received his first invitation to the "dinner for idiots," a monthly event hosted by his boss that promises bragging rights to the exec that shows up with the biggest buffoon. Tim's fiancee, Julie, finds it distasteful and Tim agrees to skip the dinner, until he bumps into Barry–an IRS employee who devotes his spare time to building elaborate taxidermy mouse dioramas–and quickly realizes he's struck idiot gold. Tim can't resist, and invites Barry, whose blundering good intentions soon sends Tim's life into a frenzied downward spiral and a series of misadventures, threatening a major business deal, bringing crazy stalker ex-girlfriend, Darla, back into Tim's life and driving Julie into the arms of another man.
Starring: Steve Carell, Paul Rudd, Lucy Punch, Zach Galifianakis, Stephanie Szostak
Directed by: Jay Roach
Produced by: Walter F. Parkes, Laurie MacDonald
Release Date: July 23rd, 2010