RAMS MAKE LAST MINUTE ADJUSTMENTS TO ROSTER
We thought it would be a back up for Steven Jackson, but the Rams suprised us by adding some veteran leadership to fill in for injured Donnie Avery and lead the young receiving corps. No we didn't sign T.J. "whosyourmomma" Houshmandzadeh, he went to Baltimore. We did trade a late round draft pick (hopefully a seventh) for soon to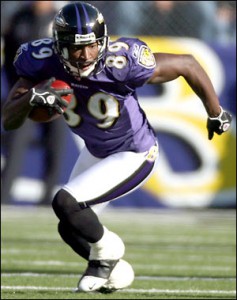 be cut Mark Clayton from those same Ravens. Our own Steven Jackson was making a case for T.J to land in St. Louis but lost the arguement to Ray Lewis who told Houshmandzadeh "If you want to win come to Baltimore!" Hey Ray, didn't happen a few weeks ago did it?
So they sign the free agent and to make room they trade us Clayton. Mark Clayton a former first round pick in 2005, played his entire 5 year career in Baltimore making 234 grabs for 3116 yards and 12 touchdowns. Clayton also has bouts with concussions and could be a problem if he is the slot receiver going over the middle.
To make room on the Rams roster for Clayton we showed often injured Keenan Burton the door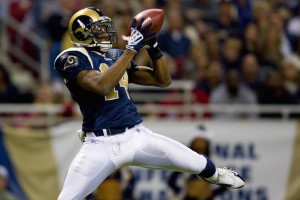 . Burton, drafted in the 4th round by the Rams in 2008 could barely manage 10 yards per catch last season with 25 catched for 253 yards and NO TOUCHDOWNS. Add all of that to some bad knees and so-so speed, it spelled the end of Burton as a RAM.
Mark Clayton will again wear number 89 for the Rams.
News: Chris Ogbonnaya was picked up by the Texans to keep an eye on lunatic QB Matt Leinart.
GAME DAY SUNDAY!!!!! THE ARIZONA "DEAD"BIRDS are in town and the RAMS  will start the season with a win! Warner is gone so St. Louis football fans breakout the blue and gold number #13 jersey or buck up and get the new number 8!!
Come by and find Ram Man at the dome and pick up an exclusive football card!
I am RAM MAN and I will see you in the endzone!!!!