Win Passes to the LEGEND OF THE GUARDIANS: THE OWLS OF GA'HOOLE Screening!
LEGEND OF THE GUARDIANS: THE OWLS OF GA'HOOLE OPENS SEPTEMBER 24 NATIONWIDE.
Enter for your chance to win a pass, good for two!
Synopsis: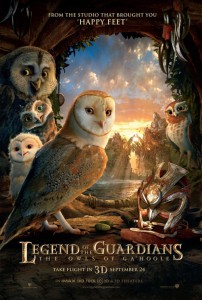 Soren, is a young owl enthralled by his father's epic stories of the Guardians of Ga'Hoole, a mythic band of winged warriors who had fought a great battle to save all of owl kind from the evil Pure Ones. While Soren dreams of someday joining his heroes, his older brother, Kludd, scoffs at the notion, and yearns to hunt, fly and steal his father's favor from his younger sibling. But Kludd's jealousy has terrible consequences–causing both owlets to fall from their treetop home and right into the talons of the Pure Ones. Now it is up to Soren to make a daring escape with the help of other brave young owls. Together they soar across the sea and through the mist to find the Great Tree, home of the legendary Guardians of Ga'Hoole–Soren's only hope of defeating the Pure Ones and saving the owl kingdoms.




Also, check out 'Owl' Day this Saturday, September 11th from 11am-1pm at the World Bird Sanctuary. There will be promotional prizes from the film and families will be able to see owls up close and personal. And don't forget – November through February are Owl Prowls – Come over to the Dark Side and meet those amazing birds that exist by moonlight. Owl Prowls offer an exciting opportunity to learn more about the amazing life of Owls. Spend an evening with a WBS naturalist who will introduce you to live owls and their unique calls. Then, take an easy night hike through our grounds to try and call in a wild owl.
Select Friday and Saturday evenings from November through February from 7pm – 9pm.
Admission: $9 for adults, $7 per child under 12. Groups of 10 or more: $7 per person, all ages.
Reservations: Advanced reservations required. Call 636-225-4390 ext. 0 to make your Owl Prowl reservation today!
World Bird Santuary – 125 Bald Eagle Ridge Road Valley Park, MO 63088. For more information, visit worldbirdsanctuary.org
---
In order to enter the contest, become a fan of ReviewSTL on Facebook and suggest ReviewSTL.com to all your friends (click the "suggest to friends" link on the left side of the page). Then post a comment on the ReviewSTL fan page telling us why you want to see the movie! NO PURCHASE NECESSARY. PLEASE REMEMBER TO READ THE RULES!
---
SCREENING IS SEPTEMBER 18 at 10am
Good luck! We hope to see you at the movies!
[hdplay id=139 width=595 height=375]