Preview: St. Vincent to Play The Pageant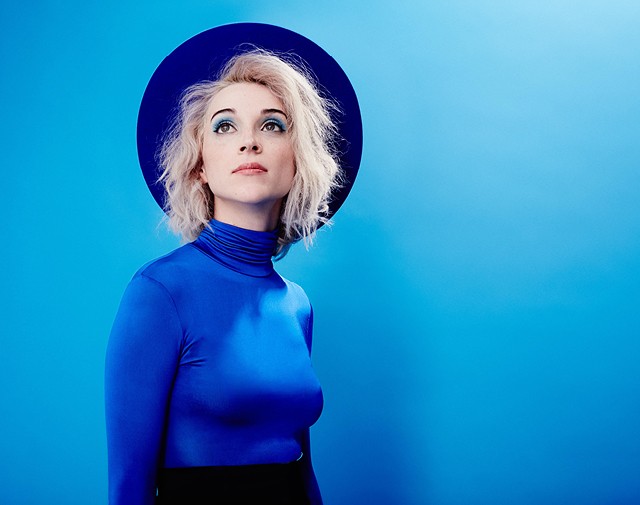 On Monday, November 20, 2017, St. Louis is in for an auditory and visual fusion from musical pioneer St. Vincent. Also known as Annie Clark, she is a singer, songwriter, known for her virtuosic guitar powers.
We can all thank ALT 104.9 for welcoming St. Vincents' "Fear the Future" tour to The Pageant. She has constructed a very specific, yet improvised process for a cinematic and sonic experience. The Pageant will allow fans to closely absorb all the monochromatic shades and sharp lyrics of each track choice. The tour plans to seduce with avant garde sound, provocative latex costumes, and neon lights in promotion of St. Vincents' 5 th studio album "Masseduction". In true Annie Clark fashion, she set a consciously thought provoking release date of Friday the 13 th of October.
Annie Clark, known for her stage name of St. Vincent, had the makings of a pioneering pop rocker from the start. She reflects on the 90s grunge scene, particularly Nirvanas' "Nevermind" album, as instilling her with visionary motive to learn guitar at just 12 years of age. Music may run in her veins, with her
famous finger style guitarist Uncle Tuck Andress of the jazzy duo Tuck & Patti. She got a taste of the rock and roll life by travelling on tour as a roadie for Tuck and Patti, and later tour managing them through Europe.
In an attempt to become a serious musician, she attended the prestigious Berklee College of Music, but dropped out after deciding that the institutionalized structure was stealing away her artistry and making it analytical. Shortly after leaving Berklee, she joined a religious experimental rock choir called the Polyphonic Sprees, again jet setting on worldly tours. It wasn't until 2006 that she transitioned from ensemble to the solo sorceress we now recognize as St. Vincent. Clark has been relentlessly experimenting and digging in the cracks for the inspiration that has formed her layers of progression. She put in her work tirelessly touring, collaborating with tour mate David Byrne, releasing 5 studios albums, which has all lead up to her futuristic 2017 "Masseduction" album.
In a world that thrives on sex appeal, St. Vincent has tiered toward articulating art through her individuality, a tenacity to create, and her porous perceptions of life between the real and sublime. Contrary to her poise and sparkling doe eyed stare, she is not shy on embracing the abrasive and pairing the explicit next to the pristine. Her stark vocals can twirl around the endearment of drugs, sex, and sadness surrounding the ubiquitousness of power. She has molted her layers of evolution to reveal her very own style of dense experimental, glam pop, jazz, and rock influences. Clark aims for her shows to be a multi sensory experience by incorporating performance art, choreography, and improvised guitar; therefore, letting her audience wander through all the contrasting complexities of her music.
In 2014, Clark was honored as being the chosen lead vocalist for a performance of Nirvanas' "Lithium" during their induction into the Rock and Roll Hall of Fame. Annie Clark of St. Vincent has defined herself as a distinct innovative guitarist and performer of the past decade. Although she will be a solo act on The Pageant stage front, undoubtedly even standing alone, Clark is a force to be reckoned with. The fans can expect the unexpected at this show from the mysterious, shape shifting mind and vocals of St. Vincent. The "Fear of the Future" tour will be at The Pageant on Monday, November 20, 2017. The doors will open at 7 p.m. and show will begin at 8pm. This event welcomes all age levels. Ticket options can be purchased at Ticketmaster.com.