HD Trailer For "Never Let Me Go" Starring Andrew Garfield, Kiera Knightley, and Carey Mulligan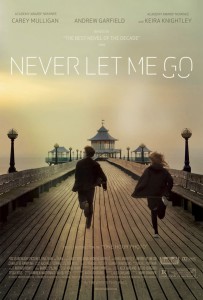 "Never Let Me Go" is a film that I have not heard of today. So here I give you mine and perhaps your first look at the film directed by Mark Romanek. It stars Keira Knightley, Carey Mulligan, and Andrew Garfield.
A story of a woman who, as she reflects on her private school years in the English countryside, reunites with her two friends to face the dark secrets buried in their communal past. With no contact or knowledge of the outside world during their years at the boarding school, they discover they are clones, born and raised for the sole purpose of providing organs for transplants.
The summary interests me, but does not exactly scream must see. I like Mulligan and am excited to see her in more mainstream stuff. Romanek has primarily directed music videos, but also directed Robin Williams in One Hour Photo which I enjoyed a lot.
Watch the trailer for "Never Let Me Go"
[hdplay id=86 width=595 height=375]
Never Let Me Go hits theaters September 15, 2010.
Does this film interest you at all? Let us know what you think below.