Post Grad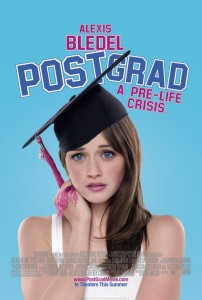 Ryden Malby is an ambitious young woman who has a plan. She seems to have her entire life worked out to even the smallest of details. But plans change when a "sure thing" falls short, and Ryden is left trying to put the pieces of her broken plan back together.
From the opening credits, Ryden (Alexis Bledel, "Gilmore Girls") tells us exactly how she planned to get through high school and get a "fatty scholarship" for college, go to school to get her degree, and graduate – only to wind up with the job of her dreams at one of the best publishing houses in Los Angeles. She has it all figured out, until her dream job is snatched out from underneath her by her class valedictorian. Ryden is force to move back home with her family, while she tries to find a job.
The movie, while entertaining, is a little too formulaic. It isn't anything new that we haven't seen before. Ryden struggles with having to move back home and look for a job, but of course struggles with her quirky family who drives her crazy. Her family is cast entirely with comedians – but the problem is that none of them are really given anything funny to say or do. Ryden's best friend Adam (Zach Gilford) wants more than their purely platonic relationship, but of course Ryden is too busy to notice. This story plays out just like any other – of course she is too busy to notice that her best friend wants something more, but not too busy for David Santiago (Rodrigo Santoro), her middle-aged Brazilian neighbor and infomercial director. How could you not fall for that winning combination?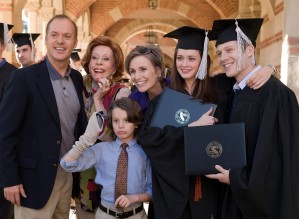 Ryden's dad, Walter Malby (Michael Keaton) is the typical "Mr. Fix-it" father who would do anything to help his daughter. At least he tries to do what he thinks will help his daughter. Throughout the film, Keaton's character is given a barrage of goofball situations and lines, that can't help but to fall short of the target. While I think that Keaton is a good actor, the part that he is given just doesn't do his talent any justice. Keaton wasn't the only actor that was underutilized. Ryden's Mom (Jane Lynch) and Grandma (Carol Burnett) both play typical parts. But in this case, they just didn't use them to their fullest potential. Jane Lynch is a rising comedy star, who has played handful of great parts over the last couple of years. But she didn't even play a character that makes you laugh in this film, and that is where her personality really shines. Carol Burnett did an OK job as the wacky grandma – but her character is one that is so worn out from recent comedies, that it makes us desensitized to most of the laughable situations.
I think that the only thing that made the movie watchable for me is the fact that Alexis Bledel is the star. She may be too much for some people, but to me she is an extremely likable actress – who is very hard not to like. Bledel plays a character who is smart, sweet, and has her head on straight. There are not many negative qualities about her character in the film, and it makes you actually care somewhat about what happens to her. She reminds me of a young Reese Witherspoon – in personality, and appearance. I think that she is going to have an even bigger career ahead of her. She does a good job in this film, and was cast perfectly for this part.
Overall, "Post Grad" is an entertaining movie that would not be a terrible choice for a date movie or night out with your girlfriends. You aren't going to leave the theater wanting to pre-order the DVD when you get home, but you will have a fun time if you like these kinds of movies. I think that the cast of the movie keeps it somewhat interesting, and does a good job with what they are given.
I give "Post Grad" a C