Planet 51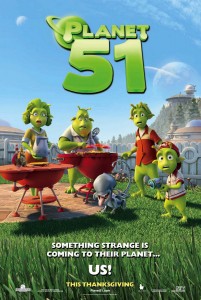 Animation is big this year with hits such as; "Up", "Monsters vs. Aliens", "Ice Age 3D", and coming up "The Princess and the Frog." I went into this animated movie with low expectations, and really didn't know what to expect. Like other kids movies I review I brought a kid along, this time I brought my friend Jesse who is a 12 year old. I bring the kids so I can review the movie from an adult view and also a kid's view.
"Planet 51" is the first feature film from Ilion Animation Studios. The screenplay written by Joe Stillman is lacking in imagination, but makes it up with humor. The main premise of the movie of a human astronaut Chuck Baker (Dwayne Johnson), lands on Planet 51 that is inhabited with little green aliens who for some reason are living in the American 1950's. The Aliens then fear Chuck and hunt him down to destroy him. Mainly because the Comic books and Movies on Planet 51 portray Aliens (Chuck) as evil beings who will eat their brains.
Brainy teenager Lem (Justin Long) who befriends the astronaut tries to help him get back to his ship while the rest of the town is convinced the astronaut is a monster that will turn them into zombies. This is where I thought the movie was really funny and had a lot of adult humor some kids wouldn't get. They even put some great references to "E.T., "Star Wars", and even "Terminator."
The movie really had no slow parts, which is good for kids. With no word spoken Rover is one of the best characters in the movie, the kids will fall in love with ROVER a robot that acts like a dog. He shows all of his emotion with the wagging of his antenna and the positioning of his Camera. The kids in the audience really like Rover.
Other voice talent in the movie is Jessica Biel who plays Lems love interest, Gary Oldman who plays General Grawl in charge of Base 9 and the planet 51's military, and John Cleese who plays the alien scientist who wants to take out Chucks brain to study it.
As an Adult I would grade this movie a B. I was entertained but with all the other great animated movie that have come out this year it is hard to give it a higher grade. Jesse who I am using as my kids point of view said and I quote "This is the best Animated Movie I have seen in a long time. He thought that he would grade it a B+ He liked it but thought it could have been a little better. I would take my 5 year old to see it and see it again, so all you adults if you have kids take them to see this movie you and them will enjoy it!