Review+Photos: Luke Bryan's "Sunset Repeat" Tour (8/17)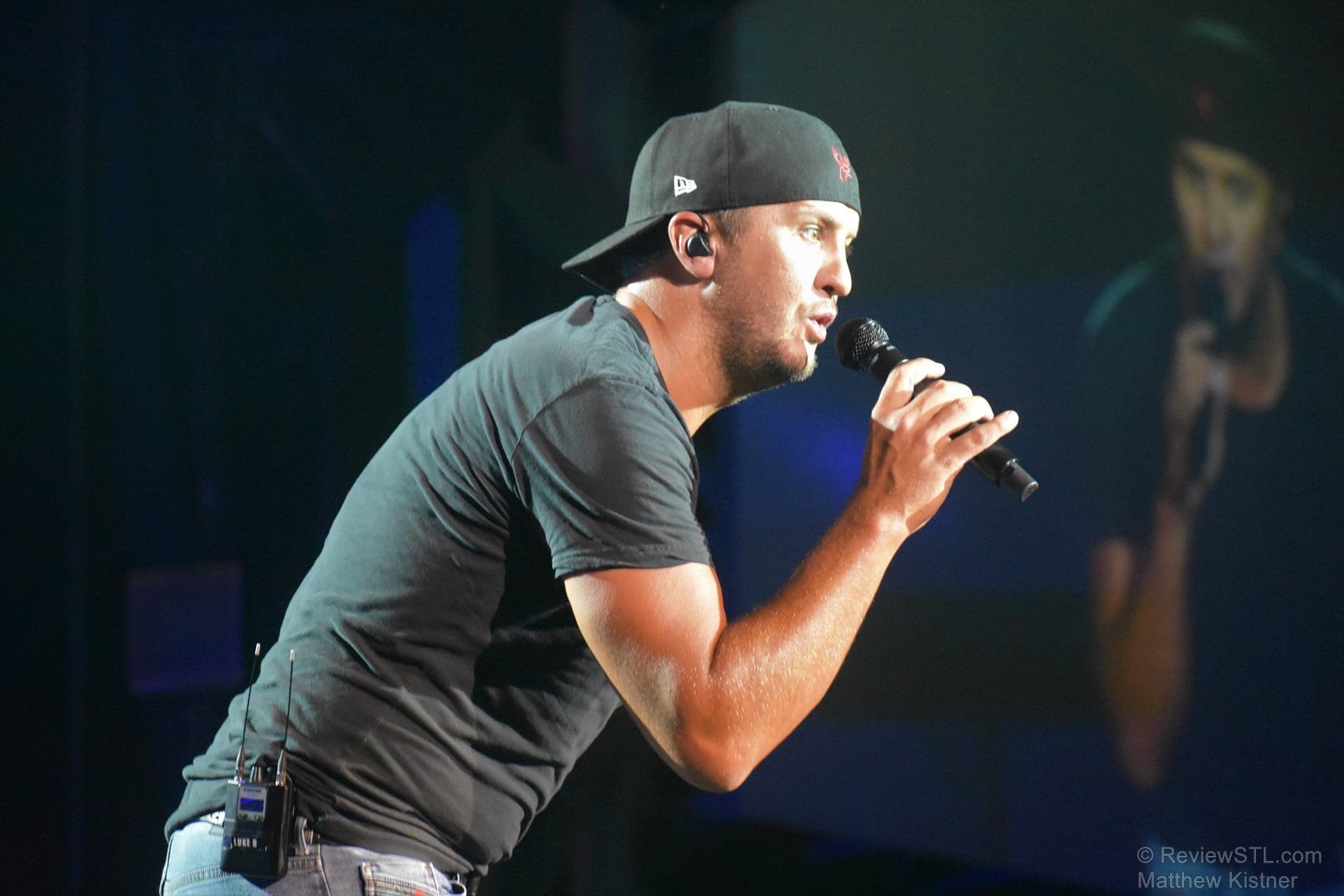 It seems that once a summer, Luke Bryan returns to Hollywood Casino Amphitheatre in Maryland Heights, Missouri. This summer was no exception, bringing his "Sunset Repeat" tour to St. Louis, joined by Jon Langston and Cole Swindell.  Every time the gyrating musician comes to town, it figures that there is no shortage of attendees piling into to the spacious venue ready to scream the lyrics of their favorite country-pop songs.
Despite the humidity, the show this past Saturday was a packed house. Jon Langston kicked things off around 7 PM, putting on an incredible set. The crowd was already pumped and excited thanks to a phenomenal DJ that set the tone for the night – mixing some of Country's greatest hits with contemporary and top 40, getting most up and out of their seats and creating stirrings on the lawn. Langston had a half-hour set, performing some covers and some of his own hit songs, such as "Dance Tonight" and "Guys Like Me."
Up next was Cole Swindell, who garnered an enormous crowd of his own, having performed in St. Louis many times before, including a previous tour with Luke Bryan. Playing songs from over four studio albums, Swindell had a lot of ground to cover. Kicking his set off with "Love You Too Late" and "Sounded Good Last Night," Cole also threw some of his slower songs into the mix, such as "Middle of a Memory" and "Break Up in the End." Fans were pleasantly surprised when they got to hear a mashup of "Old Town Road" and a cover of Florida Georgia Line's "This Is How We Roll" (in which Swindell helped write.) After shot-gunning a beer on stage, Swindell finished out his hour-long set with "Flatliner," leaving the audience satisfied and anticipating Luke's appearance.
After a reset of the stage, and some more DJ action, the lights went out and Luke Bryan made his impressive entrance, riding out an ATV onto the stage which he then stood on and performed "What Makes You Country." To say LB put on one hell of a set would be a gigantic understatement. The country/pop musician catered to the 'less is more' aspect of performing, utilizing the stage and performing to the whole audience. Known for his impressive vocals, Bryan slowed things down a bit, sitting at a piano with an unopened can of Corona, performing "Drink A Beer," encouraging the audience to join him for a drink to a special loved one.
This slower pace didn't last long though, and things soon kicked back up into high gear. Bryan was joined on stage by fellow touring artists Jon Langston and Cole Swindell, with all three performers tossing beers out into the pit (I hope whoever caught them was of age,) and performing a medley together, goofing around and entertaining the audience with their charismatic interactions with one another. Bryan ended his set with his hit "That's My Kind of Night," shortly followed by an encore performance of the megahit "She's Country," as well as ending the night with a surprising cover of Bon Jovi's "Livin' On a Prayer." Needless to say, it's no surprise why Luke Bryan continues to sell out shows year after year in the STL area. If you weren't able to make the concert this time, don't fret, as I'm sure the country singer will return during the 2020 season!