Petropolis Breaks World Record For Dog Wedding | See Almost Every Dog Married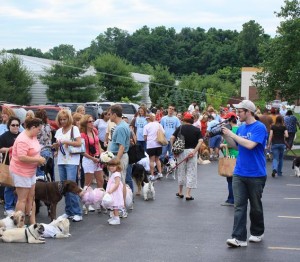 Saturday, May 30th 2009 — Petropolis in Chesterfield, MO
HOWLING MUTTRIMONY – FIND YOUR DOG IN THE VIDEO!
There was a great turnout at Petropolis yesterday, where thousands of people came to witness the breaking of a Guinness World Record.  Petropolis, known as a staple for canine and feline households alike, set out to break the world record for largest canine marriage.  And break it they did!
We hope you enjoy the video!  For everyone who visited the ReviewSTL booth at the carnival, we thank you and hope that you had fun…  a won some cool prizes too!  Click here to see our photo gallery of the event.
If you were at the pet carnival, try and find your dog in the video and leave a comment with their name and what time they appear!
See you at next year's carnival!