FREE TWO WEEK TRIAL OF BLOCKBUSTER ONLINE – FREE MOVIES!
If you have not tried the Blockbuster Total Access program yet, it is something that you really need to do. It is a program where you add movie to an online queue, and they are sent via mail. There are over 85,000 films to choose from in their gigantic database! So basically anything that you want to watch – even if you can't find it at Blockbuster – is online! And it usually comes within a day when you order it, so there isn't a huge wait time.
I would highly recommend signing up for one of the premium memberships – where you get unlimited in-store exchanges.  In my opinion, that is the best part of the entire thing!  If you think about it, you can easily spend $5 or $10 dollars every time you go to the video store.  If you do that, you could easily spend over $40 per month – and the most expensive plan they offer is ONLY $34.99.  That includes three movies at a time in the mail, plus unlimited in-store exchanges!  Think about how much you can save if you receive three movies by mail every week and trade them in for three more in the store.  It really is a great program.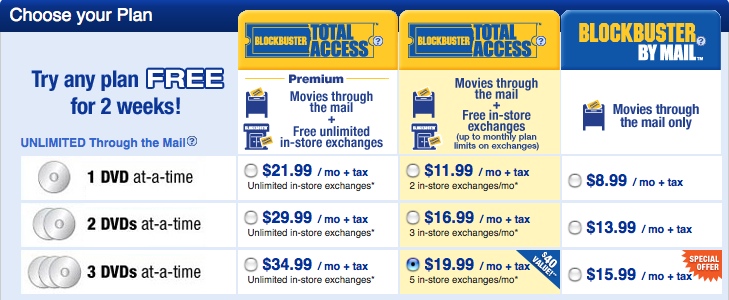 — Here is a breakdown of the different programs offered (click to enlarge).
ReviewSTL is offering a  FREE TWO WEEK TRIAL to Blockbuster Online – all you have to do is click here.
Have fun, and enjoy!