Petropolis 2011 Pet Carnival and Adoption Event to Find Homes For Hundreds of Dogs and Cats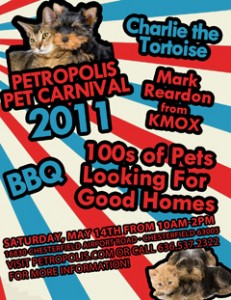 Chesterfield, MO – What better time of the year than Spring to add a new member to your family? Especially one of the four-legged variety. Luckily, that is never a problem around this time of the year. The Annual Petropolis Pet Carnival and Adoption event will be held this weekend at Petropolis Pet Center in Chesterfield.
The event takes place in May or June every year at Petropolis, and features between 20 and 30 adoption groups who are looking to find permanent homes for hundreds of loving pets. Cats, Dogs, Birds – you name it. Many professionals in the animal field will tell you that a rescued dog or cat often makes for the best pet.
Click here to find out how to keep your dogs and pets safe with invisible pet fences from Dog Guard St. Louis.
The Animal Protective Association of Missouri, or APA, is one of the groups who will attend the carnival this year. They have been helping pets and pet owners in St. Louis since 1922. According to Lacey Baethke, Director of Operations for the APA, animal shelters care for 6 to 8 million dogs and cats every year. Low adoption rates are one of the largest factors that are causing the number of animals in shelters to rise. One of the best things that you can do to help is adopt a pet from one of these rescue groups or shelters at the carnival.
"When you adopt, chances are you are adopting an animal that has already been a house pet," says Lacey. "Often times they are already trained." Not only can adopting a pet save time and money on training, but it also helps fight pet overpopulation. "When you buy, without knowing where the animal comes from, you may inadvertently be supporting an unlicensed breeding facility. When you adopt, you are able to see exactly where they are coming from." Lacey added, "You help send a clear message to puppy mills and breeders that there is a pet population problem, and we aren't going to support it anymore. The more people adopt, and are embassadors for our cause, the greater impact we are making."
There are also educational benefits that come with adopting a pet from organizations like the APA. "Our mission is putting people and pets together. Every time you do an adoption at the APA, you are truly educated. If you are adopting your tenth dog, you might only spend 10 minutes learning about a certain breed. But if it is your first dog, we are going to educate you." And don't think you have to go to a breeder for a certain type of pet. According to Lacey, "25 to 30 percent of pets in shelters are pure bred."
Among the groups who will attend this year's Petropolis Pet Carnival are All About Paws, Angel Acres, APA, Broken Hearts Mended Souls, Bulldog Club, Companions 4ever, Doggy Doodles Adoptions , K-9 Rescue and Rehab, Love A Golden, Mid American Boston Terrier Rescue, Midwest Doberman , escue, Mostly Mutts, Mutts N Stuff, River City Rescue, Seniors 4 Seniors, St. Charles Humane Society, Star Avian Rescue, and many others. Stop by and see Mark Reardon of KMOX, who will MC the event, or Charlie the World Famous Tortoise – who lives at Petropolis.
Even if you aren't looking to being home a furry friend, it doesn't mean that you can't attend the carnival. Admission to this fun family event is free, and open to the general public. Stop by and just take a look at all of the fun animals that will be in attendance, or grab a bite to eat. There will be some of the best BBQ in town cooking during the event, as well as tasty carnival treats from Mr. Harry's Carnival Foods. There will be arts and crafts booths, animal accessories, and other fun vendors as well. Don't forget to stop by the ReviewSTL booth for tons of fun giveaways and a chance to win free DVDs and other prizes.
The annual Petropolis Pet Carnival will take place on Saturday, May 14th from 10am to 2pm at Petropolis – 16830 Chesterfield Airport Rd. Chesterfield, MO 63005. For more information about the 2011 Petropolis Pet Carnival and Adoption Event, visit petropolis.com or call 636.537.2322.