Maria Shriver and Arnold Schwarzenegger Call It Quits, Don't Say "I'll Be Back"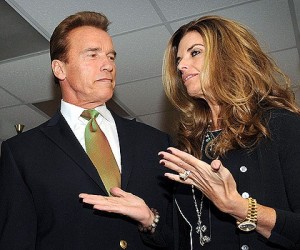 In a surprising announcement, Arnold Schwarzenegger and Maria Shriver are calling it quits. It was revealed that this separation has been 2 years in the making, and that the deaths of each of Maria's parents were the only reason she's pushed off making the decision.
Arnold and Maria were married in April, 1986 and have four children together. the two released a joint statement reading,
"This has been a time of great personal and professional transition for each of us. After a great deal of thought, reflection, discussion and prayer, we came to this decision together. At this time, we are living apart while we work on the future of our relationship… We are continuing to parent our four children together. They are the light and the center of both of our lives. We consider this a private matter and neither we nor any of our friends or family will have further comment. We ask for compassion and respect from the media and the public."
This has motivated me to no longer put off watching the Terminator movies. Yes, I know… even more shocking than the news of their split is that you've just learned of a child of the 80's that has not seen any of the first three Terminator flicks. I watched the fourth one out of guilt. Never watched any Predator movies either. Is this sad?
Source: TMZ.com