Peter Jackson and "The Hobbit" Are Officially Greenlit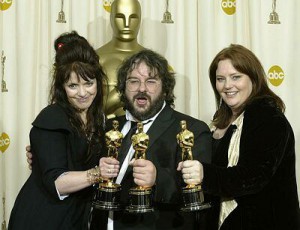 I'm sure a lot of you were sure this day would never come. I wouldn't blame anyone for believing it wouldn't happen. This production has been pretty crazy since the beginning. The film has seen Peter Jackson courted originally after the success of Lord of the Rings. It was then put on the shelf after Peter Jackson's lawsuit with New Line. The film then had a bit of a hiatus, where the whole idea for it was up in the air.  After a while Peter Jackson was back on, but in name of producer only, and Guillermo Del Toro was brought in to direct the film. Then there was the directing change back to Peter Jackson, and the money troubles of MGM. I'm pretty sure they could make an interesting film just about getting this into production.
It was announced officially Friday that Peter Jackson will be the director of the two-part The Hobbit. as well as producing and writing the feature.
"Exploring Tolkien's Middle-earth goes way beyond a normal film-making experience" Jackson said. "It's an all-immersive journey into a very special place of imagination, beauty and drama. We're looking forward to re-entering this wondrous world with Gandalf and Bilbo – and our friends at New Line Cinema, Warner Brothers and MGM".
"There is no human being on the planet as qualified as Peter Jackson to direct these films," said Warner Bros' Alan Horn. "Peter is incredibly talented and has the creative vision and experience to bring this beloved property to life in a way that no other filmmaker could. And the team of Fran Walsh and Philippa Boyens has proven through their work on the Lord of the Rings trilogy that no one is more skilled at transforming Tolkien's written words into a vibrant, living language that makes the audience believe they are not merely visiting Middle-earth, but actually living in it. We couldn't be more thrilled and look forward to seeing The Hobbit take shape under Peter's stewardship and the team he is putting together."
The deals haven't been inked yet, but both Ian McKellan and Andy Serkis will most likely be reprising their roles of Gandalf and Gollum, respectively. Rumors are still going around that Martin Freeman, James Nesbitt, Michael Fassbender, and David Tennant are all being considered for the role of Bilbo Baggins.
The films will be shot concurrently, with production starting in February. The films will be shot in 3D, but it is still up in the air if the films will continue to be shot in New Zealand, after a bout of union troubles have plagued the production.
I'm glad to hear that production is finally going forward on The Hobbit.  It's hard to believe that the trilogy ended almost seven years ago, and I'm sure many people are looking forward to another epic film to see with their families during a Christmas season. I'm still mixed on Jackson. I think he has the visuals down in Middle Earth, but he's made some pretty odd changes in the stories. Overall, the film should be highly enjoyable for fans of the series.
What do you think? Let us know in the comments!