People Names 'Green Lantern' Star Ryan Reynolds As Sexiest Man Alive 2010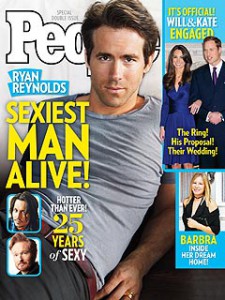 People Magazine has officially named 'Green Lantern' star Ryan Reynolds as "Sexiest Man Alive" for 2010.
Check out the trailer for 'Green Lantern' starring Ryan Reynolds and Blake Lively.
People lists its picks for top 25 every year, but only one can hold their coveted title. Reynolds is amongst the ranks of winners like George Clooney, Brad Pitt, Johnny Depp, Denzel Washington and Matt Damon. Other guys in the top 25 this year are Jon Hamm, Kellan Lutz, Drake, Matthew Morrison, Jon Bon Jovi, Joe Manganiello, Robert Downey Jr., Jesse Williams, Justin Timberlake, Vin Diesel and Gyllenhaal.
A little trivia fact: Mel Gibson was the first person ever chosen for People's Sexiest Man Alive. I bet that isn't something they are throwing around right now…
From People:
He's Canadian (and proud of it!), he can make "a mean omelette" and his eight-pack abs have caused millions to swoon. But what makes PEOPLE's 25th anniversary Sexiest Man honoree so very special? Perhaps his self-deprecating humor. "You just have to go with the flow," Reynolds, 34, says of his new title. "This gives my family entrée into teasing me for the rest of my life."
What do you think? Is Ryan Reynolds the "Sexiest Man Alive" right now? Leave a comment below!