Watch First Trailer For 'Green Lantern' Starring Ryan Reynolds and Blake Lively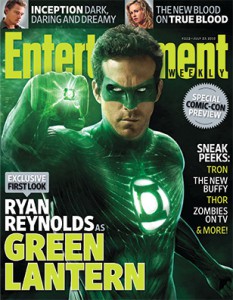 The wait is finally over, as the highly anticipated movie trailer for 'Green Lantern' has finally been released. The trailer is set to run before "Harry Potter and the Deathly Hallows: Part 1" this weekend, but fans can get an early look online starting now. The film stars Ryan Reynolds as Hal Jordan, and co-stars Blake Lively, Peter Sarsgaard and Mark Strong.
The movie was filmed in 3D, so hopefully that will not have any negative effect on the final product. 'Green Lantern' was directed by Martin Cambell, who also directed 'Casino Royale' and 'Goldeneye' – so he is no stranger to action.
'Green Lantern' is set for a release date of June 17, 2011.
Synopsis: Each sector of space is protected by a Green Lantern, possessing a power ring that uses a powerful green energy to do anything within the limits of the user's imagination and will power. When the Green Lantern assigned to this sector of space finds himself dying on planet Earth, he tells the ring to find a suitable successor. The chosen replacement, hot-shot test pilot Hal Jordan, finds himself with a new job he never expected…
Watch the Trailer:
[hdplay id=195 width=595 height=375]