'Paranormal Activity' director Oren Peli sells his latest film 'Area 51'
Were any of you wondering what happens when you make a film for under $15,000 and it makes boatloads of cash? Well, it means an automatic seven figure commitment to your next film! I've always told people that Hollywood is a hard business to break into, but all you need is one good hit, and you are set for life. You can mess it up badly (Cuba Gooding Jr.) or you could just ride your own coattails and hope no one notices what a hack you are (M. Night Shyamalan). Well, director of the viral hit Paranormal Activity has nothing to worry about these days. His latest film Area 51 seems well on its way to being marketed virally, and possibly producing another hit.
From Variety.com
---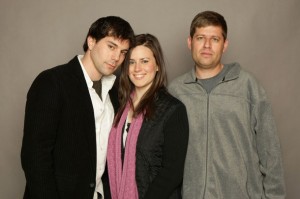 Paramount Pictures has landed U.S. distribution rights to "Area 51," the Oren Peli-directed follow-up to the sleeper hit "Paranormal Activity."
Deal puts the studio back in business with the creative and financing team behind "Paranormal Activity," the $11,000 budget film which has grossed more than $106 million since Paramount began rolling it out in September.
Peli had a much larger budget to work with on this extraterrestrial tale than he did for his ghost story, as sources said he brought the film in at a shade under $5 million.
Paramount made a high-seven figure commitment, said sources to become co-financier with Incentive Filmed Entertainment and the Aramid Entertainment Fund. The trio will be co-financing partners going forward on any sequels.
As many as four other bidders wanted the picture, but Paramount Film Group president Adam Goodman had an inside track. He was instrumental in acquiring "Paranormal Activity" while at DreamWorks, and was the hands-on exec at Paramount, which did a superb job at slowly rolling out the film as the picture built word of mouth and became a breakout hit.
Goodman closed the deal with David Molner, chairman of Incentive Filmed Entertainment, Stuart Ford, CEO of IM Global, and CAA.
Just as they did on "Paranormal Activity," Peli wrote and directed "Area 51" and Jason Blum is producing through his Blumhouse Productions banner. Room 101's Steven Schneider, IM Global's Ford and Amir Zbeda are executive producers.
Pic, which completed principal photography three weeks ago, was fully financed by Incentive and the Aramid Entertainment Fund. Latter is a co-financing partner of Paramount's slate on films that include the "Transformers" films.
The film employs the "found footage" narrative structure that Peli used in "Paranormal Activity" to tell the story of three teens whose curiosity leads them to the notorious Area 51 portion of Nellis Air Force Base in the Nevada desert.
Fueled by the strong grosses of "Paranormal Activity," "Area 51" was one of the brisk sellers at the American Film Market. It has sold internationally almost everywhere except Japan and certain Eastern European markets where talks are ongoing. Key buyers include Momentum in the U.K., Concorde in Germany, Equilatero/Warners in Spain, Village Roadshow in Australia, Alliance in Canada, Playarte in Brazil, Gussi in Latin America, RCV in Benelux and Svensk in Scandinavia.
Studio and financiers confirmed the deal and said they were pleased to be teaming once again on a film that hasn't yet set a release date but will surely find its way to theaters some time in 2010.
"Moviegoers everywhere demanded to see Oren Peli's spectacular debut and we are excited to show them what he's created next," said Par's Goodman.
Peli and Blum said they were "Happy to continue working with with agile and talented production, marketing and distribution teams at Paramount that made `Paranormal Activity' such a remarkable success."
Molner said the deal illustrated the fertile ground in creating moderately budgeted franchises that have become some of Hollywood's biggest hits.
"These films show that real franchises can be successfully launched from the independent side of the business, not something the marketplace necessarily believed five years ago," he said. "As financiers, we're very lucky to create value in ownership with major distributors like Paramount Pictures and the enviable talents of Jason, Oren, and IM Global."
Said IM Global's Ford: "With the international distribution already set up on the film, bringing Paramount onboard after they did such distinguished work on `Paranormal Activity' is the perfect finale, and most important piece in the jigsaw."
As Peli and Blum go into postproduction on "Area 51," the next deal to be made will be for another installment of "Paranormal Activity," which will once again be done through Paramount.
---
So, not only do you get a fake documentary style Area 51, but another installment of Paranormal Activity. I still can't see why everyone bought into the hype of "the scariest movie ever", about this one. It was a bunch of loud bangs. I'm hoping with a bigger budget he'll do something a little more entertaining.