"Paranormal Activity 2" HD Teaser Trailer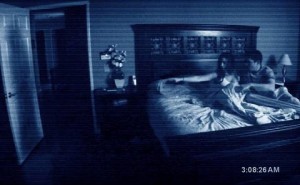 Any time I disagree with the mass public opinion, I prepare myself to get flamed in the comments of my own website. This is going to be no different….
Call me crazy, but I thought Paranormal Activity was one of the most boring "horror" films I have ever seen. I understand it was made on a shoestring budget, and that some people were scared beyond belief by it, but it didn't make me jump once. Every thud and bang that came I thought the film was going to get slightly scarier, yet it never did. Even the final scare at the end (which they give away in this teaser trailer) didn't manage to make me jump. I left the theater feeling beyond disappointment, and was eternally grateful that I had not paid to watch the film.
So, now the second one comes out, and if the teaser trailer is any indication it looks like we are in for more of the same. So, if the first one made you freaked out, then you probably are going to enjoy it, but if like me you thought it was overrated and a bit boring, then you are better off not wasting your money.
Synopsis:
Spooky hauntings are once again the main course in this Paramount Pictures follow-up to Oren Peli's wildly successful supernatural thriller, PARANORMAL ACTIVITY. Kip Williams directs from a script by Michael Perry.
Directed by: Kip Williams
Produced by: Oren Peli, Jason Blum
Release Date: October 22, 2010
[hdplay id=48 width=595 height=375]