"Let Me In" HD International Trailer Starring Chloe Moretz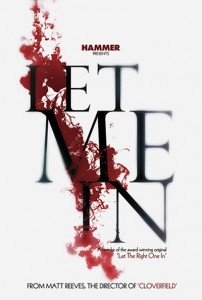 If you haven't seen the phenomenal Swedish film, Let the Right One In, what are you waiting for? It was one of the most celebrated releases a couple years ago, and it was so good that American studios rushed to make a remake for American audiences. I'm not sure this one will be as good, but the trailer seems to suggest they aren't toning anything down for American audiences.
Just in case you were wondering, this is how vampires should be portrayed. (I'm looking at you Twilight Saga.) The dark imagery, with some subject material that is bound to offend some audiences, is just perfect for a horror film. I really hope there is a horror film coming out now that I can actually celebrate rather than lament in my reviews.
Synopsis:
Twelve-year old Owen is viciously bullied by his classmates and neglected by his divorcing parents. Achingly lonely, Owen spends his days plotting revenge on his middle school tormentors and his evenings spying on the other inhabitants of his apartment complex. His only friend is his new neighbor Abby, an eerily self-possessed young girl who lives next door with her silent father. A frail, troubled child about Owens's age, Abby emerges from her heavily curtained apartment only at night and always barefoot, seemingly immune to the bitter winter elements. Recognizing a fellow outcast, Owen opens up to her and before long, the two have formed a unique bond. When a string of grisly murders puts the town on high alert, Abby's father disappears, and the terrified girl is left to fend for herself. Still, she repeatedly rebuffs Owen's efforts to help her and her increasingly bizarre behavior leads the imaginative Owen to suspect she's hiding an unthinkable secret.
Starring: Chloe Grace Moretz, Kodi Smit-McPhee, Richard Jenkins, Cara Buono, Sasha Barrese
Directed by: Matt Reeves
Produced by: Alex Brunner, Tobin Armbrust, John Ptak
Release Date: October 1, 2010
[hdplay id=49 width=595 height=375]