Cyrus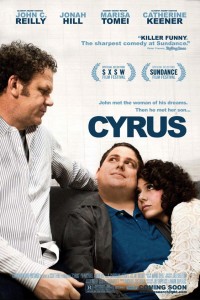 "Cyrus" is the story of an average man that is down on his luck. When he meets the woman of his dreams, things seem to be too good to be true. And then he meets her son – Cyrus.
John (John C. Reilly) is a divorced, middle aged man that lives by himself in a crummy apartment. He is getting ready watch for his ex-wife of seven years, Jamie (Catherine Keener), marry another man. All he wants to do is find someone that will make him fun again, and more importantly – make him happy. One night Jamie invites him to go to a party, to finally get him out of the house. After a series of drinks, he finally gets the courage to socialize a bit, and eventually runs into a beautiful woman named Molly (Marisa Tomei). She is attractive, fun, and seems to good to be true. After spending two nights together, which both end in Molly leaving in the middle of the night, he starts to wonder what the catch is. When he follows her home, it isn't a boyfriend or husband he finds. Rather, he is introduced to her son – Cyrus (Jonah Hill).
The film is quite clever in the way that it makes it's twists and turns. It isn't highly predictable, which is nice. At first, John C. Reilly's character is a bit of a creeper, and you wonder how he is ever going to find true love. But as we learn more about Molly, and her relationship with her son Cyrus, we find that she is just looking for someone who will take care of her and treat her in a way that she hasn't known for 21 years. Jonah Hill does a great job as the awkward, seemingly innocent Cyrus. When he first meets John he is very polite, and his socialization skills come of with an awkwardness that is simply hilarious. And as we watch him interact with Molly, and see John's reactions, it get's funnier by the moment. The only problem is that the pacing was a little slow at times, and it felt like it dragged far too often for only being 92 minutes long. But it wasn't detrimental to the film overall.
John C. Reilly really shines in the role. He is perfect for the part; he's got the look, the personality, and the humor to pull the whole thing off. At one point during the party where his character meets Molly, he questions why she would like him and says "I'm Shrek." It is simple lines like that where it is hard not to laugh out loud. Eventually we find out what Cyrus really thinks of his mom's new boyfriend, and the feud between Reilly and Hill is great to watch unfold on-screen. The two of them get at each other's throats, while Marisa Tomei's character is none the wiser. Tomei does a great job as the innocent Molly, who like most mothers wants to believe that their child is a perfect angel.
"Cyrus" is a witty and clever comedy, that manages to have a lot of fun while still being pretty dark. It is an original concept that hits it's mark, and introduces the audience to some pretty funny characters. Hopefully none of us are unlucky enough to have to meet a 'Cyrus' in real life, but the story sure is fun to watch on the big screen.
Cyrus is a B+
---
Another take from Aarti:
Cyrus is a dark comedy about an adult son trying to sabotage his mother's relationship.  Jonah Hill plays a disturbed young man that engages in a war with John C. Reilly when he feels that his mother, played by Marisa Tomei, is diverting her affections elsewhere.  The creepy factor is high in this film as it is an adult that is acting out for his mother's affection, but it is still the classic story about the abandonment felt by a child when his mother begins focusing her attention elsewhere.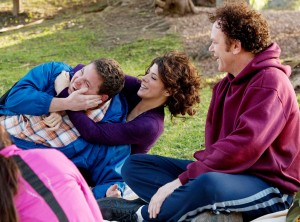 As the story unfolds, it gets increasingly awkward and it almost feels as if we are watching a love triangle instead of a mother/son relationship versus a boyfriend/girlfriend relationship.  John C. Reilly plays his character, John, somewhere between an adult and a child, which makes it easier to believe that he would engage Jonah Hill's Cyrus in a "battle" for his mother's affection.
The writing and acting were superb, leaving the audience amused and uncomfortable at the same time.  John C. Reilly brings his natural state of uncomfortableness to his character playing quite well against Jonah Hill's misdirected Cyrus.  Katherine Keener plays John's charming best friend and ex-wife, a constant reminder of the divorce he has never gotten over.  Marisa Tomei gives an adequate performance as a defeated single mother trying to balance a relationship and her over protective somewhat inappropriate relationship with her son.  All in all, this movie is very entertaining and well worth the price of admission.
Cyrus is a A
Another Take From Zac:
The first non-micro budget feature from the Duplass brothers keeps the realistic tone, gets great performances out of their leads, and knocks the humor out of the park when it tries to be funny.
Now, don't let that last bit scare you, this film is a comedy first and foremost but there are many quiet and sweet moments of introspection that really help elevate the film to another level of being just a comedy.  The story follows John, a still sort of love sick divorcé who still works closely with his ex who is also his closest friend after seven years apart, that finally meets a woman, Molly, that seems to gel with him but she has a minor hindrance; her 21 year old son who still lives at home, Cyrus.  Now, this wouldn't seem like the biggest problem but their relationship is a bit too close for most peoples comfort.  Home schooled and having never gone off to college, Cyrus, is a bit of a mama's boy and doesn't know much of a life beyond his mother and his electric industrial synth music.
The film is being sold as this battle over Molly between suitor and son but it is much more than that.  John is a kind soul and about as selfless as they come and the chances he gives Cyrus will be many as it is a slow burn to the eventual war between the two.  The war though isn't anything too outlandish or over the top though, the film is grounded in reality and while the battle brings about plenty of humor it never cheats or goes to the ridiculous for a laugh.  And it is the restraint of this film that makes it fantastic along with the amazing abilities of John C Reilly and Jonah Hill's humor.
The film does have that far too traditional third act falling out, but it allows for epiphany in the characters and doesn't feel as forced or artificial as it can in a lot of comedies.  And again, this film convention that can easily irk me works here because it is done naturally and feels honest to life and doesn't seem arbitrary or wedged in for the sake of conflict.  There are a couple other bits that I wish were done a bit differently, for example Molly feels a bit under explored on the surface but Marisa Tomei does a good job at alluding to Molly's issues/damage through her performance.  The film is also a mixed bag technically, editing wise it is fantastic at times as it overlays dialogue from a certain moment of an event while showing us the scope of the event in its entirety. But the camera does this zoom thing that pops in and out really fast for no apparent reason and it was minor but it took me out of the scene occasionally, reminding me that I am watching a movie, and maybe that was done intentionally to keep the viewer an arms length from the more honest moments, but nonetheless it did bother me a bit; a minor quibble.
The acting in the film is superb with John C Reilly stealing the show as usual; which is quite the feat seeing as Jonah Hill is usually the scene stealer in everything he does.  Reilly creates a likeable, if a tad bit sad, character that longs but isn't desperate and while you root for him to succeed you easily believe it when he fails.  Jonah Hill's eyes are incredible in this picture and he can freak you out and make you laugh all at once as he shoots that uncomfortable gaze Reilly's way.  Tomei's character might seem a bit half baked but she does everything she can to give the character the depth it deserves and she continues to shine in her recent resurgence on the screen.  Catherine Keener is also great as always as Reilly's ex and the two form a believable post marriage friendship that might normally come across as a bit of a stretch.
In the end, Cyrus is an honest, real, and hilarious comedy that has more to say then just trying to get you to laugh.  But don't shy away if looking for a comedy as the film is full of laughs just be prepared for quiet moments throughout that will engage you that much more into the lives of these characters.  Cyrus is one of the best films of the summer/year and not to be missed, seek it out you will not be disappointed.
Cyrus is an A-