Paramount and Nickelodeon Bringing "Mighty Mouse" to the Big Screen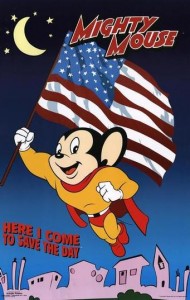 Classic Saturday morning cartoon Mighty Mouse his flying his way to the big screen courtesy of  Paramount Pictures and Nickelodeon Movies. Due to the success of films like Alvin in the Chipmunks, the studios are finally moving forward on the project. The studio is currently looking for a new writer and director to lift the project back up, and to capitalize on the success of current films in the genre. So far it is unclear if the film will be fully animated, or a live action CG hybrid that is popular these days.
Mighty Mouse is a Terrytoons cartoon character based upon Superman that ran from the 50s to the 80s. The character was Terrytoons most famous cartoon, and ran as a Saturday morning staple from the mid 1950s through the 1980s. Mighty Mouse is a mouse with superhuman strength who regularly fights against villainous cats.  The show also featured a highly popular theme song with it as well.
Is it just me or has the landscape of Saturday morning cartoons changed completely since I was a kid? I used to get excited to wake up on Saturday morning and watch my shows. It doesn't seem like it is as big of a deal these days. Is it the dawn of the internet that has changed it? Is it still as popular as it was, but now it just has nothing I recognize? Fill me in, and let me know what you think in the comments.