Oscar Award Winning Composer Michael Giacchino is Scoring "Let Me In"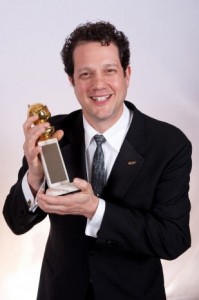 Ever since posting the trailer to the film Let Me In last week, I have heard nothing but shouts of, "It won't be as good as the original!".  I'm not a fan of remakes either, especially when the original is so well made. However, there is no denying that the trailer for Let Me In is surprisingly good.  I am now bolstered by the fact that composer, Michael Giacchino will be scoring the film.
Giacchino has received praise for his work on TV shows such as Lost and Fringe, as well as his work on Disney/Pixar's Up, which netted him many awards including Best Original Score at the 2010 Academy Awards.
There is no doubt that it will be a hard fought battle to make the remake anywhere near as good as the original, but it looks like a lot of the right pieces are fitting into place.
What do you think? Let us know in the comments.