Another New Teaser Trailer for David Fincher's "The Social Network" Starring Jesse Eisenberg and Andrew Garfield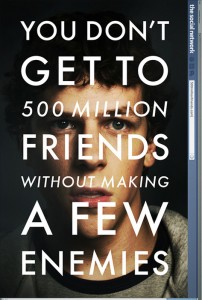 Here we have another new teaser trailer for the upcoming Facebook biopic, The Social Network, directed by David Fincher. This one gives us a little more insight into the plot we will see in the film, but it goes by so quick, and the quotes are so disjointed that people who don't know the story behind the social network might be somewhat confused. Although, it looks like that is what they were going for in the trailer. The marketing for the film so far seems to be keeping itself ambiguous, and is letting the allure of Facebook do much of the selling.
Synopsis:
A movie about the founders of the popular social networking site Facebook—CEO Mark Zuckerberg (Jesse Eisenberg); Sean Parker (Justin Timberlake) and Eduardo Saverin (Andrew Garfield).
Cast: Jesse Eisenberg, Justin Timberlake, Andrew Garfield, Rashida Jones
Director: David Fincher
Genres: Biopic [feature], Drama
Release Date: October 1, 2010
[hdplay id=52 width=595 height=375]