Opera Theatre's "Treemonisha" Gloriously Revives Scott Joplin's Final Opera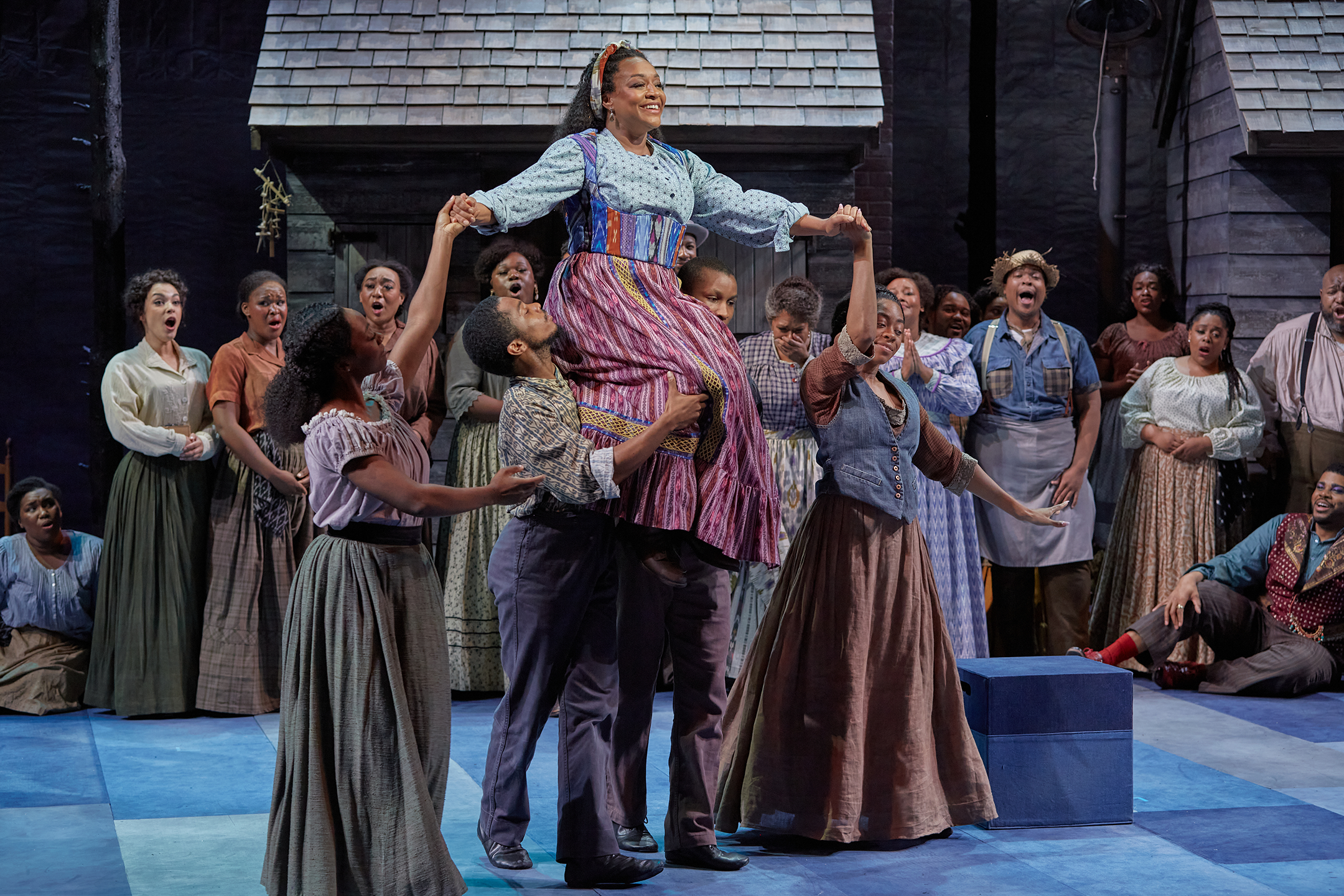 Every king needs a queen. If you're Scott Joplin, the king of Ragtime, that queen is Treemonisha. Opening Opera Theatre of St. Louis' 2023 season, Treemonisha is an emotive production featuring powerful performances and a rousing score from the St. Louis Symphony Orchestra.
This rendering of Treemonisha, now presented as an opera within an opera, was envisioned and created by composer Damien Sneed and librettist Karen Chilton. For this world premiere presentation, the duo added a prologue and postscript to the existing work (written way back in 1911). Adding some emotional heft and ironing the rough edges found in the original opera, their revisions retain both Joplin's pathos and tone of hopefulness.
OTSL's spruced up version reiterates Joplin's notion that art rises from personal tragedy. It also establishes that this seminal Ragtime performer was one of America's most prolific composers. Not performed by the company for over twenty years, its return is long overdue.
While Joplin did not live to see his finished opera performed (he died in 1917), he would be astonished by the production's cultural and social resonance over a hundred years later.
Featuring a new prologue and epilogue, Sneed and Chilton's have injected elements of spiritualism and Afrofuturism to the mix, resulting in a narrative that resonates from the early twentieth century into contemporary times. These additions flesh out Joplin's story while illustrating his esteem for his wife Freddie, and his frustrations over the fight for social justice.
As the prologue opens, Scott Joplin has married his muse, Freddie Alexander. Plunged headlong into the creation of Treemonisha, the opera he is writing, he is oblivious to Freddie's illness. Her condition worsens, and she eventually dies.
Through the power of Sankofa, a Ghanan idea that the living can go back for those left behind, a grief-stricken Joplin enters the world of his own creation as he becomes Remus in his opera Treemonisha.
Joplin/Remus arrives on an abandoned plantation in Texarkana in 1884, where an abandoned baby (soon to be named Treemonisha) is discovered by a loving couple named Monisha and Ned, two former slaves looking to start a family of their own.
Determined to give their daughter all the advantages in life they never had, the couple arranges for Treemonisha to receive the education those in her community never received. Taught to read and write, she resolves to liberate her neighbors from the crafty Zodzetrick and his band of conjurers who use a wide range of tricks to suppress her fellow villagers.
Aided by Remus (Joplin's alter ego), Treemonisha (who serves as the alter ego for Freddie) is resolute in preventing the charlatans from taking further advantage of the town. Threatened by Treemonisha's independence and stature as community leader, Zodzetrick hatches a plot to kidnap her. Taken captive and held against her will, the young woman fears for her life.
Meanwhile, her beloved Remus springs into action and dashes into the woods to rescue her. Brave and undaunted in his mission, he succeeds just in time as he saves Treemionisha from being thrown into a wasp nest.
Following this tense drama is an exuberant third act that celebrates the couple's love and the strong bonds that unite their community. After Treemonisha urges the township to forgive the assailants, Remus celebrates his love for Treemonisha while she takes her place as a civic leader and force for change.
From here, the opera returns to Joplin's world. Despite his failing health he is determined to play his masterpiece, Maple Leaf Rag. Lamenting that his work has not become widely accepted, he slips further into the void before seeing a vision of Treemonisha, who promises the composer that his toiled-over opera will one day be lauded.
Bringing Treemonisha to life is a marvelous ensemble who collectively create a magical experience. Extremely talented, their melodies brought the audience to their feet with mesmeric performances.
Leading the way is Justin Austin, who pulls double duty as the tragic genius
Scott Joplin and the heroic Remus. This OTSL first timer is a commanding presence whose stunning performance steers the production.
Brandie Inez Sutton has arrived. Equally incredible as both Treemonisha and Freddie, this soprano's stunning debut marks the arrival of a performer who will dazzle OTSL for years to come.
As Monisha, mezzo-soprano KS. Tichina Vaughn's debut with the company is spectacular. Her voice is exquisite, and her presence is dynamic and impossible to ignore. In a large cast where everyone is superb, Norman Garrett (Ned) and Amani Cole-Felder (Lovie Alexander and Lucy) also stand out.
Directed by Rajendra Ramoon Maaharaj, this excellent production celebrates Joplin and presents audiences with a fearless, independent and driven woman. Filled with wrenching emotion, passion and a will to move away from suppression of the past, this season-opening spectacle is breathtaking and powerful.
Treemonisha runs through 24th at the Loretto-Hilton Center on the campus of Webster University. Productions at Opera Theatre St. Louis are in English with musical accompaniment from The St. Louis Symphony Orchestra. For more information on programming or the 2023 season, visit opera-stl.org.