Opera Theatre's The Marriage of Figaro Delivers Lust and Laughter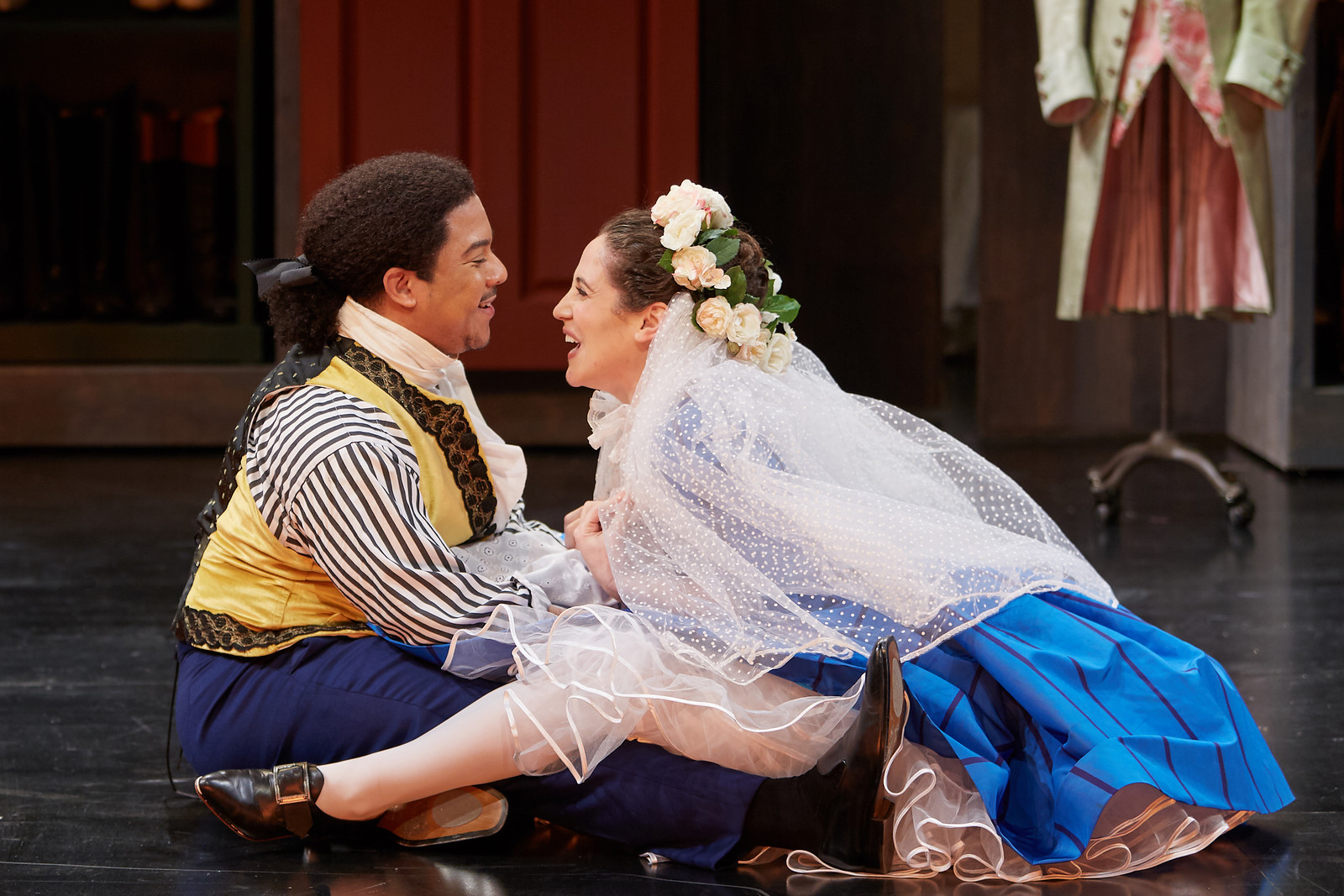 Epic, bombastic and filled with intrigue, Opera Theatre of St. Louis' The Marriage of Figaro launches the company's 44th season with a relentlessly entertaining production that delights in the absurd while laying the melodrama on thick.
Composed by Mozart in 1786, this new production is directed by two-time Tony nominee and esteemed met Opera vet Mark Lamos and features amazing costume design from Constance Hoffman. Together, along with set Designer Paul Steinberg whose sets utilize the paintings of Jean-Honoré Fragonard to accentuate the exuberance, sexual tension and wanton hedonism of an 18th century royal court.
Working in collaboration with an amazing ensemble, their artistic vision infuses a new life into an essential work of Opera's classic repertoire. A comedic opera in four acts, this tale of greed, lust, forbidden romance and class warfare still finds itself just as relevant today as in the 18th century.
More of a continuation than a sequel, The Marriage of Figaro occurs a few years after the events of The Barber of Seville. Here, the protagonist of that opera, Count Almaviva, corrupted by power and opulence, has evolved into a blustery bully with a tenuous grasp on reality and an insatiable appetite to please his libido. The opera also sees the return of the passionate and loyal Figaro, this time as the Count's valet who is engaged to the Countess Rosina's maid, Susanna.
In a court filled with poor decisions, mistaken identities and terrible interpersonal communication skills, Figaro is under siege. In order to get the girl Figaro must contend with a lustful and manipulative Count Almaviva, who harbors his own schemes for sleeping with Figaro's betroved as well as the Doctor turned lawyer Bartolo, who is also out to do him in.
If that was not enough, the royal page Cherubino makes his own mischief by lusting after both Rosina and Barbarina, a servant girl whom has also caught the wandering eye of the Count. Annoyed by his advances, Almavia dispatches him off to war. Used as a pawn by, nearly everyone, Cherubino's licentious nature proves to be his undoing.
 Forging an alliance Figaro, Susanna, and Rosina are determined to undermine the Count's persistent meddling. However, their plans are complicated byFigaro' s debt to Bartolo, which fuels Almaviva to push for a forced marriage to his aged housekeeper,Marcellina. This union would not only cancel Figaro's fiscal woes but would also help the Count with his efforts to prevent his wedding to Susanna. However, this plan is torn asunder after Marcellina's true identity is revealed.
Filled with a young ensemble of young talent, many of which who came through the company's young artist program or are debuting with OTSL this season, The Marriage of Figaro is drenched in drama, intrigue and hilarious chicanery, giving audiences a well-paced and energetic production that also offers them a taste of what is to come as these rising stars forge ahead with their careers.
Leading the charge is the brilliant Aubrey Allicock as Figaro. On stage for most of the performance, his angst–ridden and energetic turn perfectly blends comedy and drama, creating a relatable protagonist.
Sharing the stage with him is soprano Monica Dewey. Equal parts culpable and calculating her presence and glorious voice propel the opera.
Serving as the production's chief heel is Baritone Theo Hoffman who shines as the blustery buffoon Almaviva. Returning to OTSL, Hoffman commands the stage with a powerfully charismatic performance.
Star on the rise Susannah Biller, who announced her arrival in 2014's OTSL production of Elixir of Love, is excellent as the fierce Rosina. Also excellent is Samantha Gossard whose perfectly executed comedic flourishes as Cherubino  mark her auspicious OTSL debut.
Spanning one single day, The Marriage of Figaro starts off slowly but quickly escalates as the plotting, skullduggery and subterfuge piles up, layer upon layer before unraveling into bedlam over the final two acts. All of this takes viewers on an emotional whirlwind filled with dirty deeds, devotion and lots of hilarity.
The Marriage of Figaro is sung in English with musical accompaniment from The St. Louis Symphony Orchestra. Performances are held at the Loretto-Hilton Center on the campus of Webster University. For more information visit opera-stl.org.