Concert Review: Pointfest Heats Up Hollywood Casino Amphitheatre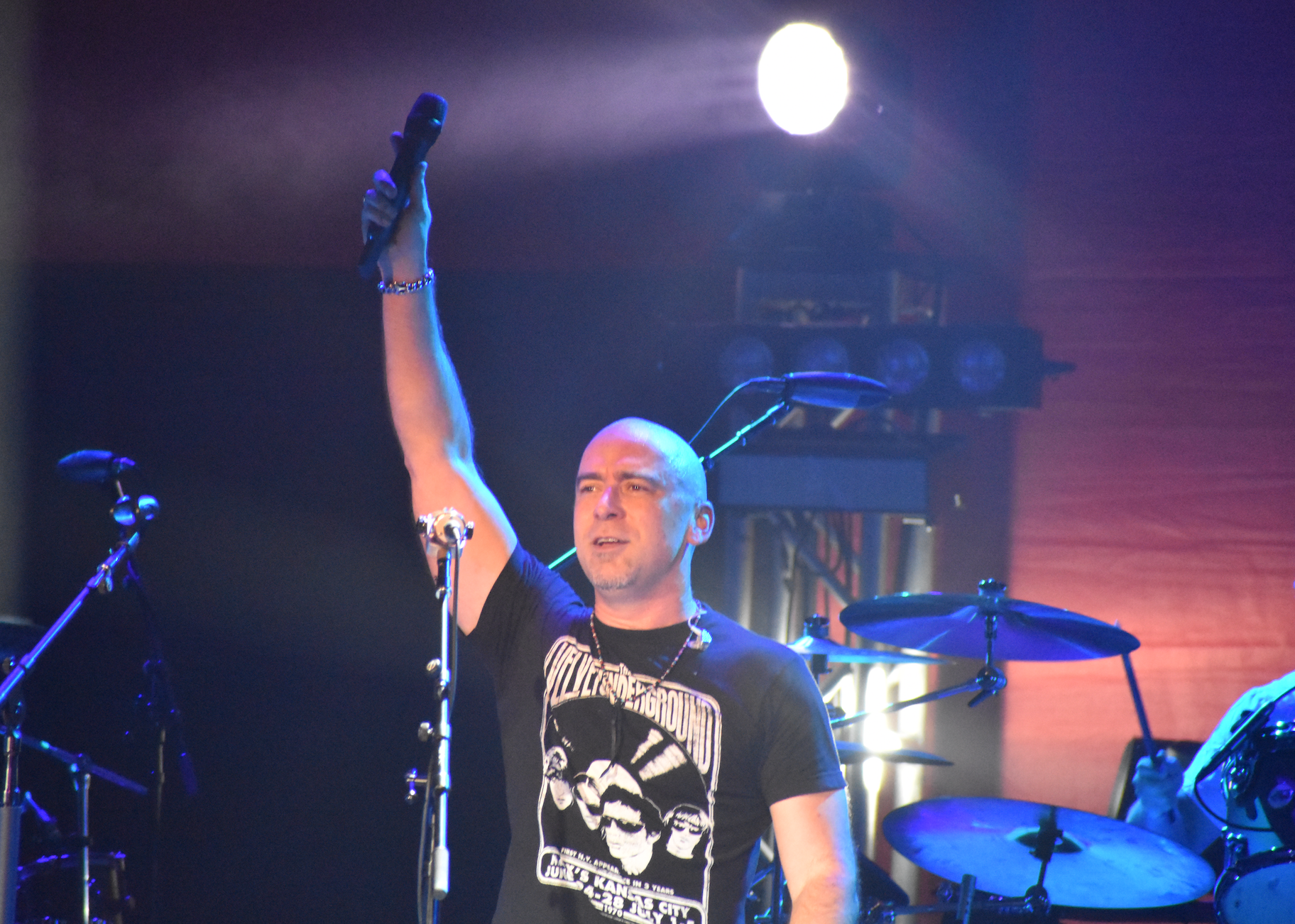 That's a wrap!  Another successful Pointfest is in the books and it was executed in meticulous detail.
105.7 The Point hosted "20 bands for 25 bucks" at Hollywood Casino Amphitheatre in what was probably one of the hottest days that the music festival has ever seen.  Originally, forecasts called for overcast and scattered thunderstorms, but Mother Nature gifted concertgoers with sunny skies, temperatures reaching the 90s, and sauna-like humidity.  
Festival attendees were treated to food vendors, craft vendors, and even an artist creating a painting on location.  It was a more family-friendly event this year than in the past.
James Richardson is a painter who was brought in by the Point to paint the Pointfest 2019 logo on location for spectators to witness.  This was one of those experiences that is satisfying to watch unfold. It was a super cool addition to the fest and to have the Point promoting art and creation.  Richardson is a very talented artist and you can find his work at www.jergallery.com.  
That did not stop music fans from showing up in droves to see bands like P.O.D, Greek Fire, Andrew WK, Seether, and +Live+.
The day began at noon as Bleach took the Black stage.  It was located just inside the front gate of the venue and placed beside the White stage. This set up proved to be strategically effective and efficient. Bleach was the winner of the Battle for Pointfest and secured their spot in the annual (sometimes bi-annual) festival.
Other bands that ping-ponged between the Black and White stages included Dirty Honey, Friday Pilots Club, Palaye Royale, and Badflower and attracted crowds in very generous numbers.  Spectators multiplied and spilled onto the back hill of the lawn for Glorious Sons, Andrew WK, Greek Fire, P.O.D., and Filter.
During these sets, fans witnessed a legitimate rippin' guitar solo by Dirty Honey, a multi-layered sound style from Friday Pilots Club with hints of pop/rock, flamenco grooves, blues and funk.  Also, a very high energy set from Badflower, and an Eddie Vedder-esque climb up the rafters on the stage by Palaye Royale.
Glorious Sons was brought on stage by Tony Patrico of the Rizzuto Show.  He came out as half a version of himself after losing 150 pounds.  Fans got what they wanted when the band broke into "S.O.S. (Sawed Off Shotgun)", a song that's been on heavy rotation on the Point in recent past.
Greek Fire fans came in droves to watch their set and filled both stage areas.  Lead singer/guitarist, Moon Valjean, has a way of connecting with the audience with stage presence and approachability.  Their first song, "A Real Life", brought Valjean into the crowd, balancing on what looked like a giant couch cushion in a crowd-surfing fashion.  He also gave his signature backflip off the drum platform. Fans were also graced with stories of inspiration in relation to Garth Brooks and Chester Bennington, followed by covers of Brooks' "Thunder Rolls" and Linkin Park's "In The End".  It was a very personal testament given by Valjean and as a result, gave fans the chills in the blazing heat.  P.O.D.'s Sonny Sandoval appeared on stage alongside Valjean for the Linkin Park cover; another personal inspiration to Valjean.  Greek Fire, for the spectacular win.
P.O.D. was praised by concertgoers as being the highlight performance for Pointfest 2019.  They brought it and left it all on stage, which has proven their consistency and drive to deliver a solid rock show after 27 years.
Filter, on the contrary, rubbed fans the wrong way when lead singer, Richard Patrick, made disparaging remarks about Trent Reznor and Nine Inch Nails.  Patrick made reference to his stint with Nine Inch Nails from 1989-1993, claiming that he had been touring with 'his' band since 1989 but he had [to leave] to get paid.  Patrick dissed Reznor when he made the depreciatory comment and concluded with, "Guess you can't get along with everybody".  
That wasn't the only annoyance to happen for the band.  Apparently, Patrick had technical difficulties. It appeared that he may have blew out one of his guitar pedals, which was the icing on the butthurt cake for the lead singer.
The main stage hosted headliners: Fuel, Coheed and Cambria, Seether, and +LIVE+.  Fuel performed their hits, but broke into an extended jam session after the first song.  Coupled with a long day in the blazing heat, this appeared to have the same effect on fans as tryptophan.  
Coheed and Cambria and Seether brought their consistent ability to shred and melt faces.  This appeared to fair fans pretty well, but the sleepy jam session by Fuel may have been the culprit which drove fans to depart the event prematurely.
+LIVE+ was, by far, the highlight of the event.  Sadly, many fans missed out on this spectacular performance by the reunited group who performed a set full of heavy hitters from Throwing Copper (1994), Secret Samadhi (1997), and The Distance to Here (1999).  Additionally, they covered R.E.M.'s "Losing my Religion" and The Rolling Stone's "Paint It Black".  The band wrapped up their epic set with their most popular hit, "Lightning Crashes", before taking a gracious bow before the audience and exiting stage left, not to return for an encore.  Lead singer, Ed Kowalczyk, thanked the Point for all the love and support over the years and the remaining fans thanked them back in kind.
Honorable mentions for Pointfest go to all of the acts that performed on the Pop's Stage, including Smiley Boy, Facing Infamy, For The City, Retro Champ, Common Jones, The Scatterguns, Man The Helm, Sixes High, and After Alberta.  
The Pop's Stage transformed into the first ever Rizz Show Stage and hosted The Bob Kuban Band, Clownvis, and 2SG.  Side note: 2SG was great and am sympathetic to anyone who may have been under the influence of psychedelics.  Let's hope this isn't the first and last time we see them.
The Point has been executing a successful music and art festival since 1993.  Like Fuel lead singer, Brett Scallions, said on stage, "You're very lucky to have such a kick ass radio station in your city."  We couldn't agree more.
Next up for the Point: Wayback Pointfest, August 31st, at Hollywood Casino Amphitheatre featuring Collective Soul, Everclear, The Urge, Gin Blossoms, Goldfinger, Living Colour, Stir, and Cowboy Mouth.
Pointfest 2019 gets an A.
All photos by Matthew Kistner.