Opera Theatre St. Louis' The Grapes Of Wrath Packs An Intense Wallop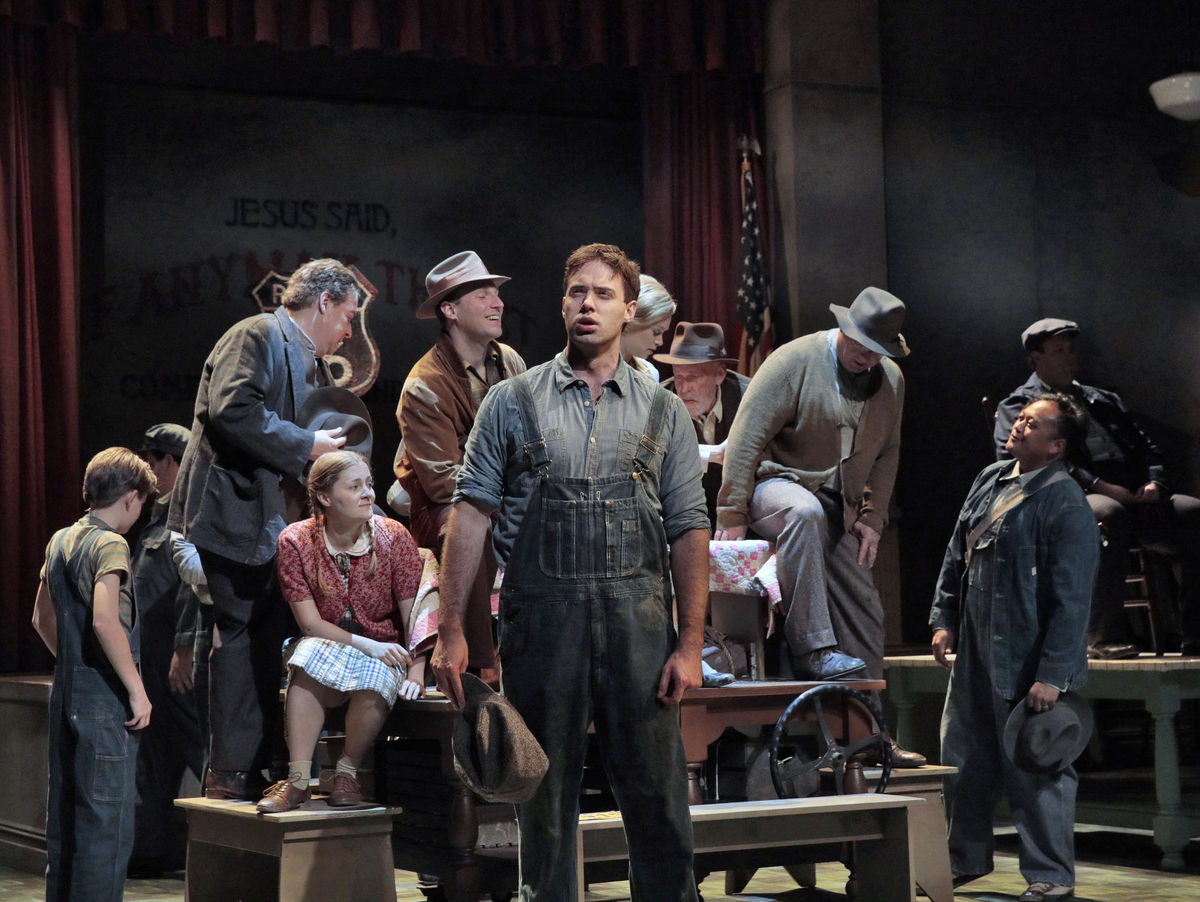 Taking a landmark work of American literature and turning it into an opera is not the easiest thing in the world to do. When the book is The Grapes of Wrath, the stakes are even higher.
Knowing that the novel's social pulse and familiar characters resonate throughout our popular culture, Opera Theatre of St. Louis nonetheless embraced the challenges involved in transitioning from book to stage in order to create an emotionally stunning production.
Based on the John Steinbeck novel,  this version is a completely fresh affair. Premiering as an opera in 2007 this version was adapted for OTSL by Ricky Ian Gordon and Michael Korie, who stripped the previous version of an entire act and another hour plus of running time, resulting in a tighter paced production that doesn't sacrifice any the story's drama.
Directed with precision by James Robinson, the opera alternates from having a stage with a lot of moving parts to a darkly lit minimalist one where the performers   repeatedly deliver emotional gut punches as the Joad family uproots itself from Dust Bowl Oklahoma to California, where they hope to find a better life.
Leaving their home behind them and travelling Route 66 to their new life the Joads encounter travellers who warn them that their West Coast aspirations are not as real as they seem.
After an arduous and emotionally exhausting journey the family arrives in California where even more heartbreak awaits them as they settle into a Hooverville and attempt to scrape out a living. Facing adversity after adversity, the Joads persevere on though the hard times of the Depression as they struggle to keep their family together and make it on their own.
One of the company's most engrossing productions, The Grapes of Wrath features an incredible ensemble led by baritone Tobias Greenhalgh As Tom and featuring
a sterling turn from Geoffrey Agpalo (who will headline next season's La Traviata)
as ex-preacher Jim Casy as well as dazzling performances from Deanna Breiwick as Rorasharn, whose voice simply must be heard, and Jennifer Panara who makes the most of her limited stage time as Mae, a sassy waitress.
Christopher Allen's musical prowess perfectly frames the immensely talented ensemble with a score that is, for the most part, haunting and wistful.
Sullen, sulky and serious, OTSL's "The Grapes of Wrath" is a fantastic, albeit decimating ride that emphasizes the tenacity of existence in a production whose libretto gives plenty of breathing room to the opera's talented singers, enabling them to sing to the heavens as their characters rally against despair.
The Grapes of Wrath is sung in English with musical accompaniment from The St. Louis Symphony Orchestra.
Performances are held at the Loretto-Hilton Center on the campus of Webster University. For more information visit http://www.opera-stl.org.