Southern Gothic and Skullduggery Abound in Opera Theatre's Voracious 'Regina'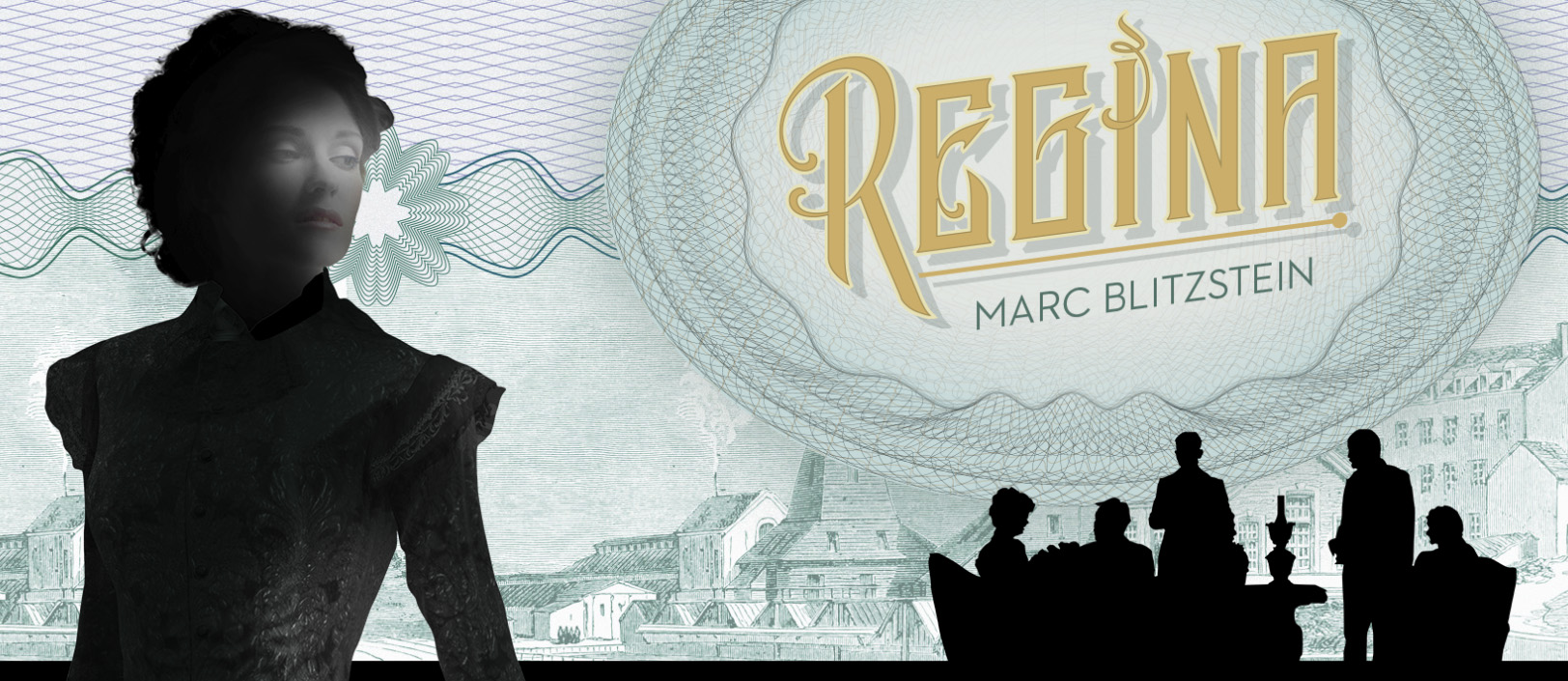 The treachery and deceit of a Southern family in Gilded Age Alabama is the focal point of of Regina, Opera Theatre St. Louis' second production of the season.
Adapted from Lillian Hellman's 1939 stage play, The Little Foxes, and composed by Marc Blitzstein, Regina is just as unscrupulous today as it was when it premiered in 1949. Its themes of greed, unchecked capitalism, social class and conniving backstabbing seem just at home in 2018 as they did in 1900.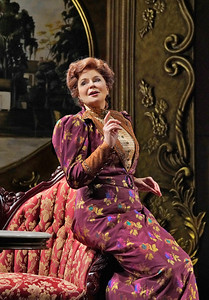 Regina follows he endeavors of the Hubbard siblings, Oscar, Ben and their sister as they contrive to collectively invest in a cotton mill. But things are not that cut and dry, Regina is loaded with all the double-dealing, thievery and family dysfunction of a modern soap with the intrigue cranked up to eleven.
Regina opens with a prologue featuring the household servants turning out a marvelous mashup of musical styles provided by Blitzstein's score. Nimbly smattered with gospel, jazz and ragtime and executed to perfection by Music Director Emeritus Stephen Lord. This opening musical jaunt perfectly sets the table for the oncoming emotional maelstrom.
The drumbeat begins quietly as the threesome entertains a deep-pocketed potential investor named William Marshall. For them Marshall's involvement is crucial to sealing a deal whereby the Hubbard clan will invest in a cotton mill and secure their fiduciary wellbeing.
The only hitch in their plan is that Regina comes up short in raising enough capital to buy in. Having not seen her husband for five months she is forced to broker a deal with Oscar by means of acquiring a portion of his shares in exchange for her daughter Alexandra's marrying his son (and first cousin) Leo.
With her husband Horace ailing in Baltimore with a bad ticker Regina is on her own. Knowing that her brothers are eager to cut her out she dispatches Alexandra to bring him home so that she can better access his fortune.
Eager to make her move, Regina gets more than she bargains for when Horace returns home and announces that he has no intention of helping her family.
If that was not enough, matters become more complicated after $88,000 in bonds goes missing from Horace's safety deposit box. Knowing that the oafish Leo is behind it, Horace makes his own move, further a wrench in Regina's designs for wealth.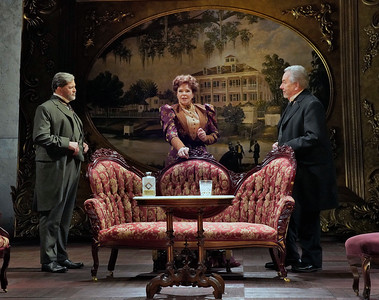 Ferociously livid, she gets to work, relying on murder, blackmail and bullying to get her way. Regina possesses a rapacious appetite for power and a blatant disregard of moral turpitude power the final two acts, giving way to n avarice that would make Joan Collins blush as she dominates and decimates everyone in her path.
Manipulating her brothers with the tenacity of a bulldog Regina's lust for power appears complete. Unfortunately her machinations yield an unanticipated windfall.
Allen Moyer's set design meshes the elegant and simple while utilizing darker tones that synchronize perfectly with lighting director Christopher Akerlind's use of lighting and shadows to intensify to set the tone for the unfolding chicanery. Regina also strides at a perfect pace thanks to James Robinson, whose direction mirrors the precision of a surgeon's scalpel.
But the backbone of Regina is the highly touted return of Susan Graham in the title role. Simply captivating, Graham's voice is transcendent, shouldering the bulk of the opera's emotional crescendos and emphasizing her duplicity. She is a force to reckon with.
James Morris, a newcomer to the Opera Theatre stage, matches Graham's intensity in every way. Debuting as Ben Hubbard, he holds his own with Graham. Morris' performance here is one of the company's brightest spots of the season.
Also terrific is Ron Raines as Oscar Hubbard. Raines, who debuted with OTSL back in the day of their inaugural season, rounds out an ensemble that makes Regina live and breathe. Long overdue, Raines homecoming is a delightful treat.
OTSL's Regina is a gripping family drama propelled by technical prowess and an ensemble that pours every fabric of their being into making the opera a deceitful delight for audiences.
Regina is sung in English with musical accompaniment from The St. Louis Symphony Orchestra.
Performances are held at the Loretto-Hilton Center on the campus of Webster University. For more information visit opera-stl.org.