Interview: Mike Protich of Red Sun Rising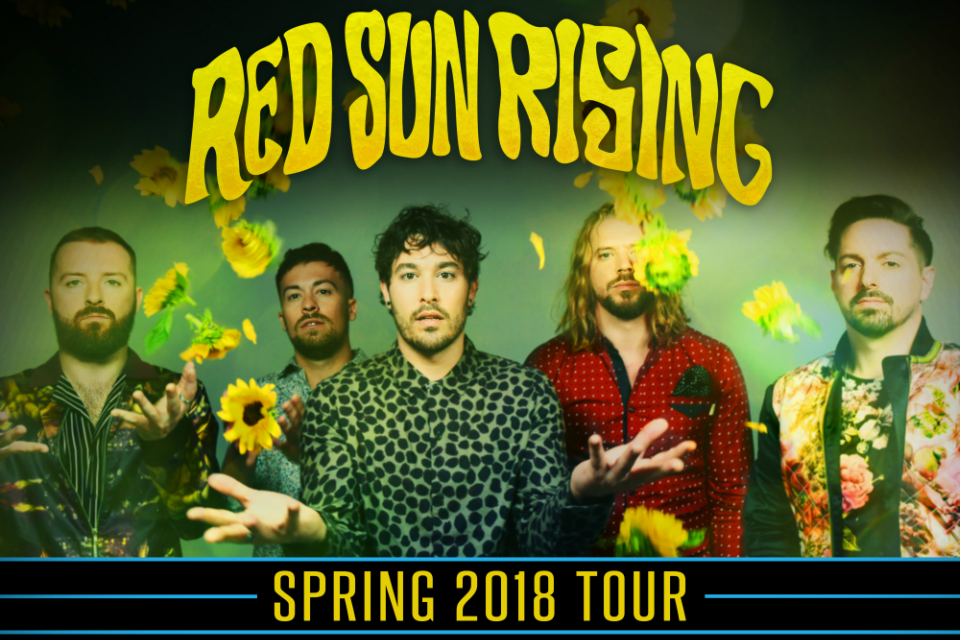 Mike Protich, founder of the band Red Sun Rising, is ecstatic about the release of the band's new album Thread. Their last album, Polyester Zeal, was released in 2015 and was a huge success for the band, ultimately kicking off their rise to fame. It peaked at number seven on Billboard's Top Heatseekers, and number eleven on Billboard's Top Hard Rock Albums. Some of their top hits on Polyester Zeal consisted of "Amnesia," "The Otherside," and "Emotionless."
With all of the love received from fans about the first album, Red Sun Rising went to work on their second and most recent album. Two years later, Thread was released and has been a huge success. With dark lyrics, but catchy and mood-lifting melodies, Thread is the perfect record to jam out to this coming summer. 
When looking at the artwork for Thread, what may catch your eye are the sunflowers with eyes on them, followed along by symbols within them. According to Mike, "Each of those symbols has significant meaning to each member of the band. They're very personal to us." Though the front-staged sunflowers are what typically stick out to fans, I noticed the dead flowers in the background. With such a bright and lively color to the artwork, I had to ask why there were dead flowers, and what exactly they represented. Mark answered my question by saying "the artwork is a sign of rebirth. The flowers are dead, but eventually the sun rises and they are reborn. It represents what Thread means to the entire band." 
I went on to discuss the band's hit song "Deathwish", a song containing deep, thought-provoking lyrics, but a melody to uplift your mood. Songs like these are what hit music listeners the hardest, because the emotional connections between the band and the fans are there, but the catchy rhythms are what cause them to spam the repeat button. A specific lyric I noticed that seemed to have a relatively deeper meaning compared to the rest of the song's lyrics was "The devil finds love unless you're too late, unless you're too late."  I asked Mike what the inspiration was behind the song, and if it was from a personal experience. 
"I mean, everything we write is from a personal experience. We don't just throw in song lyrics to make it sound cool. Everything we write comes from a place from one of the band members, and more than likely, it's either Ryan and myself, who do the majority of the lyric writing. But, the band understands what the song is about. The song was actually about a person we know. We lost this person who became obsessed with these self-fulfilling prophecies, and that also hindered them from living a normal life. They were so obsessed with what they thought the world was. Our music video captures the lyrics in a self-sense."
As for the lyrics themselves, Mike claims that "Anyone can find love and happiness, and if you believe something is going to happen, your actions will move towards making that happen, whether it's good or bad. In this case, it was a bad thing. It doesn't necessarily mean that the devil himself is getting in the way of what you want. The devil can be anything–it could mean general evil, or it could mean yourself. If your life is being hindered by something, you can still find love. You just have to realize that and you'll be okay. But, if you have a self-fulfilling prophecy that is hindering that, then you're pretty much screwed." 
Going back to the development of the album, Mike and I discussed exactly how long the album took to finish. Two years went by before the album was released, and it took awhile to write songs because the band had been touring heavily around the country. "It's hard to write on the road, but the album was written in many different pieces. We'd right lyrics one day, melodies the next. We had to take time off the road to write, so we rented a cabin in the middle of the woods for two weeks and started putting ideas together."  
Still on the topic of writing, Mike talks about their single "Left for Dead" and how it was especially personal to him. "Left for Dead was written more easily because the emotions just kind of spewed out–they were already there." If you listen to song, you'll notice how the lyrics seem to target a person and how they have left everyone for dead, but who exactly were they talking about? Mike told me it was targeting a person who was leaving a group of people. "Someone leaves a group to go after what they think they wanted, and the people they left were treated so poorly, which caused them to not want that person to return. Later, the person who left the group realizes they messed up and can't reenter the group." In other words, someone left the group behind, not caring how it affected them in the slightest, and is now regretting doing so. 
Some speculation of the  band being skeptical about Thread's success had been swirling around, and I wanted to know how Mike and the band truly felt about it. Turns out, they were never really worried about the success of the album. Of course, they wanted the album to be well liked, but at the end of the day, all they care about is whether or not they were being true to themselves in the process. They respond to the pressure of making a successful album by saying "You know what? We are going to do whatever we want to do and make the record we want, and if that doesn't make it hit the charts or if that doesn't make it work, then at least we know we were true to ourselves and this is our true art." Mike feels like if the band focused on writing songs that would become top radio hits, the album "would have sucked."
In conclusion, the articles claiming Red Sun Rising was worried about the album hitting the charts were way off track. The band is far too down-to-earth to be worried about how much money they're making, or how popular their art is. 
Lastly, I wanted to know what we were to expect from Thread. I wanted to know what exactly made Thread significantly different from their first album, Polyester Zeal. The biggest difference, according to Mike, was not in melody, but in who was writing the songs. Mike and his bandmate, Ryan Williams, did most of the writing in Polyester Zeal, but this time, the band collectively recorded this album. Red Sun Rising had gone through many different band members throughout the years, not because they were being fired, but because some things just don't work out. Thread was when Red Sun Rising really became a band and created art in the studio together, which is what makes the album so special.
Red Sun Rising is a special band because they don't care whether or not their albums hit the charts, they just want to create art. They don't hold themselves down to writing for one specific genre either. In fact, their hashtag #WeAreThread represents their dedication in making music with different thread of melodies, not just one. They won't describe themselves as solely rock or alternative because they feel music isn't about being categorized. It's about enjoying the melodies and liking a song simply because it sounds good, not because it fits into the genre of music you tend to listen to. Music is intended to be enjoyed by all, regardless of what genre you are used to, and this is the message Red Sun Rising is trying to send to music lovers everywhere. 
Come out and see Red Sun Rising tomorrow night (May 29th) at The Old Rockhouse in Saint Louis at 7 p.m. Doors open at 6 p.m.