Opera Review: Saucy and Seductive, The Coronation of Poppea Features Dirty Deeds and Political Upheaval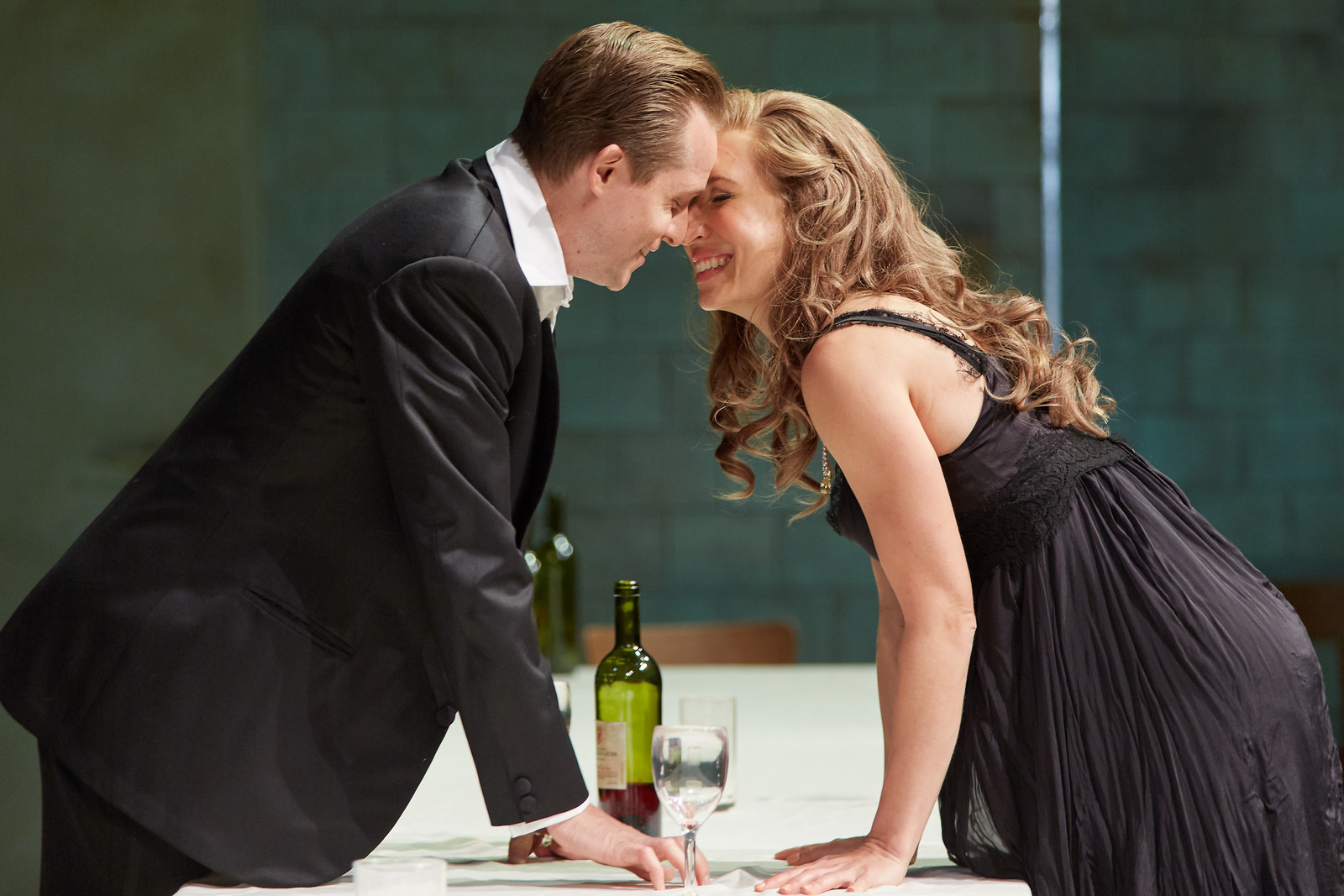 There's a lot of dirty deeds going down in Opera Theatre St. Louis' production of The Coronation of Poppea. This Italian opera, given to posterity by the dramatic realist Claudio Monteverdi, is a piece that resonates with contemporary times in emotion, passion and proclivity for political intrigue.
At the opera's core is Poppea, a woman with serious goals. Manipulative and cunning, her lust for power rivals only her passion for Nerone, whose power intoxicates her. Willing to turn the world asunder to become Empress, she is an alluring and independent firebrand whose lust for power knows no end.
It is this disregard for culpability and a predilection for casting anyone who stands in her way that makes her an ideal fit for the diabolical Nerone, the Emperor of Rome.
This sets the table for an opera that sheds its 17thcentury skin for something similar to today's daytime soaps. Nerone is the most powerful man in Rome, yet he can't easily ditch his wife, Ottavia for his mistress,Poppea. Ignoring the counsel of his advisor Seneca, he pursues his passion with reckless abandon. Caught in the crossfire, Seneca's advice costs him his life.
From here the drama really heats up when Poppea's ex-lover Ottone decides to give up the ghost and pursue Drusilla, who always has eyed him. Not to be outdone, Nerone's wife, the jilted Ottavia, decides she must preserve her status and position by murdering her rival. Scheming and plotting her demise, she recruits a conflicted, Ottone to stab a sleeping Poppea. The soap opera kicks into high gear when Ottone decides he cannot commit murder, thus setting about a chain of events that allows Poppea to fulfill her dream of ascending to the throne.
In trading in togas and sandals for sport coats and neckties, stage director Tim Albery has brought Monteverdi to modern times, giving the opera a profound relevance that is not lost in our digital age of realty television and sleazy tabloids.
Albery's reboot is a minimalist affair that utilizes one set and hardly any props. His use of dark colors and drab lighting underscores the tension and allows the relentless touchy-feely passion of Nerone and Poppea to playout fully. He also keeps the composer's medieval score intact and brings it to the stage, eliminating the orchestra pit altogether.
There's no need for it actually since the music features no brass section, relying heavily on pianos and strings to frame the unfolding events. In doing this he also gives the production more poshness while also enabling the music to live and breathe.
The ensemble features a litany of returning performers including Brenton Ryan as Nerone, a role in which he gives his every fiber to portraying as dastardly, sneaking, power mad oligarch whose unpleasanttemperament is quelled when in the presence of his mistress. The beauty in Ryan's performance here is that he gives audiences a character that is both morally bankrupt and vulnerable.
Emily Fons also returns to OTSL as the headliner, Poppea. Salacious and driven, she's a woman with a plan who will stop at nothing to achieve it. Onstage Fons is a powerhouse who completely inhabits the title role. Her hands-on love scenes with Ryan skillfully convey Nerone's covetousness and Poppea's yearning. Together they are the ultimate power couple.
David Pittsinger's return to OTSL after a lengthy absence is much welcomed. Serving as the moral compass of the production, his Seneca is beautifully sung and powerfully portrayed. Last seen in 2015's Richard The Lionheart, Devon Guthrie returns with a poignant and tragic portrayal as the lovelorn Drusilla, whose passion for Ottone proves to be her undoing.
Newcomer Sarah Mesko is terrific as Ottavia, an Empress not to be trifled with who also happens to be a victim of circumstance. It's not an easy balancing act and Mesko executes it with perfection. Joining her is fellow newbie Tom-Scott Cowell who gives a turn laced with comedy and nuanced tragedy as Ottone.
Featuring a robust combination of power, corruption and lies, The Coronation of Poppea does its due diligence as an Italian Opera by successfully tugging on the heartstrings of the audience. Nestled both in the past and the now, OTSL's
The Coronation of Poppea offers viewers collusion in all its glory, alongside generous doses of rage, arousal and plenty of blood and thunder gusto.
Productions at Opera Theatre St. Louis are sung in English with musical accompaniment from The St. Louis Symphony Orchestra. Performances are held at the Loretto-Hilton Center on the campus of Webster University. For more information on programming or the 2020 season visit opera-stl.org.