Concert Review: Brad Paisley at Hollywood Casino Amphitheatre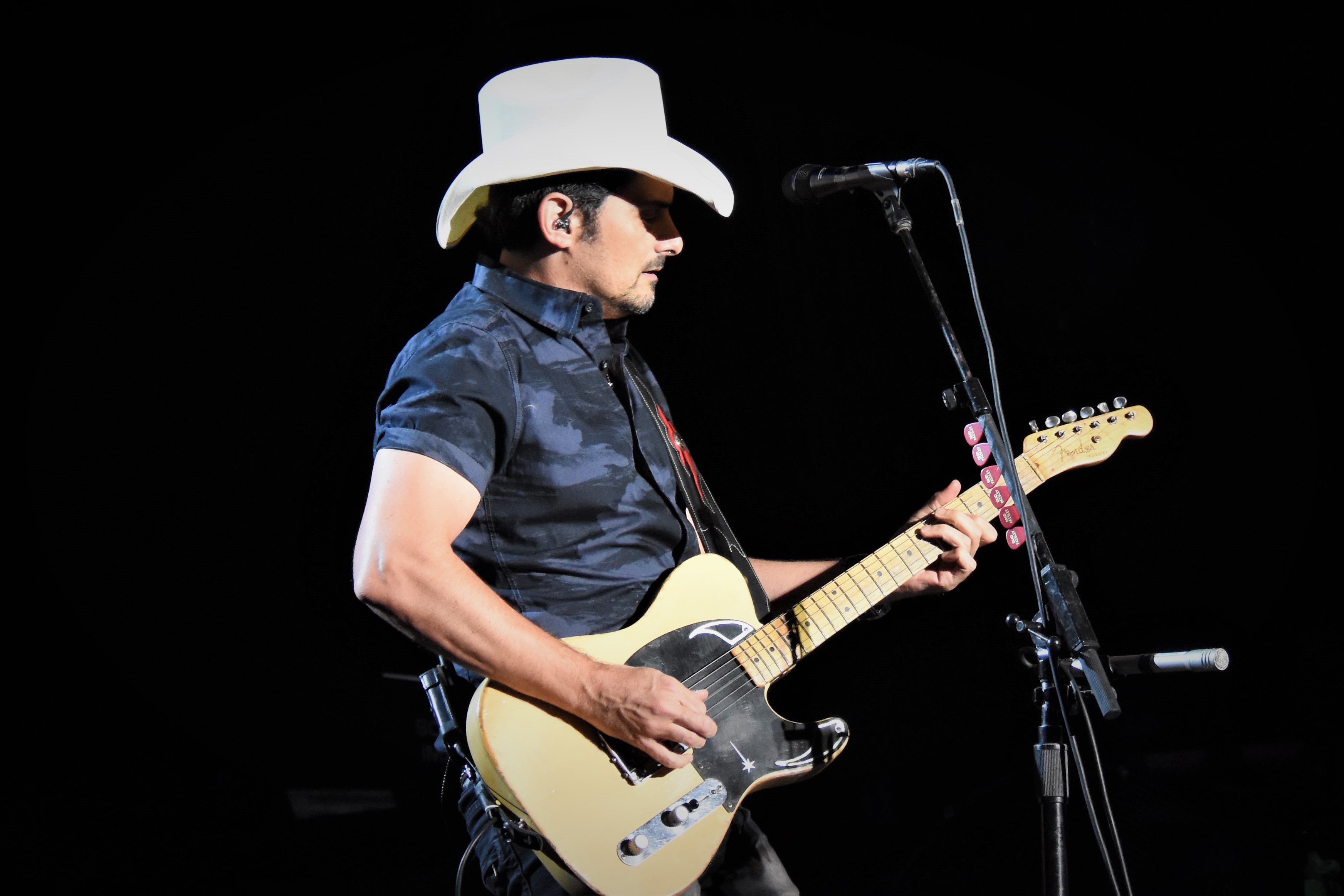 Rain?  What rain?  Hollywood Casino Amphitheatre was packed last Friday night when Brad Paisley made a stop in St. Louis on his current tour which took off in early June.  It was evident that the long-time country heavy hitter worked out all of the early-tour kinks (if any even existed) because from the moment his presence electrified the stage, it was a show filled with a spectrum of emotions and the rain didn't appear to phase concertgoers, at all.
Paisley hosted special guests, Chris Lane and Riley Green, to warm up the crowd – even though the anticipation of Paisley's appearance on stage was palpable.
Riley Green kicked off the night and quickly garnered attention from the ladies.  (Gee, I have no idea why.)  The thirty-year-old from Jacksonville, Alabama brought his new country sound and performed a quick 25 minute set.
New country music isn't all that Green is known for.  In 2013, before becoming a country artist, he competed on CMT's, Redneck Island.  Just picture Survivor: Redneck Rally.  Green appeared on season 4 of the show and succumbed to elimination in episode 2.  He returned in 2016 for one more chance at the $100,000 grand prize and this time, he nailed it.  He and his partner, Becky (another fan favorite appearing for the second time), scored the top spot.
Riley Green was followed by Chris Lane who hit the stage and shared with the crowd the big news of his engagement.  Lane prefaced his performance of "Big, Big Plans", a song that he wrote for his now-fiance', with news of the engagement having taken place the night before.  However, we found a YouTube video of the proposal, dated June 18, 2019 – ten days prior to this performance. (Whatever. Who cares?)  Lane is engaged to be married to Lauren Bushnell, a former contestant on The Bachelor.
Unrelated to all of the aforementioned entertainment news, he gets major brownie points for choosing a little girl out of the audience, bringing her on stage, and singing, "I Don't Know About You".  
Shortly after 9:00pm, Brad Paisley stepped onto the stage with purpose, exuding proper confidence, and sharing the multi-million dollar smirk that so many have come to love and know so well.
The country veteran was backlit by giant LED screens, displaying colorful graphics throughout the show.  Upon entering stage left, he received an emphatic reception from his adoring fans, gave them a wave, and went straight into "Beat This Summer" from his 2013 album, Wheelhouse.
As the night progressed, Paisley had a few surprises up his sleeve that shocked and awed his fans. With a cover of Alan Jackson's "Chattahoochee" and part of Prince's "Purple Rain", to having Chris Lane and Riley Green join him for a performance of, "I'm Still A Guy".  In a grand manner, Paisley honored a few of our nation's finest military personnel on stage during his performance of "This Is Country" and delivered the most illustrious surprise of all when St. Louis Blues, Pat Maroon joined him on stage during the encore performance of "Alcohol".
Hopefully you're not the person who is always ten minutes too late when all of the good stuff happens.  If that's you, you missed one hell of a good summer evening of country music, mind-blowing guitar shreds, saluting our military brothers and sisters, and bringing out a Stanley Cup champion.  This, my friends, is America.
Brad Paisley Tour 2019 gets an A.
Photos by Danya Artimisi